AUSTIN, Texas — Seven people were arrested Thursday evening while protesting a mixed-use development that may be built at East Riverside Drive in South Austin.
Austin police told KVUE that the seven people were arrested for banging on the windows of City Hall and disrupting the Austin City Council's meeting.
A reporter from our partners at the Austin American-Statesman tweeted videos of people from the group "Defend Our Hoodz" being arrested outside City Hall.
This comes after five people were arrested earlier in the day at a protest opposing the same development.
Police said that the five people arrested Thursday morning were arrested for disruption of a public meeting when they allegedly walked into an Austin City Council meeting on Thursday unannounced.

Katherine Wood, 26
Mary Weaver, 21
Jessica Meza, 21
Jose Cuellar, 25
Hector Rodriguez, 28
On Friday, Austin police released more names and photos of people arrested for disrupting a public meeting on Thursday. Police said these people were banging on the window.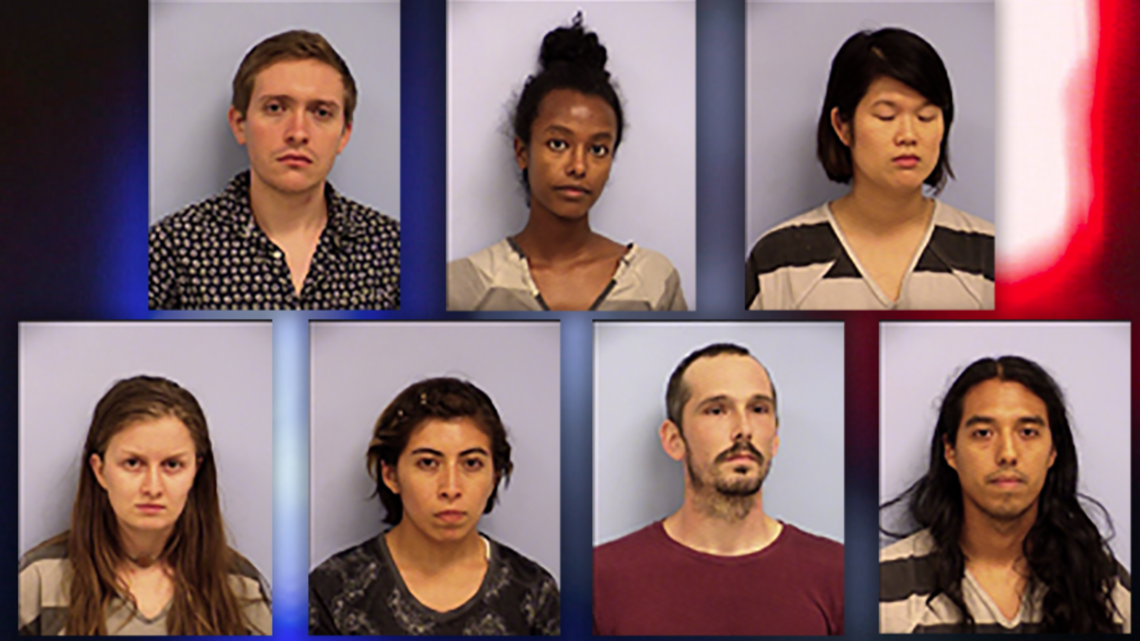 Below are the additional arrests made on Thursday:
Abby Darrow, 21
Zachary Cunyus, 24
Patricia Herrera, 21
Heran Kidane, 24
Larence Taylor, 29
Kathy Tran, 29
Kai Ybarbo, 24
According to an article by the Statesman, Austin's City Council met to remove building restrictions in the area on Thursday and the project is projected to take 10 to 20 years to complete.
The article by the Statesman also states developers of the mixed-use area have proposed building 4,700 residential units, 600 hotel rooms, 4 million square feet of office space, 60,000 square feet of medical and dental office space and 435,000 square feet of ground-floor commercial space.
Reports state the council gave preliminary approval, voting to move forward with a zoning case for the project.
A thirteenth person was also arrested at the council meeting on Thursday after spitting on a speaker who was against "Drag Queen Story Hour."