AUSTIN -- When the Austin Film Society asked who should present him with his Variety One to Acclaim Award at the Texas Film Awards, the answer was easy for actor Armie Hammer.
"Hold on a second," Hammer told KVUE as he gestured a phone toward his ear. "Hey Timmy, it's Armie. Remember when I spent 15 months traveling the world with you, handing you awards? Get your a** to Austin, I'm calling in my favor."
By Timmy, he meant 22-year-old "Call Me By Your Name" costar Timothée Chalamet, who recently became one of the youngest men nominated for the Academy Award for best Actor in a Leading Role in almost 80 years.
Though Chalamet did not go home with the Oscar Sunday, their film did, earning the Academy Award for Best Writing Adapted Screenplay (James Ivory). "Call Me by Your Name" was also nominated for Best Picture.
Luckily enough, Chalamet answered Hammer's call, and presented him with the honor Thursday night.
"This is really easy for me to because I'm young, obviously my career's been very short, but I've been fortunate enough to work with a lot of really great actors, a lot of great human beings ... but the relationship I've had with Armie is unlike the relationship I've had with other actors," said Chalamet during the awards ceremony. "In an industry for young male actors, there aren't a ton of road maps that you can point at and say, 'That's somebody I want to become,' and I felt this way since I met him ... I'm just all the better for it. It's humanity, it's loving fatherhood, it's being a loving husband, it's hard work..."
Hammer said "Call Me by Your Name" premiered at the Sundance Film Festival about 15 months ago, but he just stopped doing press for the film last week. That explains why he hasn't been able to spend much time in Texas, where he and his wife, Elizabeth Chambers, own a small chain of bakeries with locations in San Antonio and Dallas.
"We try to get to Texas as often as possible, my wife probably comes every couple of weeks to one of the bakeries," Hammer said. "All my family is in Dallas as well, so we try to see all the cousins and all that."
He also gave a little shout out to Texas barbecue.
"We spent a lot of time in Texas, so it feels nice to come get an award and eat a lot of good barbecue in the process," he said.
In addition to his appearance at the Texas Film Awards, Hammer will also be presenting two of his new films at South by Southwest while in Austin: "Final Portrait" and "Sorry to Bother You."
Starring Hammer as James Lord and Geoffrey Rush as artist Alberto Giacometti, "Final Portrait" tells the story of how Lord became the last person to sit for a Giacometti piece and subsequently became his biographer. The film is directed by Stanley Tucci.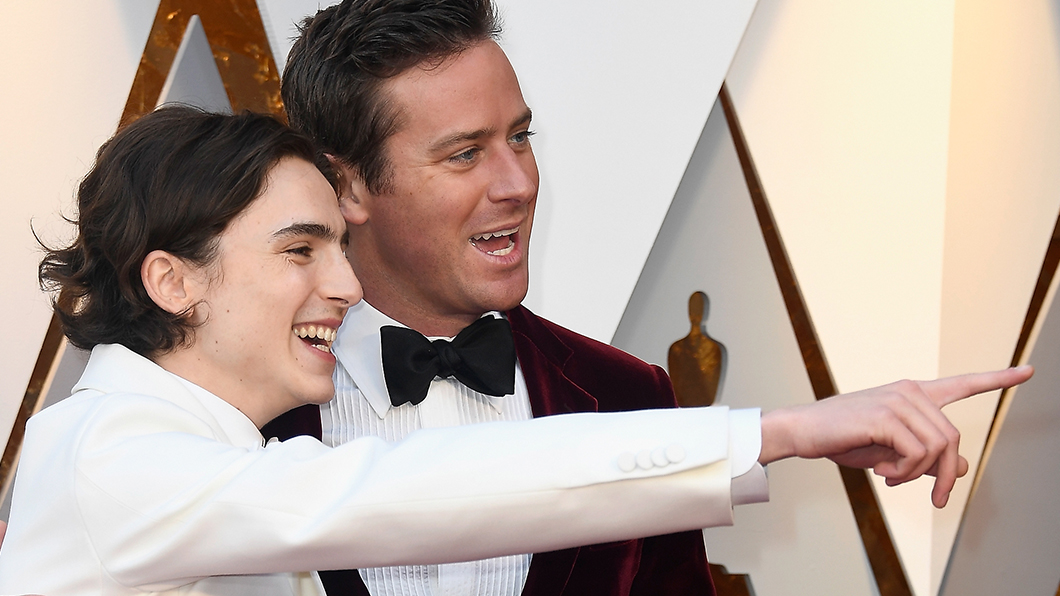 Directed by Boots Riley, "Sorry to Bother You" stars Danny Glover, Patton Oswalt, Steven Yeun, Terry Crews and more. The film tells the story of how a telemarketer discovers a magical key to success, propelling him into a dark universe.
"It's fantastically crazy and fun and the product of someone who has so much raw creativity and talent," said Hammer. "But this is his first project. So he's come at this with all his passion."
The Academy Award-winning "Call Me by Your Name," based on a novel of the same name, is a love story between graduate student Oliver (Hammer) and his mentor's son, Elio (Chalamet), as he studies in 1980s Italy.
"I wanted to do it because Luca Guadagnino [director] was doing it," Hammer told KVUE before the awards ceremony. "I also thought it was a beautiful love story ... a pure story of two human beings who really connect with each other. I think that's something you don't see enough of."
The Texas Film Awards took place at the AFS Cinema. Honorees included Hammer along with director Paul Thomas Anderson ("Phantom Thread," "Boogie Nights"), who accepted the inaugural Jonathan Demme Award. Austin filmmaker Richard Linklater and actress Regina Hall were also in attendance.