AUSTIN, Texas — Neighbors at a southeast Austin apartment complex are complaining after a mandatory curfew was put in place with very little explanation.
Residents of the Array Apartments said they were not notified of any issues. Now they're wondering if the move is even legal.
The curfew lasts from 10 p.m. until 5 a.m. every night for people living at the complex. During that timeframe, residents are not allowed to leave their homes.
"Make sure you have your provisions before 10 p.m. Sounds like I'm in some hurricane area where they have martial law," said Kristie Broadaway, an Array resident.
Broadaway has been a tenant at the Array Apartments for the last eight years with little to no issues.
When she got this notice, she was shocked and confused.
"I went back and there's nothing in my lease saying they can do it," Broadaway said.
The notice said the curfew is due to security concerns and potential public health and safety concerns, but there isn't a specific reason given.
KVUE reached out to the leasing office seeking comment but was given none. KVUE also attempted to reach the property manager by phone, but the line wasn't active.
Bill Gammon, an attorney with experience in real estate law in Austin, believes this move isn't legal.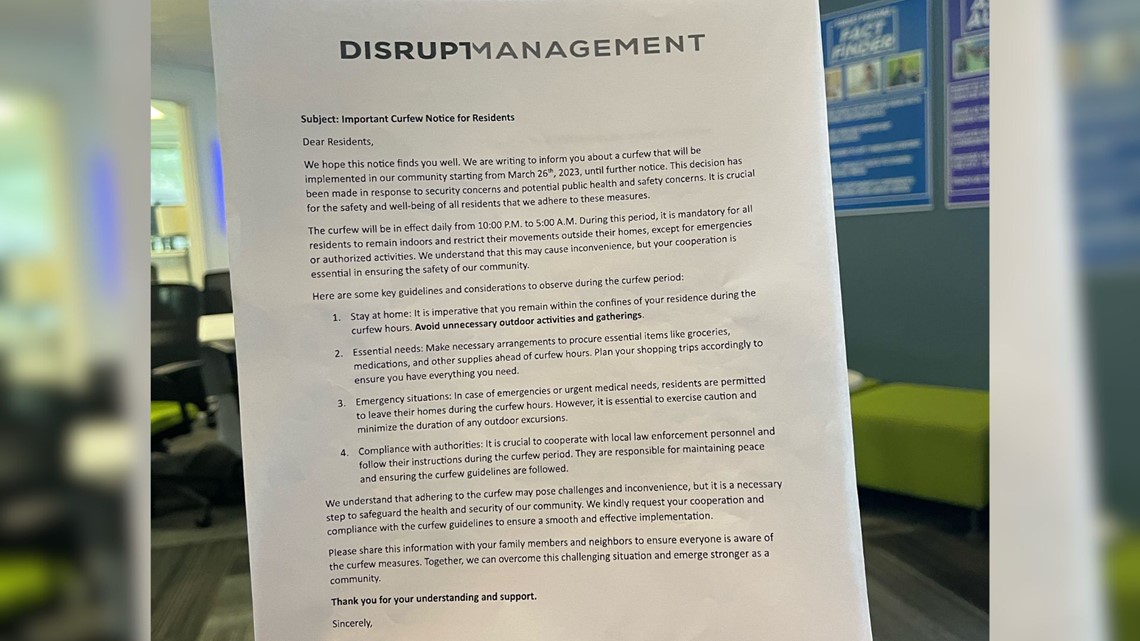 "That has to be done by the City, and the City has to have the authority to do this. The apartment complex can't do this. This is ludicrous," Gammon said.
According to Gammon, the answer is simple for residents.
"I would tell people to ignore it," Gammon said.
Broadaway said the new rule is constricting, noting that it makes her feel like she is on house arrest.
And with no end-date listed on the notice, residents are faced with decisions about staying at the complex.
"If I can't go outside or have friends over after 10, I may look for somewhere else to live," Broadaway said.