At 22-years-old, Tyson Dever was having the time of his life. He was a junior at Texas State University with hopes of becoming a coach and teacher.
On March 11, 2005, a moment on the road changed everything.
"It was the day we got out for spring break. It's Friday afternoon, going to pick up a friend of mine, we were going to head to the beach just like any other college kid," Dever remembers. He was on a two-lane road in Buda waiting on oncoming traffic.
"A pickup truck behind me got tired of waiting so he went around me and when he did, a fully-loaded cement truck hit me from behind and went completely over the top of me," Dever said. "He knocked me into oncoming traffic, where I was hit again."
Dever was still fully conscious.
"I remember the sound, the smell, the fire and just being trapped inside a burning car," he said. "Luckily, three guys passing by -- the truck that passed me and another car -- luckily stopped to get me out of the car. When they did, that's when I finally lost consciousness."
The cement truck that hit him was traveling close to 70 mph. Dever's vehicle was at a complete stop.
"I'm sitting in the car … 0 miles per hour, seatbelt on, blinker on, doing everything I'm supposed to be doing," Dever said.
The driver of the cement truck didn't see Dever's vehicle because he wasn't watching the road.
"We don't know if he was texting, if he was eating a cheeseburger or if he just wasn't paying attention, but clearly he was distracted," he said.
The split second that changed his life was caused by a distracted driver.
"I ended up dying four times. I woke up once in the helicopter, once on the operating table," he said. "You don't really understand what's going on, but clearly you know it's bad."
His spinal cord was completely severed.
"I woke up and had to ask my mom, 'Am I paralyzed?'"
He was paralyzed from the waist down.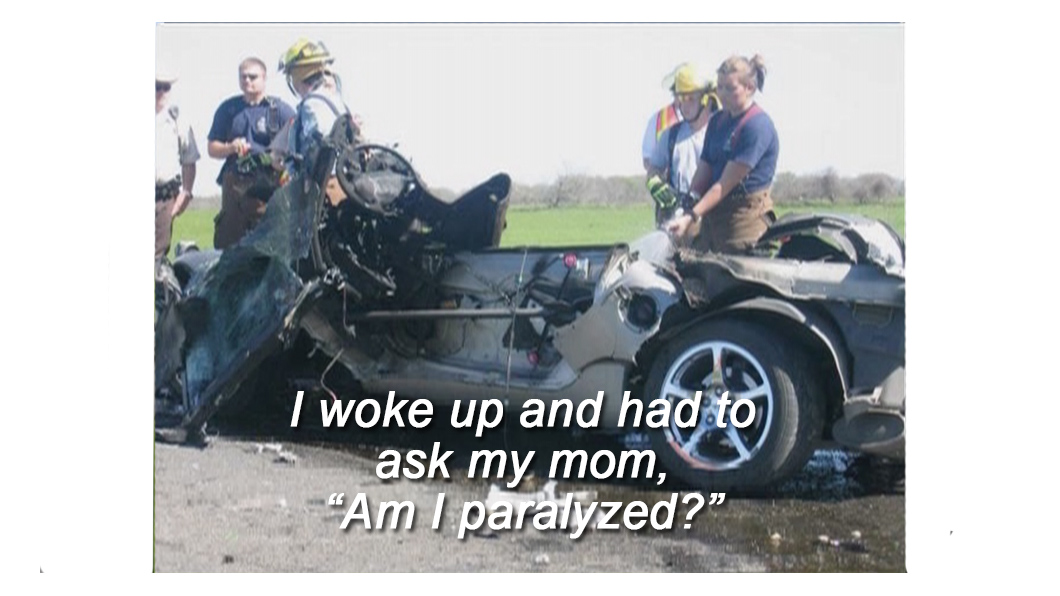 "It was then and there that I made a decision that I can't change it, let's just make the best of it and go," he said. "And that's what I've tried to do."
Despite his circumstances, he has stayed positive.
"Who you are as a person before adversity determines how you respond to it," he explained. "The quiet temptation to give up was not in me."
"I'm one of the fortunate ones," Dever said. "There are a lot of people with stories similar to mine where their loved ones didn't make it."
After the crash, he was forced to learn how to do everything all over again.
"For 22 years, I learned to do everything using my legs – playing baseball, basketball. Anything I did all of a sudden I'm forced to learn to do again out of a wheelchair out of something that wasn't even my fault," he said. "It's difficult."
Weeks in the hospital were followed by months of rehab. Nothing has been easy.
Something as simple as getting out of the truck is a whole new process for him.
"First time I did that -- 28 minutes. It took me 28 minutes to do that right there," he said as he pieced together this wheelchair before exiting his truck.
Within six months, he was miraculously back at school with a very different perspective.
"Probably the most difficult thing is getting comfortable in my own skin again. I was 6 feet tall, 210 pounds, playing college baseball, and all of a sudden you're 4 feet tall rolling around in a wheelchair. It's a totally different world," he said.
What does he miss the most?
"What do I not miss? It's the little things...not having to worry abut the pressure sores, getting out of my truck to get gas," Dever said. "Wake up in the morning and just stretch. It's grabbing something out of the top of the fridge, slapping the door when you go through. Stand up to give my parents a hug. It's the little thing like that that add up over time. You try not to think about it, but we're human. It's probably what I miss the most - those little things."
Now, he has found comfort in a new place – the stage.
"I feel like I'm doing what I was put on this earth to do," he said.
Dever travels to schools to speak to students about distracted driving and how a moment's mistake can forever change a life. He said when students see someone his age in a wheelchair, it gets their attention.
"If I can change one student's life, if I can go on stage and change one person's life -- if my story impacts them in a positive way, maybe have them make some changes, it's all worth it to me," he explained.
"It would be easy to lay in bed and give up, throw in the towel and say, 'I just don't want to live life out of a wheelchair today,'" he said. "Unfortunately, that's not an option that I have."
And all of that may be partly because of one thing – the only thing, other than Dever -- that survived the crash.
"My wallet was burned up, my credit cards were melted, my social security card gone -- but laying on top was that little laminated card coach gave me after practice," he said.
A simple prayer about life giving you no more than you can handle.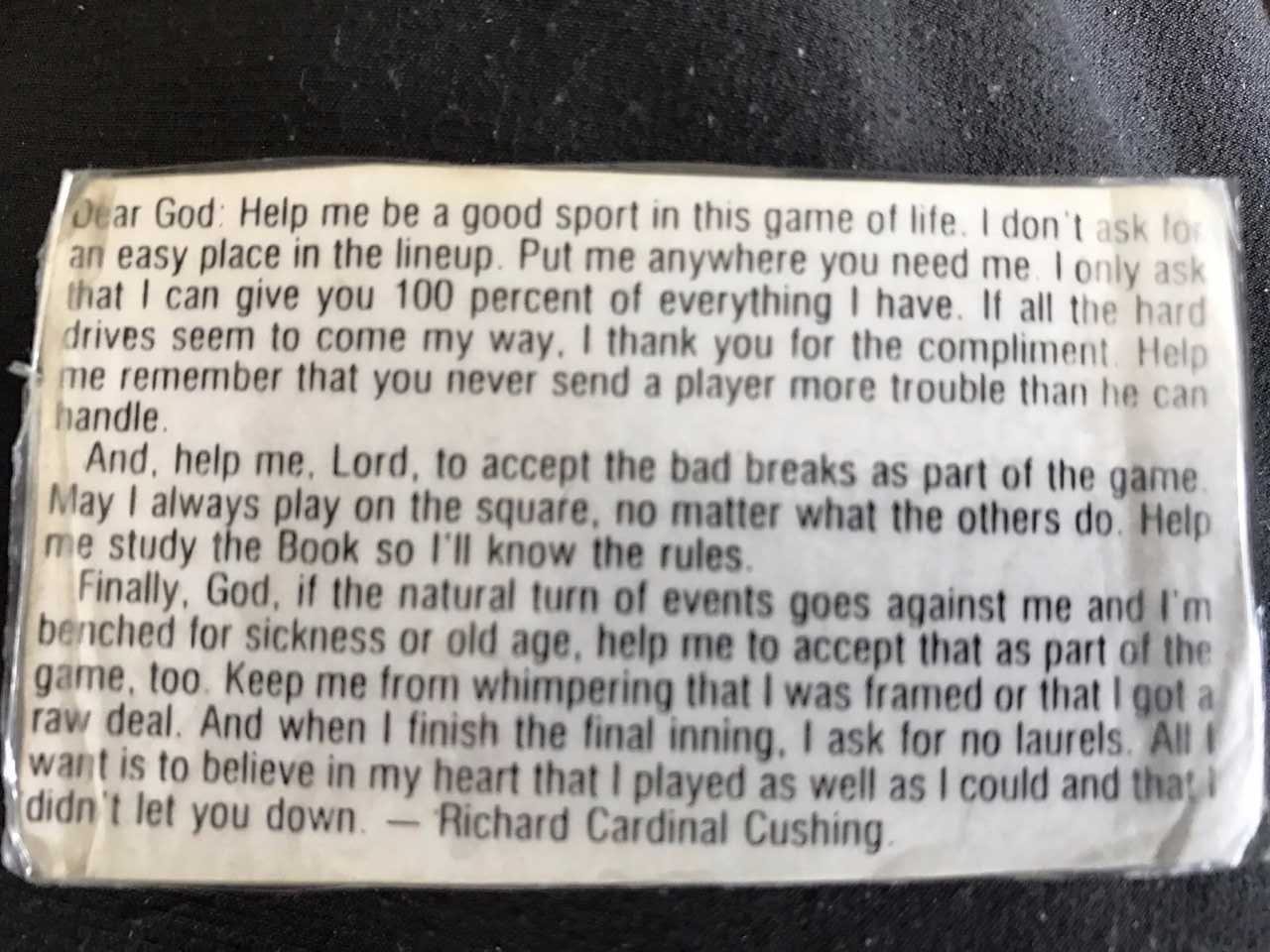 "It's been a huge source of motivation in my life," he said.
A moment can change everything. It did for Dever.
"We live in a world where we got to get this phone call, I've got to get this text message, this email – but all it takes is that one time, and it may be too late at that point," he said.
His mission today? Saving your son, your daughter -- maybe even saving you.
"I don't want anybody else to be in a situation similar to mine or even have to attend a funeral where somebody passed because of a decision you made to be distracted while you're driving," he said.
"That's probably the thing that's most disturbing about distracted driving -- it's 100 percent preventable," Dever said.
Last month, Texas lawmakers passed a statewide texting and driving ban.
"It's not going to get better unless everyone does their part," he explained. "If my wheelchair is a reminder for you, then that's what it's for."
To learn more about Dever and his motivational work, go here and subscribe to his YouTube channel.
Apps to help prevent you from texting and driving:
Half a million people suffer injuries like Dever because of distracted driving every year. Six-thousand people die every year as a result.
There are several apps that you can download to keep you from texting while you drive. Many will send auto reply texts. Here are a few:
DriveMode automatically sends pre-set replies to incoming texts to let people know you are driving. Once the app is selected, all calls, texts and emails are silenced, and the app blocks you from reading or typing anything. It does offer leniency, however, giving you the option to receive and make calls with up to five people, plus 911. It also allows you to access your music playlist.
DriveSafe.ly actually reads your text messages, calls or emails aloud. By reading to you, the app eliminates that urge to grab your phone and take your eyes off the road for a split second. Then it automatically responds to recipients for you (with a pre-set response) or allows you to respond by voice, totally hands-free.
Cell Control uses GPS to determine the speed your car is moving. This one costs $7.95 per month. If you are traveling more than 10 mph, the application will disable texting, so you cannot receive or respond to texts. You will be able to unlock messages when going less than 10 mph. You can override the settings if you are a passenger. The nice thing about this one is that it has parental controls or can be controlled by a company so that it cannot be unlocked. It also keeps a history of the person's driving record.