AUSTIN — The TEGNA Foundation, the charitable foundation sponsored by TEGNA Inc., and KVUE, TEGNA's ABC affiliate in Austin, announced Friday they will award seven Austin-area nonprofit organization grants totaling $37,000.
The community grants are awarded with the goal of making an impact with Austin's affordability issues. KVUE is committed to telling the stories and supporting causes that matter most to the community. Affordability is just that.
The grant recipients are: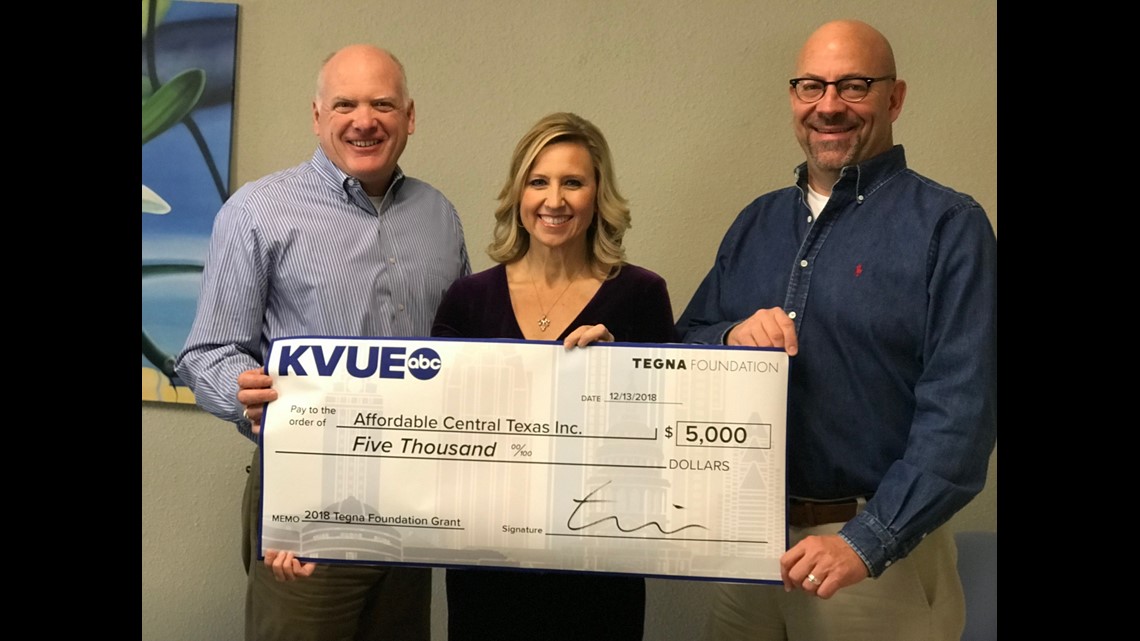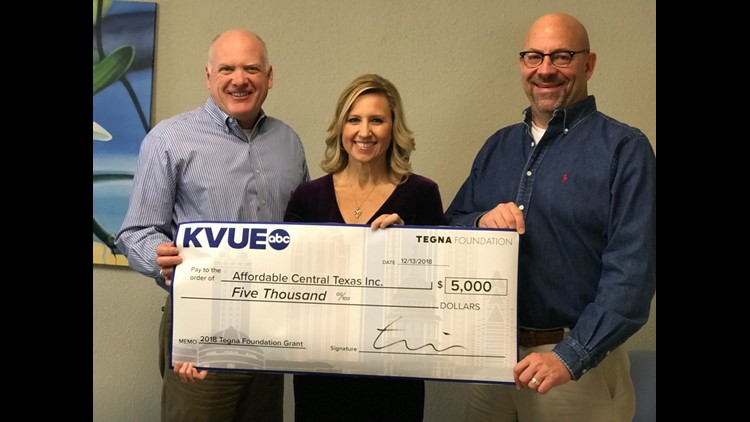 This organization will receive $5,000 to aid its goal in building a fund to preserve multi-family apartments and making sure that Austin's workforce can still afford to live in Austin. ACT's overall project aims to preserve affordable housing for nearly 3,000 people living and working in our area.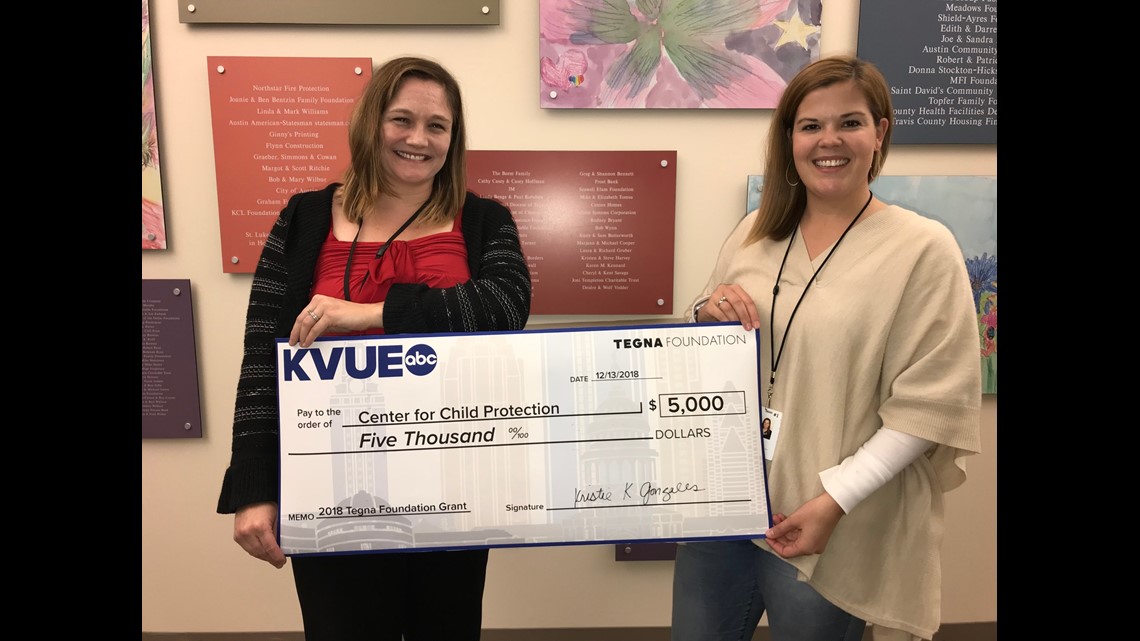 This organization will receive $5,000 to fulfill its goal of supporting families who are experiencing poverty, homelessness or hunger as a result of reporting their abuse to authorities. The Center for Child Protection helps over 400 local families facing crisis each year.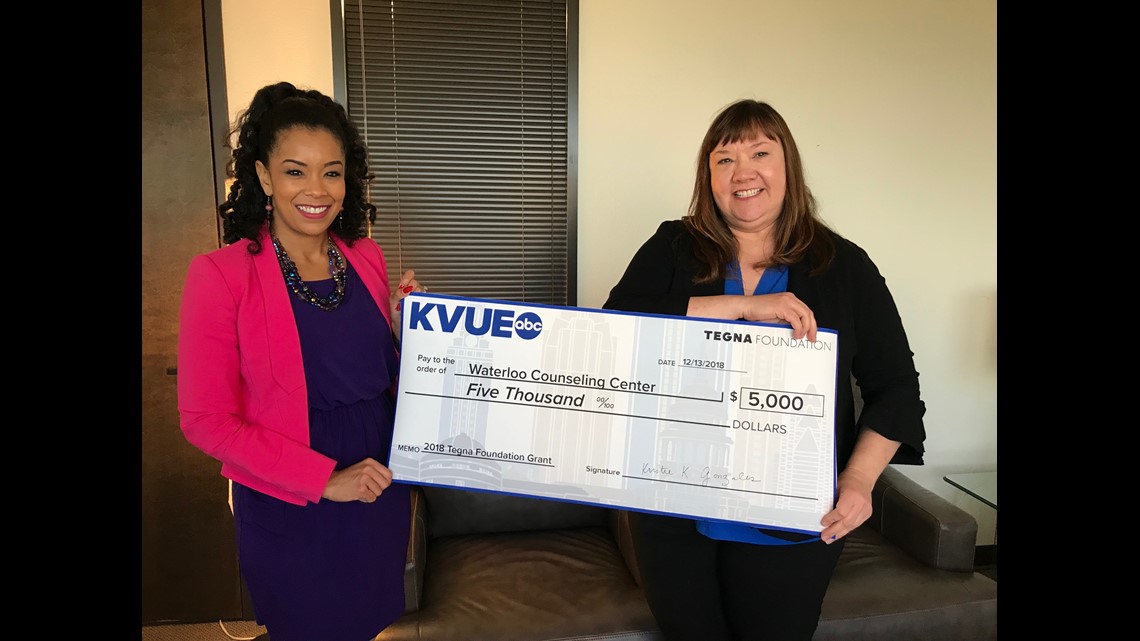 This organization will receive $5,000 to provide low-cost, but high-quality mental health services with a flexible fee plan based on individual needs. This local nonprofit welcomes all people regardless of gender, sexual identity and expression, or HIV status.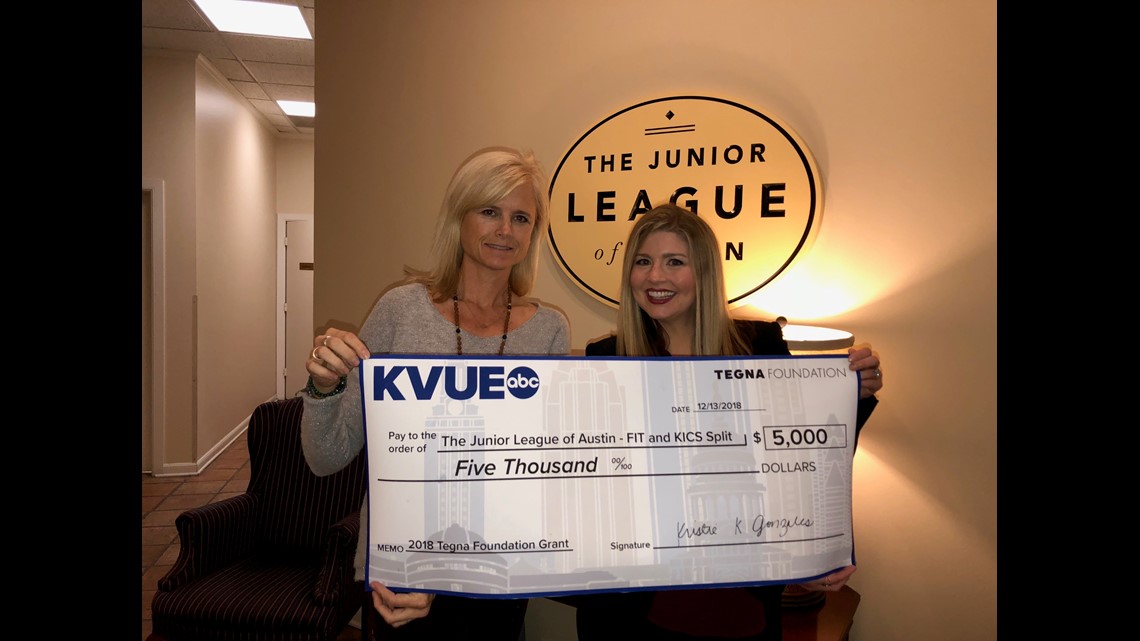 This organization will receive $5,000 to help school-aged children. KVUE is splitting the $5,000 between the Food in Tummies (FIT) program and the Kids in Cool Shoes (KICS) program. Food in Tummies (FIT) program provides weekend nourishment to 1,600 students from kindergarten to fifth grade. The Kids in Cool Shoes (KICS) program gives 700 local students brand new shoes. Both programs serve the students who couldn't afford it otherwise.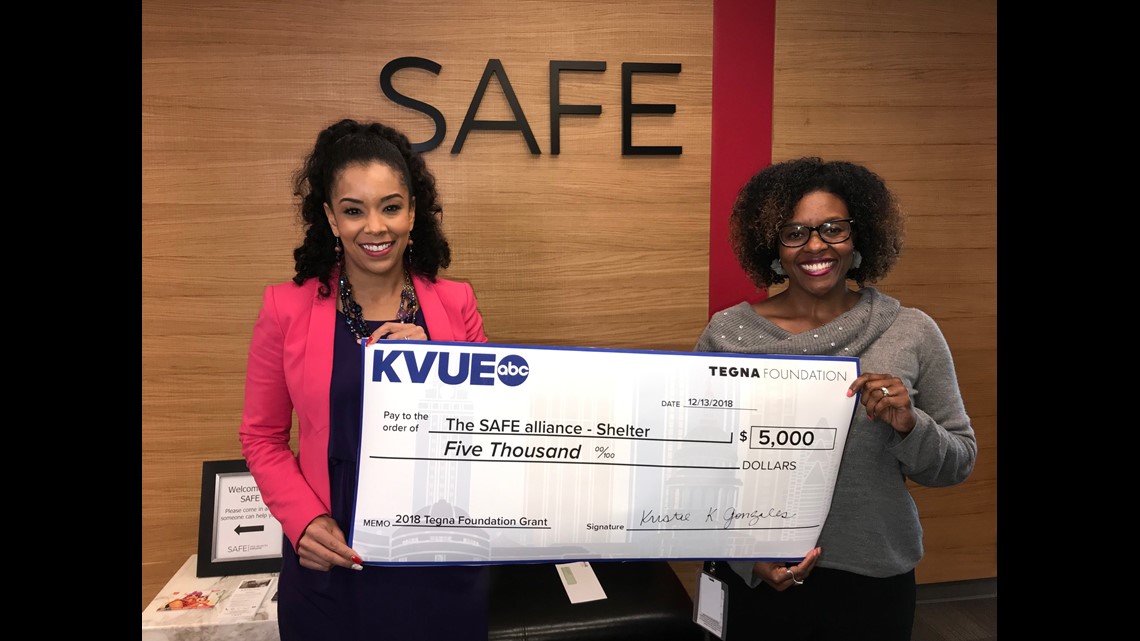 This organization will receive $5,000 to support SAFE's Kelly White Family Shelter. The shelter provides a haven for up to 600 adults and children annually who have endured domestic or sexual violence or other trauma. While at the shelter, SAFE provides many services to engender healing, safety and self-sufficiency for these families.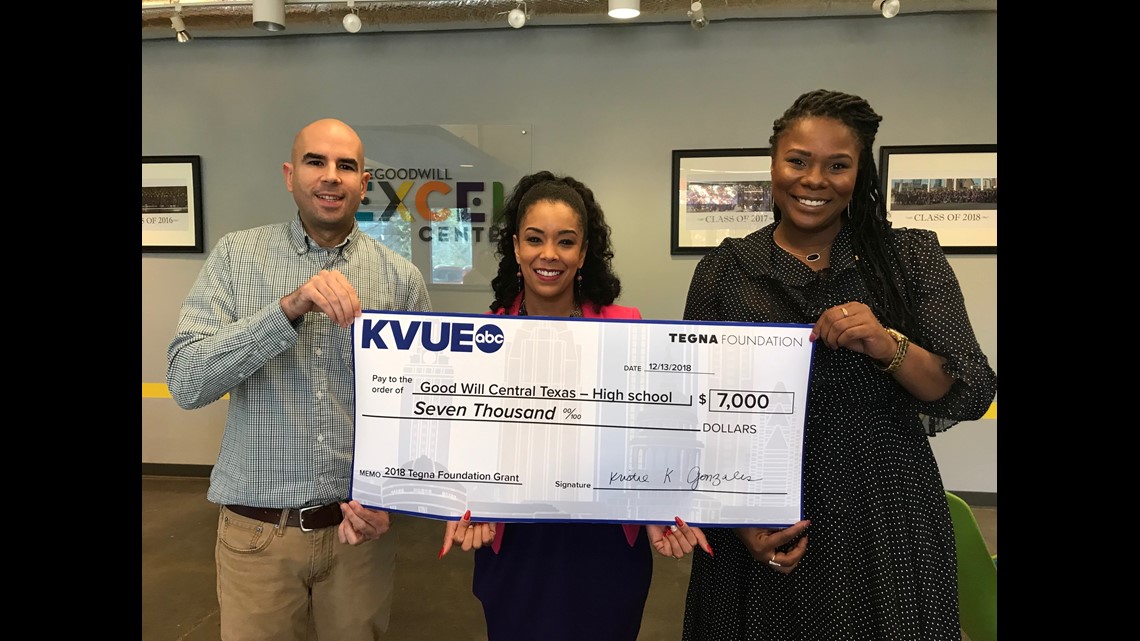 This organization will receive $7,000 to support its Life Coach Program that provides critical support for students enrolled in The Goodwill Excel Center, which is Goodwill's charter high school. Adults in the program work to earn their diploma and expand their opportunities often lifting themselves out of poverty. The Life Coach Program provides one-on-one mentoring, academic tutoring, case management, college and career planning, wellness assistance, bus passes, and internal and external referrals.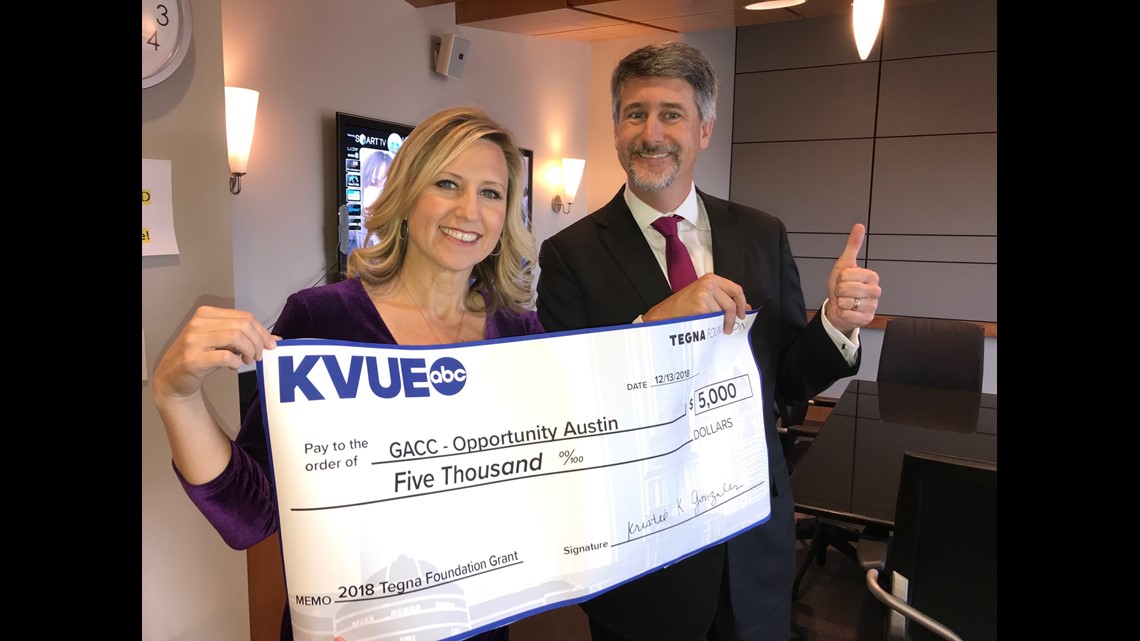 This organization will receive $5,000 to foster job-creating investment in Central Texas' five county region. Opportunity Austin works with at least 500 existing companies to create approximately 25,000 new jobs in the Austin-area.
Congratulations, grant recipients!
"The KVUE team has spent lot of time reporting on the biggest issues facing Central Texas including affordability and traffic," said General Manager Kristie Gonzales. "This year, we want our giving to align with our reporting, and these seven organizations do a wonderful job of helping alleviate some of the biggest problems in our community."
"It's been a very humbling experience to oversee the 2018 TEGNA Foundation Grants process this year," said Brand Manager Tecia Coton. "Getting to know all the amazing organizations that are genuinely trying to effect change for Central Texans is inspiring. I am happy that KVUE is able tailor our giving to directly impact affordability, one of the biggest concerns that our community is currently facing."
Making an impact and improving the affordability of the greater Austin area will be KVUE's focus overall in 2019. The efforts will be visible from both KVUE's marketing and news teams.
"Look for KVUE to make our slice of Texas a better place in 2019. These grants are just one of the many ways we can impact our community for the better. I am also excited to tell the stories of how these funds made an impact," said Director of Digital and Marketing Colleen Hartman.
Community grants are determined by each TEGNA station and approved by the station's general manager and the TEGNA Foundation Board of Directors. The donation amounts and nonprofit recipients vary depending on the unique needs and local priorities of that community.
Priorities for the TEGNA Foundation community grants include education and neighborhood improvement, economic development, youth development, community problem-solving, assistance to disadvantaged people, environmental conservation and cultural enrichment. In addition, the Foundation is proud to fund nonprofit organizations and programs that promote and celebrate the diversity of the communities we serve. The Foundation also invests in the future of the media industry, supports employee giving and community volunteerism, responds to natural disasters and contributes to a variety of other charitable causes.
KVUE is the ABC affiliate in Austin, Texas, owned by TEGNA Inc. KVUE first signed on the air in September 1971. KVUE is proud to be Austin's most-trusted community station and, in 2017, donated an estimated $7 million in airtime, money raised and volunteer efforts for non-profit partners. KVUE produces 33 hours of award-winning local news and programming each week with more than 200,000 unique visitors on average to KVUE.com each month. Viewers stay connected to KVUE on Facebook and Twitter.
TEGNA Inc. (NYSE: TGNA) is comprised of a dynamic portfolio of media and digital businesses that provide content that matters and brands that deliver. TEGNA reaches more than 90 million Americans and delivers highly relevant, useful and smart content, when and how people need it, to make the best decisions possible. TEGNA Media includes 46 television stations and is the largest independent station group of major network affiliates in the top 25 markets, reaching approximately one-third of all television households nationwide. TEGNA Digital is comprised of Cars.com, the leading online destination for automotive consumers, CareerBuilder, a global leader in human capital solutions, and other powerful brands such as G/O Digital and Cofactor. For more information, visit www.TEGNA.com.