AUSTIN, Texas — Created nearly a decade ago, the Austin Energy Utility Oversight Committee receives updates and reviews issues with the municipal electric utility.
On Tuesday, the committee listened as Austin Energy explained what happened during the ice storm at the end of January and beginning of February.
Overview
Jackie Sargent, general manager for Austin Energy, started the briefing. She said the storm left destruction equivalent to hurricane damage, and it was the largest restoration effort in Austin Energy's 127-year history.
"At its peak, the storm caused nearly 174,000 customers to lose power at one time. That's about 32% of our customer base. The outages were spread across our entire service territory of 437 square miles in Travis and Williamson counties," Sargent said. "While this event was historic, these types of extreme weather events, which caused long duration outages, are becoming more common. Climate change is here. If we are going to address the challenges of extreme weather causing long duration outages head on, we need increased support and coordination of our entire city structure to be more resilient."
The City activated the Emergency Operations Center (EOC) on Jan. 30. Austin Energy has an additional incident command center and command structure. It was activated at 8 p.m. on Jan 31.
"However, winter weather situational awareness calls began a full day before on January 30th, as we received weather updates and discussed preparation activities," Sargent said. "We know that there are many questions about the response effort, and we know waiting months for an after-action report will not provide the answers that our community is demanding of us right now."
Sargent said Austin Energy is working to improve future emergency operations. She said she told staff to look at how other municipal utilities handle hurricanes and ice storms to learn how they estimate system-wide restoration timelines.
"The sheer volume made normal on-the-ground assessments impossible in simultaneously restoring power at each location. Oftentimes during the storm, crews would find outages within outages or crews would work for several hours to restore a circuit, only to have another section of that same circuit go out, thus requiring them to start all over on restoring that circuit," Sargent said.
Sargent said Austin Energy should have texted and emailed customers sooner, using the automated system.
"It's clear the public wants and needs information to make decisions, even if it's not a definitive estimated time of restoration," Sargent said.
Sargent said Austin Energy is working with Homeland Security and Emergency Management and the City's Communications and Public Information Office to review the coordinated communications. Austin Energy is also making changes to its outage map.
After receiving questions of burying power lines, Sargent said she told her staff to include a third-party study to analyze the feasibility of burying all overhead distribution lines. The study will include cost impacts to customers.
"We've always responded that varying our distribution lines would be prohibitively expensive and very disruptive. We, as a utility, know this intuitively, but the community may not," Sargent said.
Sargent said she would welcome an audit of Austin Energy's vegetation management, or tree trimming, policies and procedures.
Austin Energy is adding two full-time positions to the emergency management team.
"I have already reached out to our peer large Public Power Council utilities in Orlando and Jacksonville, Florida, as well as the Long Island Power Authority. I've connected my team and directed them to schedule site visits to learn how they prepare for and manage hurricane restoration and coordinate their efforts with their respective city operations," Sargent said.
How this storm is different than February 2021
Stuart Riley, Austin Energy's interim chief operating officer, spoke about some differences between a State-directed event causing outages and a storm event like the recent one.
In February 2021, the Electric Reliability Council of Texas (ERCOT) directed Austin Energy to cut power to some of its customers to prevent a complete blackout.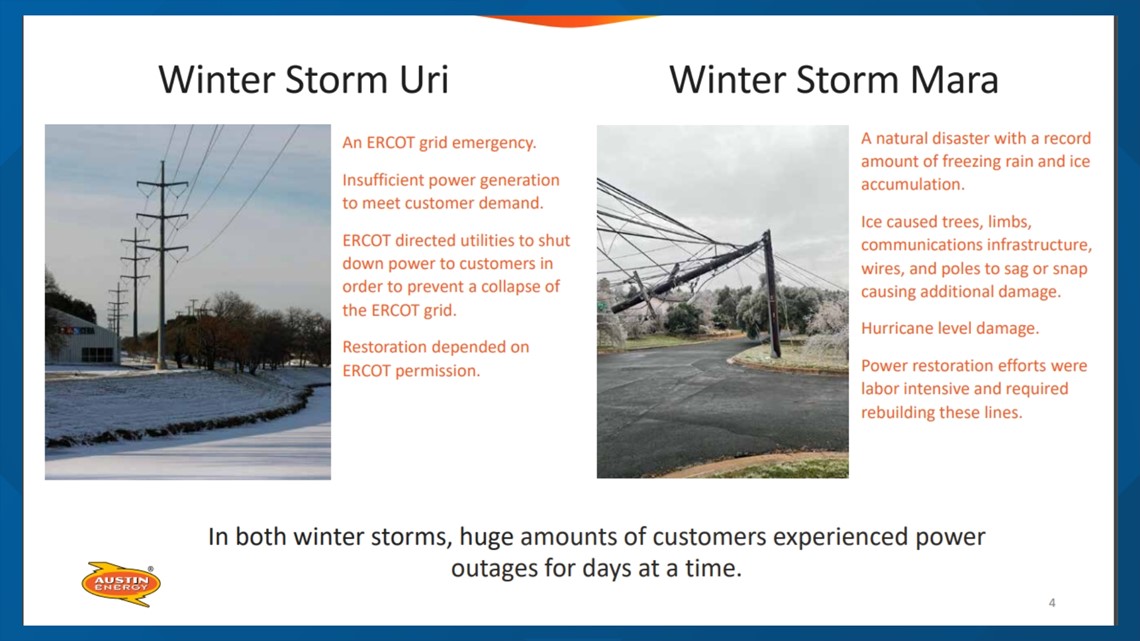 "I'm not trying to invalidate any customers' frustrations of what they experienced and the incredible amount of hardship that customers experienced as well," Riley said.
He said Austin Energy called in additional crews and tree trimmers and put them in hotels to be ready to respond quickly.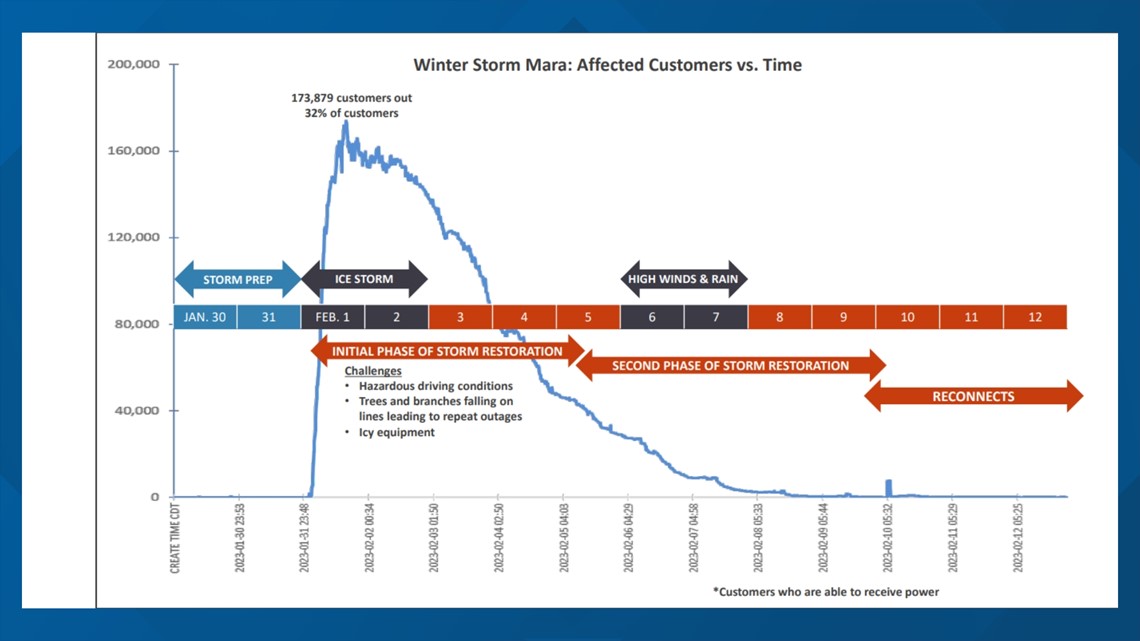 During the response, crews had to cut downed trees blocking the roadways. Riley said frozen, hilly terrain added more risk to the response efforts.
Vegetation management
Austin Energy contracts out its vegetation management. Three companies give the city 40 crews to trim trees.
"I've said it before, but it bears repeating: this wasn't a vegetation management issue. This was an ice storm issue. It truly was. The two pictures we've got up here representing these large trees – no amount of vegetation management would have prevented this," said Elton Richards, vice president of electric system field operations at Austin Energy.
Richard said the city has 2,400 miles of primary overhead lines, about 14 miles of secondary and 12 miles of street lights.
"Our standards for clearances right now is fast-growing, is 15 feet, slow-growing [is] 10 feet, and that is from the centerline of the electrical facility," Richards said.
Richards told the commission that they are limited on when they can trim some trees due to bird habitat and oak wilt.
"On the bird habitat, that's a no-go. There's nothing we can do on that. On oak wilt, as I stated, we do have trained arborists, so oak wilt can be trimmed in the oak wilt season as long as the owner gives the permission," Richards said.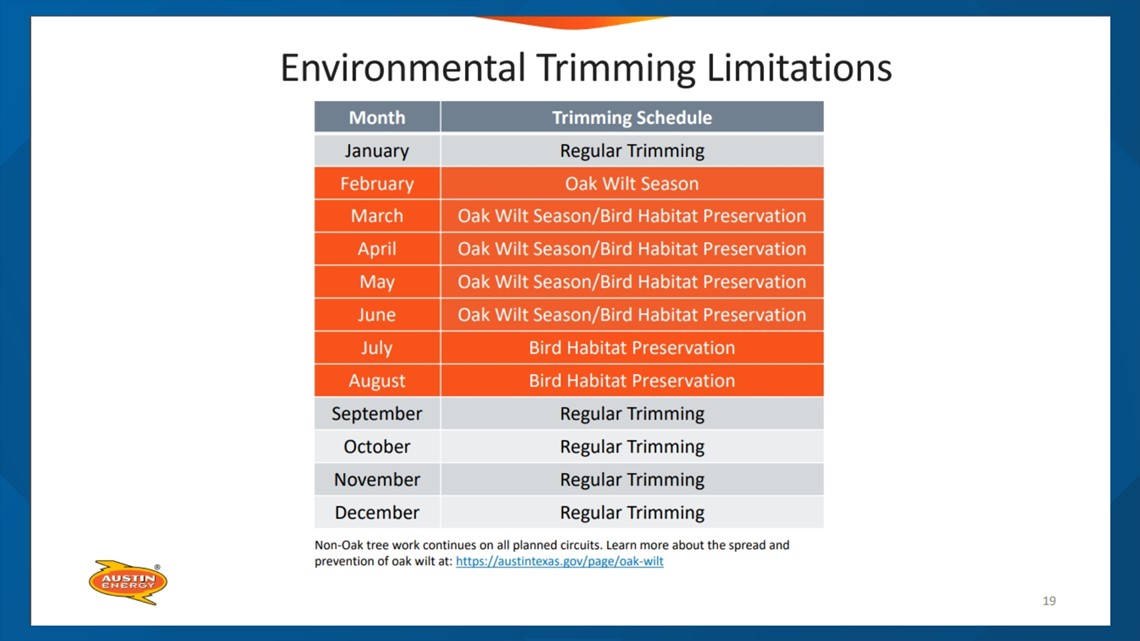 Richards said Austin Energy prioritizes tree trimming areas based on wildfire risk, under-performing circuits and when the last vegetation cycle was done.
Austin Energy trimmed 21 circuits in 2022, he said.
The budget for vegetation management allows 60 crews, but Austin Energy has only 40 to 45 crews working. Richards said this is due to labor shortages.
"Now, I will tell you one of the things I've got my vegetation management manager doing is we're looking at the funds we have not spent doing another contract with six other vegetation companies other than the three that we're using … to utilize those funds to bring in that additional 20," Richards said.
Austin Energy has the authority to trim trees near power lines, but the process can take six months to alert homeowners.
Austin Energy outage map
The Austin Energy outage map uses two main systems to tell a customer if there are outages in their area and how long restoration is expected to take.
"While the estimated time of restoration, or ETR, normally appears for an outage during blue sky days. ETRs are suspended during storm mode so they do not appear on the map," said Greg Flay, vice president of technology and data at Austin Energy.
Flay said Austin Energy is working with the system developer to improve the map.
"The first issue with the KUBRA platform is that there's an internal thread count limit that we hit that inhibited the effective execution of data gathering and data presentation processes. We are working with KUBRA on a solution to this issue. The second issue we had was a timeout window," Flay said.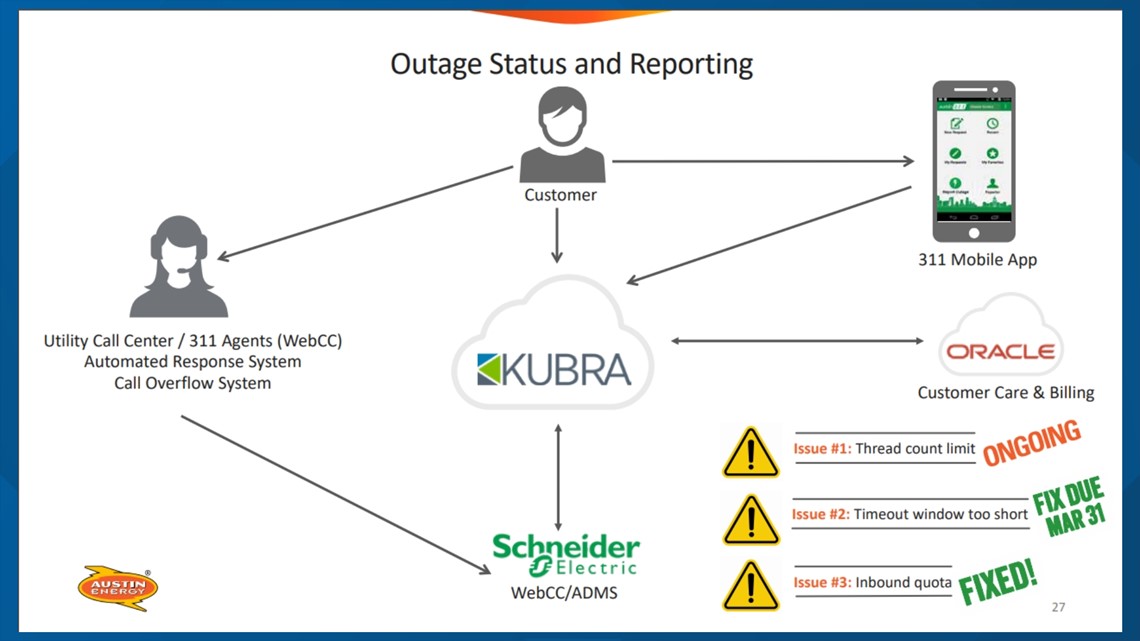 The third issue was associated with how many customers could send outage information at one time.
"We roughly tripled the size of the inbound quota parameter, which should be adequate to handle the next surge," Flay said.
Mutual aid and after-action reports
Austin Energy received help from New Braunfels Utilities, CenterPoint Energy in Houston and CPS Energy in San Antonio. Independent companies also sent personnel and equipment.
"One major consideration that we had to take into account is that when you bring on this many amount of mutual aid crews, you have to have space for the daily briefings to stage their heavy equipment and to take care of your other logistical needs. And at some point, we maxed out our existing service centers," said Lisa Martin, vice president of electric system engineering and technical services for Austin Energy.
Martin said the Texas Department of Transportation provided a facility for mutual aid staging.
"These additional personnel put in an additional 43,000 hours in addition to what Austin Energy Crews provided, and they did so with zero reportable incidents," Martin said.
An in-house team, Corporate Quality Services, will perform an after-action report.
"I know that members of this committee are very interested in the outcome of our after action work, and that's wonderful. But I want to emphasize that even if not a single person outside of Austin Energy wanted to review the results of our efforts, we would be doing it anyway because we are a learning organization focused on continuous improvement through a thorough process based on data-driven efforts," Martin said.
The after-action review will cover seven focus areas:
Restoration Operations
Incident Command
Mutual Aid
Finance
Communications
Logistics
Safety
"We don't have to wait till a report comes out to take action. And there are many things that we've already done and will continue to do," Martin said. "The purpose of this effort is really to provide a thorough process for us to determine what to start, what to stop and what to continue doing as we see more efforts or activities such as storm response events with long duration outages."