BOERNE, Texas — He thought it was a pulled muscle, but it turned out to be a rare bacterial infection spreading in his leg.
Jeff Reeh, 54, of Boerne worked out regularly. He lifted weights, played sports and stayed active.
"[My wife and I] wanted to get the most out of our body as we age. Like most Baby Boomers, we want to make sure we remain active and do the things that we enjoy," said Reeh.
Those things included taking vacations abroad and running a health company.
To help his muscles recover, Reeh took injections of a liquid amino acid drug developed and recommended by his doctor.
Without it, "I'd probably feel more like the 54-year-old that I am," said Reeh.
He said the injections worked well, for 10 months. Then, at an out-of-town conference, he woke up sweating.
"The bed was a pool of water. I had such a raging fever," said Reeh.
His leg was swollen.
RELATED:
New task force may change the way some pharmacies operate
'Good community compounding pharmacy still exists': An inside look at how compounding pharmacies work
"I had one of those times in life where you're not exactly sure what's going on with your body. You know something is going really wrong and you're not exactly sure what it is," said Reeh.
Reeh didn't know how he would make it to the airport.
"I said, 'God, if this is my time, let me get home to Texas and I'll die in Texas,'" said Reeh.
Once home, doctors told him mycobacterium abscessus was growing in his leg.
Mycobacterium abscessus is not common. It's found in water, soil and dust, according to the Centers for Disease Control and Prevention.
And it's hard to kill.
"It's very scary to hear your doctor say we don't know how to treat this," said Reeh.
The treatment included 23 different surgeries over five months. During each procedure, doctors scraped the damaged tissue and drained fluid built up in his leg. Staples wouldn't keep the wound closed, so Reeh used a wound VAC for 103 days. Doctors put him on five antibiotics.
"The worst part of it was the toxicity of the antibiotics in the body," said Reeh.
Some of the antibiotics flowed through a PICC line for 154 days.
PHOTOS: Jeff Reeh's compounded drug injection infection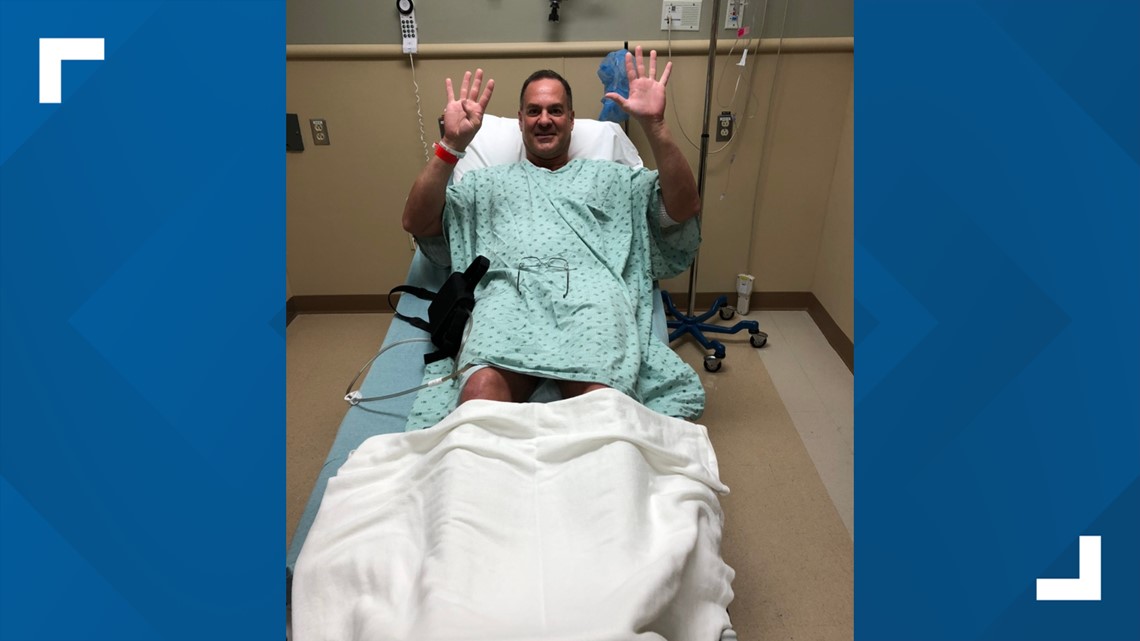 Reeh risked kidney failure. The antibiotics caused rashes on his chest, face and back. He consistently felt nauseous.
Then, on March 6, Reeh felt a new side effect: ringing in his ears. The next day he told his doctor.
"She looked at me and said, 'You have a very serious decision to make. You need this antibiotic that's causing your ototoxicity to save your leg. So, we need to make a decision right now. Do you want to save your leg, or do you want to save your hearing,'" said Reeh. "It's a very tough decision when you're given an either/or. You're talking about two major things … two major changes to your life."
Reeh wanted to keep his leg, keep taking the antibiotics.
"It's that I've been active my entire life. I wanted to remain active without being a burden to my family, my loved ones," said Reeh.
The amino acid compound Reeh took came from Pharm D Solutions, a sterile and non-sterile compounding pharmacy in Houston.
Compounding pharmacies are pharmacies that mix and tailor their own medicines for patients but without FDA testing or approval like standard prescription drugs.
Sterile compounding drugs go directly into the body without digesting like injections, inhalants and eye drops. Non-sterile compounding drugs include pills, creams and ointments.
Pharm D Solutions was listed as a sterile and non-sterile compounding pharmacy that also manufactured compounds for more than one patient. Manufacturers have tighter regulations.
Reeh sued the company and its pharmacists, claiming negligence, and that Pharm D Solutions failed to "properly prepare and compound the amino acid solution ... ensure sterility … prevent bacterial contamination."
When the KVUE Defenders reached out, the owners of Pharm D Solutions and attorney would not answer any questions.
In a court-filed response to Reeh's lawsuit, Pharm D Solutions denies all the allegations. Pharm D Solutions claims "mycobacterium abscessus have never been identified" in any of their products.
Court-Filed Documents:
State and federal records show Pharm D Solutions had several problems before. Texas State Board of Pharmacy records show procedural violations like "improper registration procedures."
But other agencies found sanitary issues.
In 2018, inspectors with the Texas Department of State and Health Services noted 14 "observations" including, "facilities are not designed to minimize potential contamination and/or mix-ups." The state sent a warning letter two months later.
Federal inspectors found sanitary violations dating back to 2014. In 2015 FDA inspectors noted, "procedures designed to prevent microbiological contamination of drug products purporting to be sterile are not established."
After that inspection, FDA records show the pharmacy recalled some of its drugs, "due to mislabeling."
In December 2016, the FDA to issue a warning letter showing, "several of your proposed corrective actions appear adequate, others are deficient."
Then, in August 2018, the FDA inspectors noted other sterility issues including "both technicians" had "bare skin exposed" while working on a sterile compound and drugs which "failed or are without potency testing were released and distributed."
Less than a month later, the FDA issued a recall for all Pharm D Solutions' sterile compounded drugs.
Then, in May 2019, the FDA filed a permanent injunction. The facility closed and its drugs were destroyed.
FDA, DSHS and Pharmacy Board Files
The KVUE Defenders asked Texas State Board of Pharmacy's executive director, Allison Benz, why the board didn't shut down Pharm D Solutions and why the pharmacy and pharmacists have no disciplinary actions on their records.
"The violations found in those inspections were procedural and wouldn't be something we would shut a pharmacy down for," said Benz.
Benz said the pharmacy was regulated differently because it was an outsourcing facility listed as a 503B. Those pharmacies are regulated by the FDA and the Texas Department of State Health Services. The State Board of Pharmacy handles administrative policies and procedures for outsourcing facilities, not the same sterility inspections as DSHS and FDA.
"It's obviously troubling," said Chip Brees, Reeh's attorney. "Despite the history of failures by the State and the FDA, the pharmacy continued to operate."
Reeh got sick a few months before the last FDA inspection, before the recall.
"By that point it was too late. The harm had already been done," said Brees.
Reeh's hearing is now impacted. He describes it as the sound of a pressure cooker.
"It's always the loudest noise. As noise increases. the hissing increases … 24 hours a day, seven days a week," said Reeh.
He's not alone.
Last year, the KVUE Defenders reported how Lorena Lopez-Gonzalez almost died from a compounding pharmacy error. The dosage of her thyroid medicine was 54,000% greater than prescribed. Another compounding pharmacy error led to a golf ball-sized hole in Josselyn Stevens' arm.
RELATED: Pharmacy error left golf ball-sized hole in Leander woman's arm
In those reports, the Defenders showed how the State Board of Pharmacy investigations on compounding pharmacies, which are not outsourcing facilities, can take years to issue enforcement action.
Pharmacy board inspectors check pharmacies every two years or when they get a complaint.
Reeh's leg is almost healed now, but the trauma lingers. He said his travel is limited because he can't risk another infection.
"We have nothing left to fight it with," said Reeh.
He said this experience gave him a new perspective on life.
"You learn to take no days for granted. Enjoy every day God gives you because you don't know the next day," said Reeh.
Pharm D Solutions pharmacists work at other pharmacies in Houston.
How to file a complaint about a pharmacy:
RELATED: 54,000% higher: Austin woman almost dies after pharmacy's dosage mistake
PEOPLE ARE ALSO READING:
'You could see his eyes roll back into his head': Family of late Jevan Snead says concussions changed him
Burned Round Rock toddler one of hundreds hurt by recalled coffee machine
UT Longhorns items, equipment, gear for sale in auction amid construction projects