AUSTIN, Texas — Austin-Travis County is moving into Stage 4 of its COVID-19 risk-based guidelines. The city surpassed Stage 4 levels earlier this week.
Austin-Travis County Health Authority Dr. Desmar Walkes announced the change in stages Friday at a press conference with Austin Public Health (APH).
Under Stage 4, APH recommends everyone wear a mask, even if they're fully vaccinated. Fully vaccinated people should wear a mask when participating in indoor private gatherings, traveling and dining or shopping and should wear a mask for outdoor gatherings if they are unable to socially distance. Partially or unvaccinated individuals should avoid private gatherings, travel, dining and shopping unless essential and should wear a mask when conducting essential activities.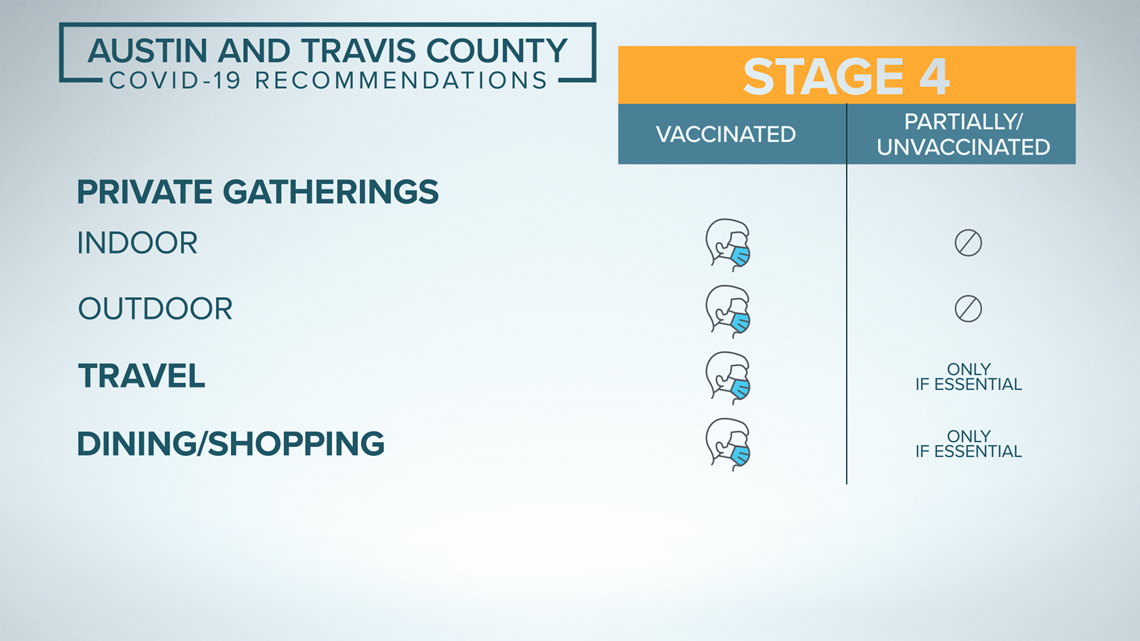 The Stage 4 guidelines are recommendations, not a mandate. Under Gov. Greg Abbott's most recent executive order, masks are not required in the state of Texas, though businesses and other establishments may require employees or customers to wear masks.
"As for whether or not we are going to be able to enforce this, we are not going to be able to enforce," Walkes said Friday.
The primary indicator the county tracks to determine whether to move to a new stage is new hospital admissions. They also look at the 7-day moving averages for new cases, the county's positivity rate, the doubling time of new cases and current ICU and ventilator patients.
"I am concerned and that is one of those factors that has led me to a decision to recommend that we move to stage four," Walkes said of the ICU bed numbers. "The decision was not made lightly, and we meet regularly with hospital systems. They have beds, they have equipment, but we have staff and the staff are stressed and strained and have been working for over 18 months to care for patients. And so our real concern is that we make sure that our hospitals are supported and that is why, if we have to, we will be requesting help from our state leadership to get staff to come in and support us so we can expand our ICU capacity."
APH said Friday that over the past three weeks, these indicators have surged:
The 7-day moving average for hospitalizations since July 4 has increased by over 203% from 63 to 202 hospitalizations on July 22.

The positivity rate, the number of people who test positive out of the total number of people tested in a given week, has tripled from 3.2% to 9.6%.

COVID-19 patients in local ICUs have increased nearly 242% from 24 people on July 4 to 82 people on July 22. 
"When the ICU nurses start hearing that the surge is here, and it's coming, I see this look of ... they're overwhelmed," said Dr. Elizabeth Douglass with Dell Medical School. "They work, they had to be in patients' rooms, completely with these masks that were so uncomfortable, work so many hours. We're tired."
As of July 22, the 7-day moving average of new admissions is 34. The 7-day moving average for new cases is 148.
For Stage 4, the 7-day moving average for new hospitalizations must be between 30 and 50-90, depending on the "rate of increase," according to APH's website.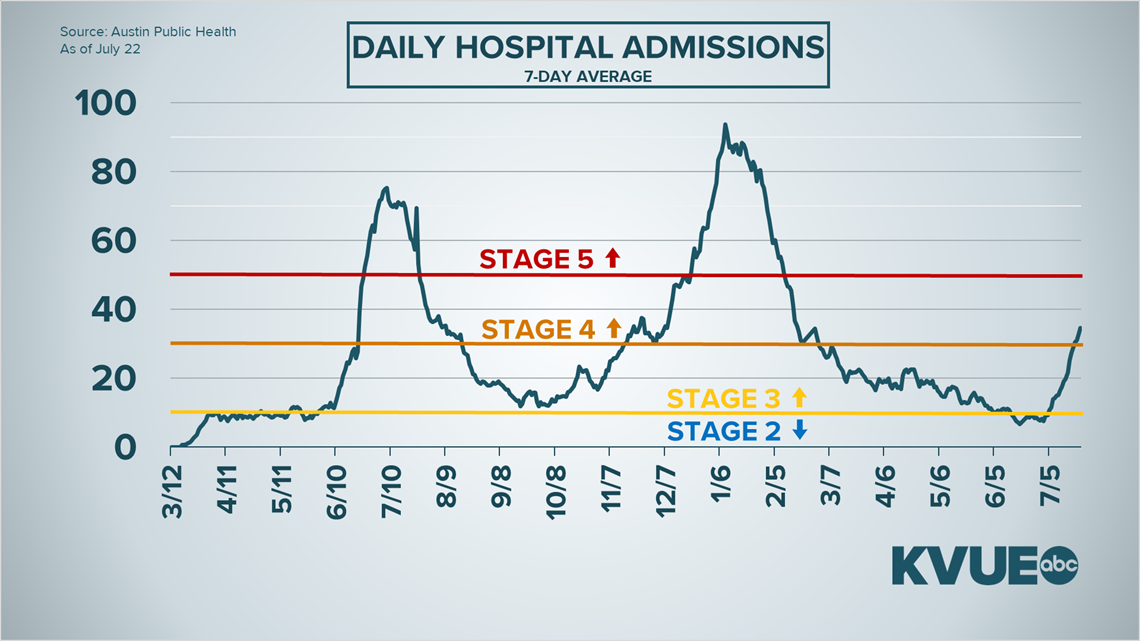 "I hate that once again we find our hospitals filling up," Austin Mayor Steve Adler said in a press release. "We wanted so much for this to be over. But once again we must dig deep to protect our ICUs and our exhausted doctors and nurses and stop this delta variant. Please take the shot. After you are vaccinated, wearing a mask indoors is the least intrusive and most effective thing we can and must do to prevent further spread. If I could order all children and teachers to mask without ending up in court, I would do it in a heartbeat."
Walkes said the increase in children getting hospitalized due to COVID-19 is especially concerning. She also said earlier this week that "there is a reluctance in our communities of color to get vaccinated." She said this is due to long-standing trust issues with vaccines.
APH is recommending children under 12 years old wear a mask at school when the 2021-22 academic year begins until a vaccine for their age is approved. It also said it supports the American Academy of Pediatrics' guidance that kids should do in-person learning this school year, unless there is a medical reason not to.