"Right now, the numbers are showing that this next surge is going to be large and fast and problematic for all of Texas," said Maureen Johnson-León, a data equity specialist with the consortium. "It could be that this surge breaks previous records. That means that in order to prevent it or continue to act against it, we need to be taking precautionary measures now."
She said the numbers are "increasing very quickly" due to the transmissibility of the delta variant.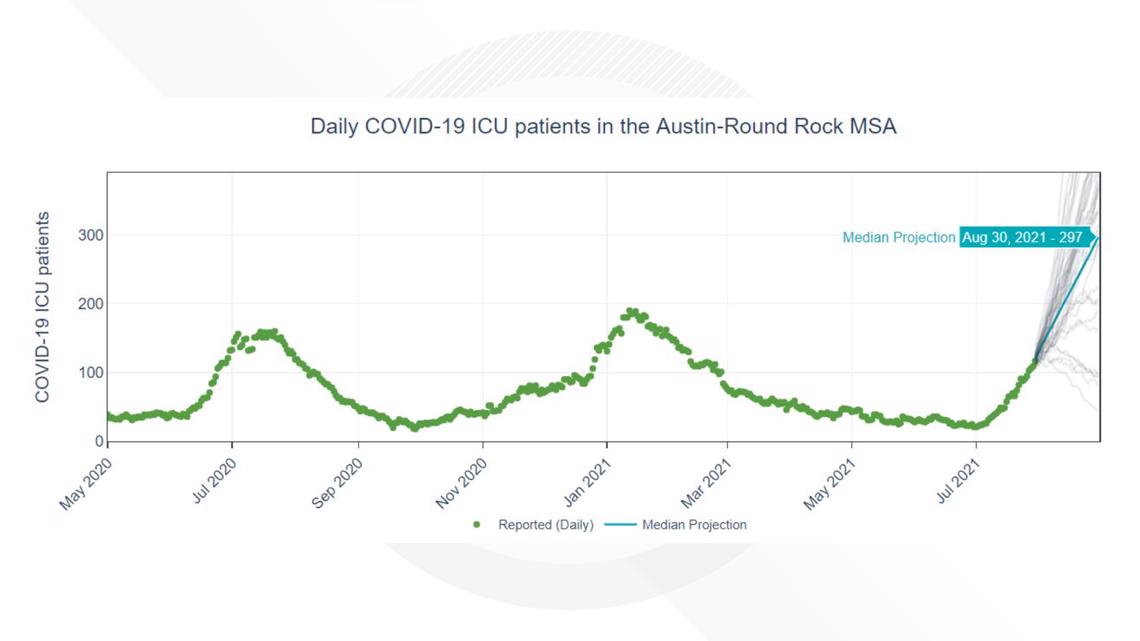 "The pandemic modeling consortium is really focused on both providing situational awareness to the City of Austin and to the public so that they know where we stand in terms of what the numbers are today. Part of that is also looking at what the numbers might be next week or in two weeks or in three weeks to give a little bit of that awareness of what is being forecasted. What can we expect based on what is happening today?" said Johnson-León. "This forecasting really serves so that we can understand why and how we today can change the way that we're preventing COVID with these precautionary measures, such as masking or getting vaccinations so that we can prevent a worse outcome in a few weeks."
She said the peak that's currently forecasted doesn't have to happen if people take precautions.
"We've been in the pandemic for a long time, and I just want to reiterate that the same tools that were useful years ago are useful now in order to continue to try to get rid of COVID-19," said Johnson-León. "You can avoid large gatherings, decide together outdoors with a smaller group of people, get tested if you're feeling symptoms and, of course, try to avoid work and other situations if you are indeed sick."
The consortium doesn't only look at ICUs. It also has projections for hospitalizations. As of Thursday, it projected the seven-day average of new hospitalizations each day to be 122 on Aug. 30.
On Thursday, the Texas Department of State Health Services reported the seven-day average of new hospitalizations each day for Aug. 4 was 70.6, which is up 560% from a month ago.
On Friday, the consortium released another report analyzing the surge and the risk it could pose as schools begin opening up. Their modeling suggests that immediate behavioral changes are needed now to slow transmission as area ICU beds may exceed capacity by Sunday.
Analysts said the safest way to reopen schools is to slow transmission in the community. Their report indicates that the probability that at least one student comes to class infected on the first day of class can be reduced from 94% to 37% if significant precautionary behaviors are taken advantage of. They also said mitigation measures in schools such as mask-wearing and distancing can avert 36% to 60% of pediatric hospitalizations.
"Cases and hospitalizations in Austin are continuing to rise. With the city announcing a move into Stage 5 and school returning in the next few weeks, it's critical to slow transmission so that we can reopen education as safely as possible," said Spencer Fox, associate director of the UT COVID-19 Modeling Consortium. "Without strong mitigative measures within schools, school reopening could exacerbate the local epidemic and put children in our community at risk. Wearing face masks in schools, vaccinated or not, and continuing to take other precautions will allow us to protect children, their families and the community."
The consortium made projections under different scenarios. Analysts, verbatim, predicted the following through Nov. 1, 2021:
Rapid widespread compliance with stricter guidelines, including universal use of facemasks in public indoor spaces and schools, would reverse current trends, safeguarding Austin's healthcare system and enable safe school reopening.
School opening can increase area transmission of COVID-19.

Mask wearing and other precautionary measures within schools would be expected to mitigate some of the additional risk and prevent between 36% and 60% of pediatric hospitalizations depending on the level of the community's compliance with behavioral prevention measures like wearing masks.
If schools have no mask mandates, and the community's behaviors remain the same, hospital usage would increase, overwhelming ICU capacity by early August.