AUSTIN, Texas — After Gov. Greg Abbott issued an executive order allowing several types of businesses to reopen on May 1, the number of confirmed cases of COVID-19 cases has continued to rise in Texas.
Data from the Texas Department of Health Services shows that the number of new cases each day does not show a leveling-off. As of April 30, there were 1,033 new cases of COVID-19.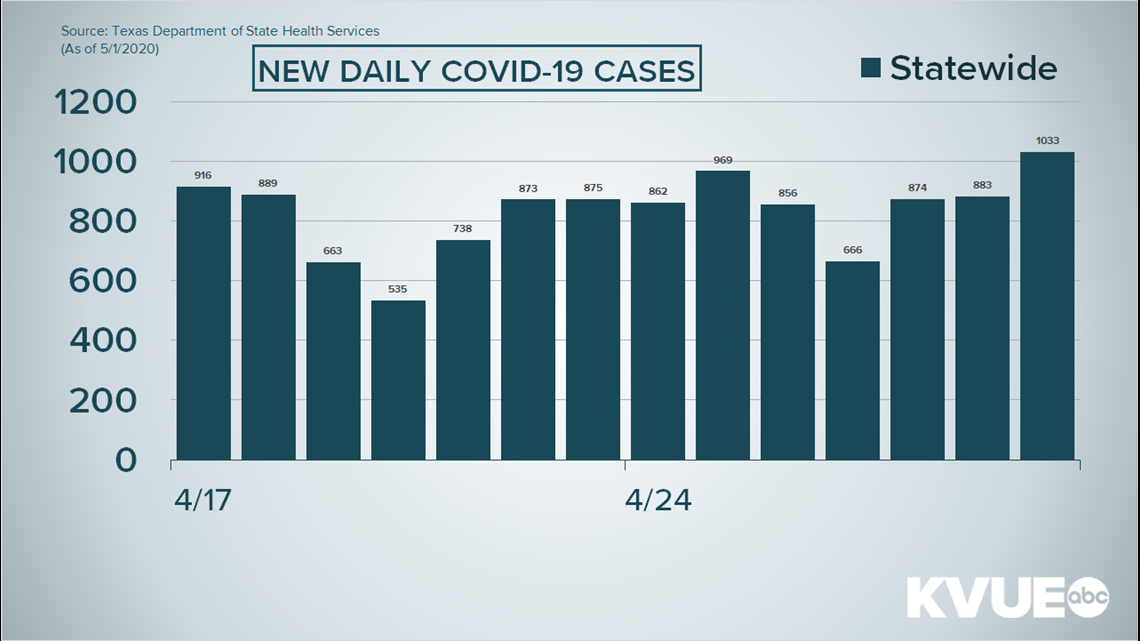 Additionally, the COVID-19 death toll has risen steadily week-to-week in April. In the period from April 24 to April 30, 221 people died, making it the deadliest week since the tracking of data began.
April 30 saw the highest single-day death rate of 50 deaths. Previously, the deadliest day took place on April 14 when 46 people died.
Compared to the cumulative deaths on April 1, 41, there has been a 1,807% increase as of April 30 when the death toll reached 782.
The total number of deaths that occurred on May 1 as of 5 p.m. in Texas was 34.
Sharp spike in cases in Travis County during April
A review of data from Travis County during the month of April shows the number of confirmed cases grew 552% from the first day of the month to the last day.
There were 739 new cases of the virus between April 1 and April 30, with the sharpest spike coming in the last week of the month when the county added 221 new cases, the highest weekly case gain since the state health department began tracking the outbreak in March. Through May 1, the total case count in the county is 1,683.
The number of confirmed cases in Williamson County grew 65% during the last week of April. Hays County saw an increase of 18% during the same period, and Bastrop County experienced a 44% increase in cases between April 24 and April 30.
The biggest surprise from the April data came from Mason County, west of Austin, with a 2,000% increase in confirmed cases over the past week, from 1 to 21.