AUSTIN, Texas — Many people around the country head to the gym for a workout to de-stress and have some sort of escape. But concerns over the coronavirus (COVID-19) have caused gyms large and small to temporarily close their doors.
In a statement to KVUE, Life Time said:
"At Life Time, health is our top priority, and we have made the decision to temporarily close all of our clubs nationwide and in Canada, effective today, March 16, at 8 p.m. in each time zone. The length of each club's closure will be dependent on governmental guidance. Members will be credited for the number of days the club is closed, and team members will be compensated.
The entire Life Time organization is committed to healthy, happy lives for all and we are tirelessly working to see how we can help our communities in any way we can, including whether we can repurpose our facilities to become a resource or service centers for our members. We hope to communicate with you quickly on our plans."
According to a press release, Gold's Gym said it has temporarily closed all company-owned Gold's Gym locations in the U.S., including Texas, Oklahoma, St. Louis and Carolina gyms through March 31 "to do its part in slowing the spread of the coronavirus (COVID-19)."
"This is not a business decision but a humanity decision," said Adam Zeitsiff, Gold's Gym CEO and president. "We want to protect our community and people of all ages by doing what we can to flatten the disease's curve. To fight this virus, we have to stand firm with everyone who is working to contain the spread. We are truly stronger together."
"Privately-owned franchised gyms will make their own determinations on when and whether to close and are watching this situation very closely," the release from Gold's Gym stated.
The pictures below were taken inside of an Austin-area Planet Fitness, where signs are encouraging users to keep their distance.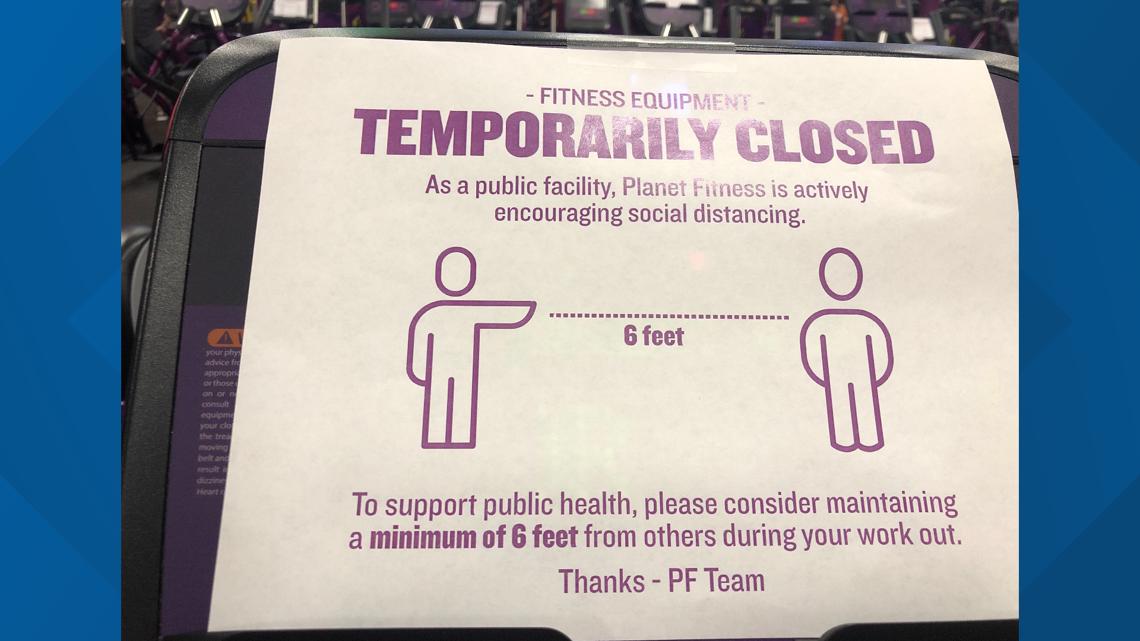 In an email to members, Orangetheory fitness said they decided to close all of their corporate-owned studios.
Locally-owned gym 413 Fitness, which focuses primarily on movement disorders like Parkinson's disease, also chose to shut down their locations temporarily.
"We made that call because people with Parkinson's disease are more apt to get infections," said Kristi Richards, the owner and a coach at 413 Fitness. "We had to make that decision for safety reasons that we just want to keep them safe and healthy."
Now, they're putting together videos for people to use at home.
"We started shooting videos on Saturdays to keep them exercising we are working on having videos for all fitness levels for our guys who are capable of doing jumping jacks, for our people who need to be sitting in chairs," Richards said.
MORE CORONAVIRUS COVERAGE: