AUSTIN, Texas — Editor's note: This story has been updated to reflect that the UT model data may have been skewed by a data point in late July due to a change in how the State reports COVID-19 data.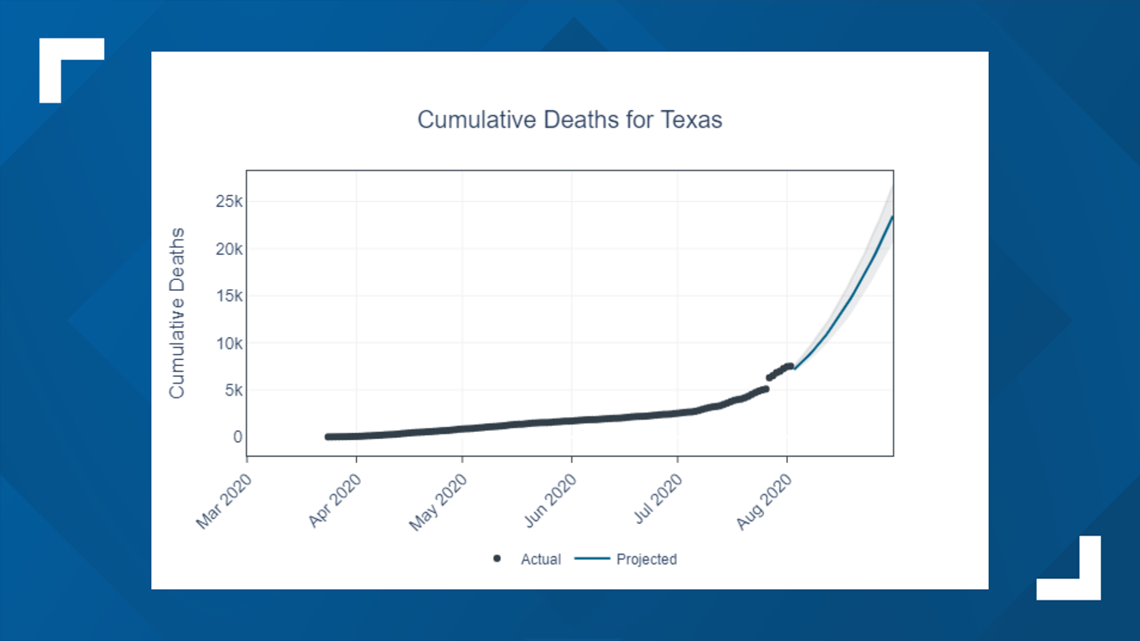 For this prediction to become reality, that means more than 15,000 people would die from coronavirus in the next 21 days. That means that more than 700 people would die per day on average during the next three weeks. The predicted escalation of new deaths would be a 177% increase in 21 days. KVUE reached out to UT regarding the model's prediction. After this story was published, UT told KVUE a data point from July 27, where the State reported 1202 deaths that day, "may be affecting the model's projections."
Researchers acknowledge the model was thrown off when the State changed how it reports deaths a few weeks ago, so the projections could change as new data becomes available.
UT officials sent KVUE the following statement:
"Several news outlets have reported today on the UT COVID-19 Modeling Consortium's projections for deaths through the end of August in Texas. The model uses anonymized cell-phone mobility data alongside historic death data aggregated by Johns Hopkins University to project future deaths at the Metropolitan and State level. There was an erroneous data point for deaths on July 27 that is biasing the projections, which we are working to correct. Additionally, the model is projecting increasing numbers of deaths in the coming weeks based on recent upticks in deaths across the state coupled with elevated mobility patterns. The mortality data do not yet reflect the slowdown in transmission that occurred following mid-June changes in COVID-19 policies and behavior. If mortality data begin to decline, similar to recent declines in COVID-19 case counts and hospitalizations, then the model will naturally update to reflect the trend and its projected deaths will decrease."
UT's model said it "uses local data from mobile phone GPS traces to quantify the changing impact of social-distancing measures on 'flattening the curve.'"
Texas reported 116 new deaths on Sunday and 4,879 new cases statewide.
GRAPHS: Coronavirus data Aug. 9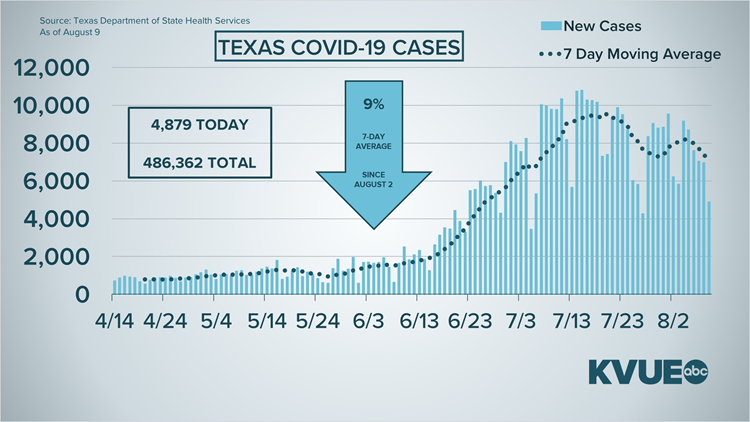 The maximum projection of coronavirus deaths, according to the model, is 26,726. The minimum projection of coronavirus deaths is 20,655.
Despite the predicted upward trajectory in a statewide lens, the outlook for the Austin metro area shows another story. When looking at the Austin area, the model predicts an increase in deaths, but the trend starts to plateau near the end of August.