AUSTIN, Texas — Editor's note: This blog is no longer active. For the latest COVID-19 updates, click here.
KVUE is keeping you updated with the latest coronavirus and COVID-19 news in the Austin area.
Scroll down for the top headlines and latest updates in KVUE's May 10 live blog.
Texas: More than 2.4 million cases have been reported in the state, and more than 49,500 people in Texas have died, according to the Texas Department of State Health Services.
Central Texas counties:

Travis County: At least 82,901 cases have been reported and at least 858 people have died. At least 81,310 people have recovered from the virus.
Hays County: At least 18,606 confirmed cases have been reported and at least 241 people have died. At least 17,958 people have recovered from the virus.
Williamson County: At least 39,120 cases have been reported in the county and at least 466 people have died.
For a look at COVID-19 data across all of the state's counties, click here.
GRAPHS: Coronavirus data May 7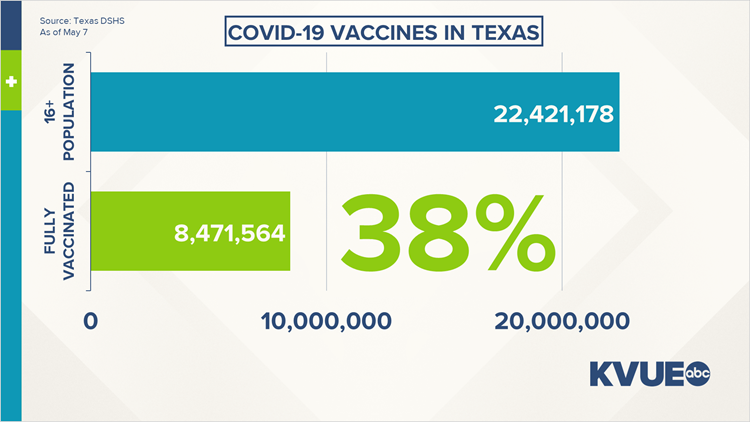 5 p.m. – Hays County reports one new coronavirus-related death, a San Marcos man in his 70s, bringing the county's total deaths to 241. The county also reported 45 new lab-confirmed cases since Friday. The county has a total of 18,606 lab-confirmed cases with 17,958 recoveries.
11:49 a.m. – Rodeo Austin, Austin Pride and ACL Fest are among the big events planning comebacks as COVID-19 cases slow and demand fades in the City of Austin.
9:45 p.m. – The Travis County Sheriff's Office reports one new case among its inmate population and one more case among employees. A total of 231 inmates received a COVID-19 vaccine last week.
6:30 a.m. – The City of Austin is reopening some of its public libraries today. Twelve locations, including the Central Library downtown, will allow people to go inside to browse and check out books. Public computers and WiFi will also open for public use. These include Central, Carver, Hampton Branch at Oak Hill, Manchaca, Milwood, North Village, Old Quarry, Ruiz, Spicewood Springs, St. John, Windsor Park and Yarborough. The rest, minus the ones undergoing renovations, will open for in-person service on June 28.