AUSTIN, Texas — Editor's note: This blog is no longer active. For the latest updates, check out our new live blog here.
KVUE is keeping you updated with the latest coronavirus, also known as COVID-19, news in the Austin area.
Scroll down for the top headlines and latest updates in KVUE's June 4 live blog.
Texas: More than 68,000 cases have been reported in the state, and more than 1,700 people in Texas have died, according to the Texas Department of State Health Services. The department estimates more than 45,000 people have recovered from the virus.
Central Texas counties:

Travis County: More than 3,500 cases have been reported and at least 95 people have died. At least 1,380 people have recovered from the virus.
Williamson County: More than 660 cases have been reported and at least 27 people have died. About 438 people have recovered from the virus.
Hays County: There have been at least 389 cases reported in the county and at least five people have died. More than 220 people have recovered from the virus.
GRAPHS: Texas coronavirus data June 4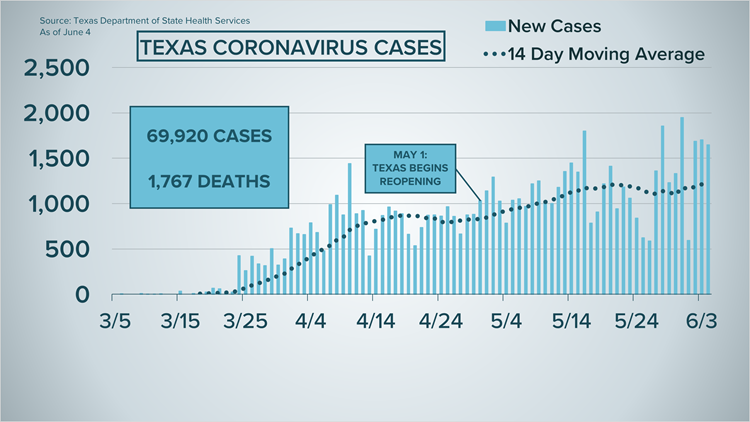 5:20 p.m. – Williamson County has confirmed another death from COVID-19, bringing the death toll to 27. The death was a man in his 80s, the county said on Thursday.
5:05 p.m. – Hays County on Thursday reported four new cases of COVID-19, along with eight new recoveries. The total number of confirmed cases is now 389, with 220 recovered and 4,188 negative test results. There are 164 active cases in the county.
3:30 p.m. – The City of Austin has been awarded another federal grant of $10,859,249 to help vulnerable populations prepare for and recover from the COVID-19 pandemic, according to U.S. Sen. John Cornyn.
The funding, which was appropriated by Congress in March, comes through the Department of Housing and Urban Development as part of the $174,237,595 awarded to Texas by the CARES Act.
"While Texans continue to persevere as COVID-19 wreaks havoc on our state, we must take steps to ensure that our vulnerable communities are equipped to weather the storm," said Sen. Cornyn. "I'm grateful to the Trump Administration for continuing to make recovery in Austin a high priority."
3 p.m. – Gov. Abbott announces that the Texas Health and Human Services Commission will provide approximately $177 million in emergency Supplemental Nutrition Assistance Program (SNAP) food benefits for the month of June in response to the pandemic. The HHSC received federal approval from the U.S. Department of Agriculture to extend the maximum, allowable amount on SNAP benefits to recipients based on family size.
"As we continue the process of safely and strategically opening Texas for business, we are committed to ensuring families across the state have access to nutritious food," said Gov. Abbott. "This extension of emergency benefits will help Texans in need provide for their families while our state continues to respond to the COVID-19 pandemic."
More than 900,000 SNAP households should see the additional amount on their Lone Star Card by June 12.
12:36 p.m. – The Williamson County Commissioners Court has approved an additional $10 million from the CARES Act funds it received to continue to fund its Wilco Forward Small Business Grant Program.
So far, $24 million of the $25 million originally approved for the program have been given in grants to more than 2,300 business owners in Williamson County.
"The additional funds are needed to continue providing financial assistance to Williamson County small businesses impacted by COVID-19," according to the county.
12:30 p.m. – Williamson County announces a new death related to COVID-19, bringing the total to 26.