AUSTIN, Texas — Editor's note: This blog is no longer being updated
KVUE is keeping you updated with the latest coronavirus, also known as COVID-19, news in the Austin area.
Scroll down for the top headlines and latest updates in KVUE's June 12 live blog.
Texas: More than 81,500 cases have been reported in the state, and more than 1,900 people in Texas have died, according to the Texas Department of State Health Services. The department estimates more than 54,000 people have recovered from the virus.
Central Texas counties:

Travis County: Over 4,300 cases have been reported and at least 104 people have died. At least 3,380 people have recovered from the virus.
Hays County: Over 570 cases have been reported and at least five people have died. About 263 people have recovered from the virus.
Williamson County: More than 780 cases have been reported in the county and at least 30 people have died. More than 540 people have recovered from the virus.
GRAPHS: Texas coronavirus data June 12
8:10 p.m. – Jones Brothers Park in Jonestown is closing Fridays, Saturdays, and Sundays to prevent the spread of COVID-19.
6 p.m. – Travis County has reported three more deaths from COVID-19, bringing the death toll in the county to 104. Travis County reported 76 new confirmed cases on Friday, bringing the total to 4,314, while at least 3,380 people have recovered from the virus.
5 p.m. – Austin Community College will begin a gradual approach to return to campus beginning July 6, it was announced on Friday.
ACC said it will begin with a small amount of technical "hands-on" programs such as welding, automotive and nursing that can't be fully taught online.
"If the pandemic permits, ACC will slowly scale up in-person classes in fall semester, remaining focused on those courses," the college said. "All other courses will remain online, and the majority of employees will be asked to continue to work remotely."
Registration for fall classes begins on Monday, June 15.
4:50 p.m. – Hays County officials reported a record 99 new cases of COVID-19, although they said approximately 8 of the cases were from the previous day that had yet to be logged. So far, 266 people have been reported recovered and 402 cases remain active.
4:42 p.m. – The city of New Braunfels has canceled its Fourth of July Parade, but will still hold its Fireworks Spectacular at Landa Park.
4:30 p.m. – The city of Taylor has contributed $15,000 to the All In COVID-19 Taylor Small business Support Fund to help small businesses with 25 or fewer employees with rent, utility, cleaning supplies and other supplies to help businesses convert to safe, COVID-19 practices.
3:20 p.m. – The Burnet City Council approved a program to provide utility assistance to residents severely financially impacted by the COVID-19 pandemic.
The program will help qualifying residents pay a portion of their electric, water, sewer, garbage and recycling service charges. This will be in the form of a credit of 50% of the recipient's services charges incurred on their account during the program's term, not to exceed $250 for any residential utility customer.
1:45 p.m. – Hospitalizations statewide are at a new high today at 2,166. The 14-day rolling average is up to 1,866, a 13.7% increase over the past two weeks.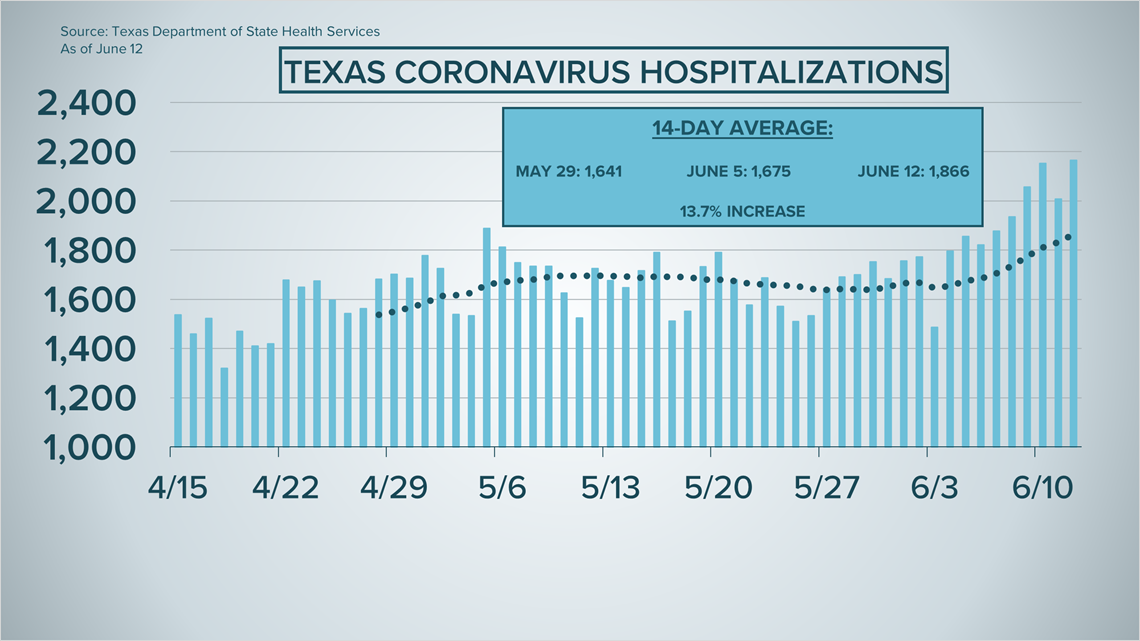 12:40 p.m. – The City of Austin Economic Development Department is giving local musicians more time to apply for the Austin Music Disaster Relief Fund. The application deadline, previously set to close on June 12, has been extended to June 26, 2020. Visit ATXrecovers.com to review grant guidelines or apply now through the MusiCares Foundation. The Austin City Council created the Austin Music Disaster Relief Fund to aid local musicians experiencing an economic hardship due to the COVID-19 pandemic. The $1.5 million fund provides $1,000 grants to Austin's most vulnerable musicians for their immediate emergency needs. To be eligible for the program, applicants must reside in an Austin City Council district and be able to document their participation as a professional Austin musician.
7 a.m. – Austin Mayor Steve Adler joined KVUE Daybreak Friday morning to discuss the concern surrounding recent spikes in Texas hospitalizations.
Here is a look at what Adler said on KVUE Daybreak:
6:15 a.m. – The Salt Lick reopened its Driftwood and Round Rock locations after two employees – one at each facility – had tested positive for COVID-19. Both restaurants have been thoroughly cleaned.