KVUE is keeping you updated with the latest coronavirus and COVID-19 news in the Austin area.
Scroll down for the top headlines and latest updates in KVUE's Oct. 13 live blog.
For a look at COVID-19 data across all of the state's counties, click here. KVUE is tracking COVID-19 data from five school districts in Central Texas. Many school districts have their own COVID-19 dashboard.
GRAPHS: Coronavirus data, Oct. 12, 2021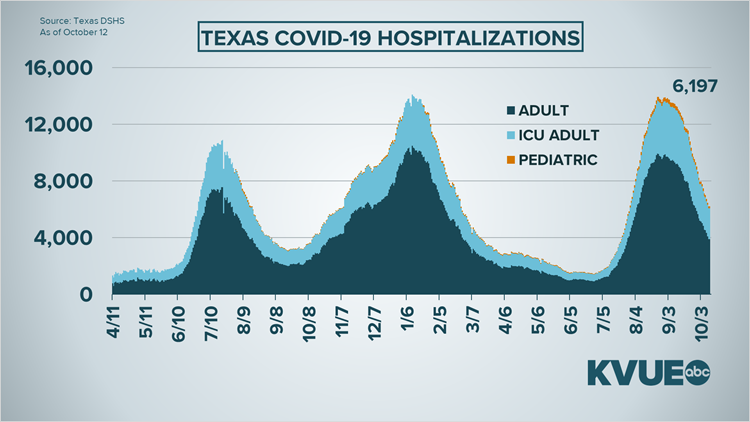 4:50 p.m. – Travis County reported six more COVID-19 deaths on Wednesday along with 410 new confirmed cases, bringing the total to 117,807 cases and 1,128 deaths since the start of the pandemic. At least 115,038 people have recovered from the virus.
Travis County currently has 202 people hospitalized with COVID-19, with 93 in the ICU and 61 on ventilators.
4:40 p.m. – Hays County reported two COVID-19 deaths on Wednesday, a San Marcos woman in her 60s and a San Marcos woman in her 50s. Health officials also reported 23 new confirmed cases along with one new hospitalization and three new hospital discharges. There are five additional people considered recovered.
11 a.m. – Leander ISD Superintendent Bruce Gearing announced that effective Oct. 13, the district is downgrading to the "yellow phase," which means that masks are recommended for everyone while indoors, the water fountain can be used as per usual and there are no limitations on the number of spectators at extracurricular events. Click here for more information.