AUSTIN, Texas — Editor's note: This blog is no longer being updated. Click here for Saturday's blog.
KVUE is keeping you updated with the latest coronavirus and COVID-19 news in the Austin area.
Scroll down for the top headlines and latest updates in KVUE's May 14 live blog.
Texas: More than 2.4 million cases have been reported in the state, and more than 49,700 people in Texas have died, according to the Texas Department of State Health Services.
Central Texas counties:

Travis County: At least 83,261 cases have been reported and at least 864 people have died. At least 81,740 people have recovered from the virus.
Hays County: At least 18,683 confirmed cases have been reported and at least 245 people have died. At least 18,109 people have recovered from the virus.
Williamson County: At least 39,426 cases have been reported in the county and at least 470 people have died.
For a look at COVID-19 data across all of the state's counties, click here.
GRAPHS: Coronavirus data May 13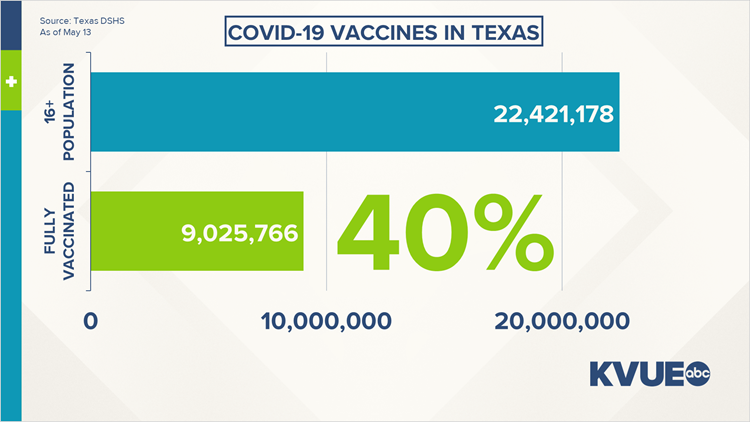 6:50 p.m. – Travis County reported another COVID-19 death on Friday along with 60 new confirmed cases, bringing the total to 83,261 cases and 864 deaths since the start of the pandemic. At least 81,740 people have recovered from the virus.
Travis County currently has 111 people hospitalized with COVID-19, with 37 in the ICU and 20 on ventilators.
5:20 p.m. – In a letter to families, Lake Travis ISD announces it will not be offering virtual campus options for the 2021-22 school year:
Dear Lake Travis ISD Staff, Parents and Guardians,
As you may recall, in March, we released a parent questionnaire to gauge interest in a potential virtual campus option for the 2021-2022 school year. We received approximately 2,800 responses via our Google Form, of which roughly 70% indicated they did not have an interest in pursuing a virtual campus option. Parents who indicated an interest in a virtual school option shared various concerns which would ultimately prevent them from enrolling their child in a virtual campus including:
limited options for programs and courses that are not conducive to an online environment;
commitment to a semester or to a full school year;
restriction from participating in UIL events;
requirements to participate on a physical campus as needed; and
requirements to apply and meet certain skills or criteria.
Because of these concerns, coupled with the fact that we do not yet know if either the legislature or the Texas Education Agency (TEA) will allow us to provide virtual learning next year, Lake Travis ISD will not offer a virtual campus option for the 2021-2022 academic year.
Furthermore, with increased access to vaccine administrations for our staff and students, lower transmission rates of COVID-19 in our classrooms, the improvement of conditions overall, and because TEA has not approved a remote learning at home option for the 2021-2022 school year, we will return to in-person instruction and activities for all staff and students this fall.
In closing, we are aware that the Centers for Disease Control and Prevention (CDC) released new guidelines yesterday regarding face coverings as they pertain to fully vaccinated people. At this time, neither the CDC nor TEA have revised their safety guidance for K-12 schools. Accordingly, we will continue to follow our current COVID protocols until further notice. As a reminder, our school board is expected to make a decision regarding our COVID face covering protocols at its May 19 regular meeting. This will include discussing our plans for summer school and summer programs, along with our plans for the 2021-2022 school year. We will notify you of our school board's decision and their continuing efforts to prioritize the health and safety of our staff and students.
Thank you for your continued patience, understanding and support.
Sincerely,
Paul Norton
Superintendent of Schools
4:35 p.m. – A spokesperson for Walmart and Sam's Club confirmed that their pharmacies will be administering vaccines to all eligible patients, including those ages 12-15, where Pfizer is offered. Visit their online schedulers for more information.
4 p.m. – Hays County reported two more COVID-19 deaths on Friday, a Buda man in his 50s and a San Marcos man in his 60s.
Health officials also reported 49 new confirmed cases along with four new hospitalizations and five new hospital discharges. There are 116 additional people considered recovered.
3:05 p.m. – The U.S. Hispanic Contractors Association of Austin is hosting a vaccine event today from 3:30 p.m. to 8 p.m. at McCallum High School. No pre-registration, insurance or IDs will be required.
2:55 p.m. – Simon Properties, which manages local properties like Barton Creek Square and the outlets in Round Rock and San Marcos, says their mask policies will not change for now. They will also be providing free face coverings upon request.
2 p.m. – The University of Texas will be keeping its mask policies in place for now as school leaders review campus protocols.
1:30 p.m. – Gov. Greg Abbott issued the following statement after it was announced that over 20 million COVID-19 vaccine doses have been administered in Texas:
"With over 20 million doses of COVID-19 vaccine administered to date and over 50% of eligible Texans vaccinated with at least one dose, the Lone Star State has achieved an incredible milestone in our fight against this virus. And with Texans aged 12-15 now eligible for the vaccine, there's even more we must do to get more shots in arms and keep our communities safe. Vaccines are the most effective defense against the spread of COVID-19, and I continue to urge all eligible Texans to get the vaccine. The COVID-19 vaccine will always remain voluntary and never forced in Texas, but it is up to all of us to ensure that we defeat this virus — which is why it is so important for Texans to seek out these safe and effective shots. Texans can visit covidvaccine.texas.gov to find a vaccine provider near them."
11:23 a.m. – Austin Mayor Steve Adler and Travis County Judge Andy Brown released statements after the CDC's updated guidance on mask-wearing:
"This is good news that reflects the progress we have made so far," said Travis County Judge Andy Brown. "Unvaccinated folks continue to be vulnerable to this virus, so I urge anyone who is still unvaccinated to remain healthy and help keep our COVID-19 numbers low by getting a vaccine as soon as possible. People over the age of 12 can now get a vaccine anywhere in Travis County. If you need help finding a vaccine, call 3-1-1 or 512-974-2000."
"We should celebrate that the evidence is showing the vaccines work even better than anticipated and that, once vaccinated, you have significant protection. This is what all our hard work has earned us," said Austin Mayor Steve Adler. "Since more people will not be wearing masks, it makes it even more important to get vaccinated. It is now easier than ever to get a vaccine – you can find a walk-up clinic without an appointment in more places, and eligibility has expanded to those 12 years of age and older. We urge everyone to 'take the shot.' We anticipate that Dr. Escott will be revising his rules shortly."
10:20 a.m. – After more than a year of daily dashboard updates, Austin Public Health will scale back updates for daily dashboards to weekdays only starting on May 15.
10 a.m. – Though the CDC said Americans who are fully vaccinated can go without masks both indoors and outdoors, Austin ISD will continue to require masks in school for the rest of the school year because "we have no way to verify vaccination statuses and, until this week, most of our students were not yet eligible to be vaccinated."
6:30 a.m. – The drive-thru vaccine clinic at the Travis County Expo Center will be open to ages 12 and up from 9 a.m. to 5 p.m. Friday through Sunday. No appointments are required.
Anyone age 12 and above will qualify to get their first dose of the Pfizer COVID-19 vaccine. A parent or guardian must be present and in the vehicle for anyone ages 12 to 17 to receive a shot.
If you received your first dose of the Pfizer vaccine four weeks ago at the old Circuit of the Americas location, your second dose will now be at the Expo Center.