AUSTIN, Texas — One day before the statewide mask mandate is lifted on Wednesday, March 10, Austin Public Health Authority Dr. Mark Escott said the City would remain in Stage 4 of the COVID-19 risk guidelines, citing an increase in hospitalizations for the past three days.
"Finally, mayor and judge, we discussed the possibility of transition to Stage 3. We've been in Stage 3 territory for the past week ... I sent a text out to the mayor and judge this weekend expecting that we were going to transition to Stage 3 today. However, given the fact that admissions are on the rise for the past three days, that we've seen plateauing and some increases in our hospitalizations, as well as the concern about over-relaxing our mitigation efforts with the removal of the mask mandate, and potentially as we head into spring break next week, I've got some concerns about doing that at this stage," Escott said.
Escott said APH would continue to monitor the data and if there is "solid indication that we are decreasing our admissions," then he may transition to Stage 3 at the end of the week.
"However, for now, we're going to stay in Stage 4 to ensure that we continue the advocacy and the efforts that got us to this stage and need to continue, at least for the short term," Escott said.
Escott said hospitalization projections from the UT models have flattened since his last briefing. He said the model projected Austin entering "Stage 2 territory" around April 4.
Escott added that overall case numbers in the area continue to trend downward.
The City dropped from Stage 5 to Stage 4 on Feb. 9. In Stage 3, recommendations against non-essential travel and dining are removed for low-risk people, and recommended business capacity increases to 50% to 75%.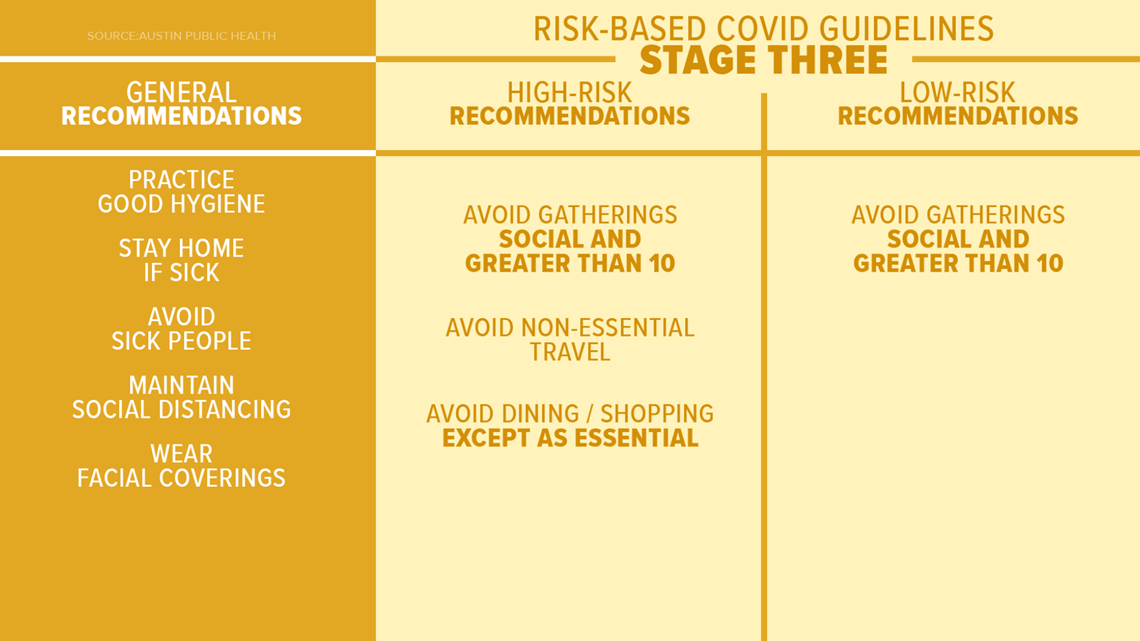 Escott reiterated that people should stay home and avoid nonessential trips, to continue the masking and the social distancing. He also recommended businesses operate at a maximum of 50% capacity to help ensure spacing.
"Again, our effort is to preserve public health and the economic health," Escott said. "And by finding that appropriate middle ground, we can do both things well without taking too much risk on either side."