The closures began on Monday, July 6, until further notice. The list includes previously opened facilities like cultural facilities, pools, golf courses, tennis facilities, park concessions and other amenities.
On June 29, PARD announced it would close all city parks and recreational facilities – like golf courses, boat ramps and museums – on Friday, July 3, through Sunday, July 5, during the Fourth of July weekend. The parks have reopened but the facilities and amenities have not.
What is and isn't open within the city of Austin?
PARD closed Barton Springs Pool and Deep Eddy Pool indefinitely at the recommendation of Austin Public Health. The Barton Creek and Bull Creek greenbelts will also remain closed.
A spokesperson for PARD said the two greenbelts remain closed because they have the highest use for greenbelts and have the most reports of people congregating.
Parks reopened beginning Monday, July 6, but all amenities – like volleyball courts and disc golf courses – remain closed, except for restrooms and water fountains.
Visitors must still follow face mask and social distancing rules. PARD rangers will be out on patrol to help educate people about the rules.
In-person programming – including sports and fitness programming, summer camps and cultural programming – is also suspended for the month of July.
As far as enforcement, PARD rangers respond to 3-1-1 complaints, but they're only able to educate park patrons, not cite them, according to the spokesperson.
For a complete list of park closures, click here.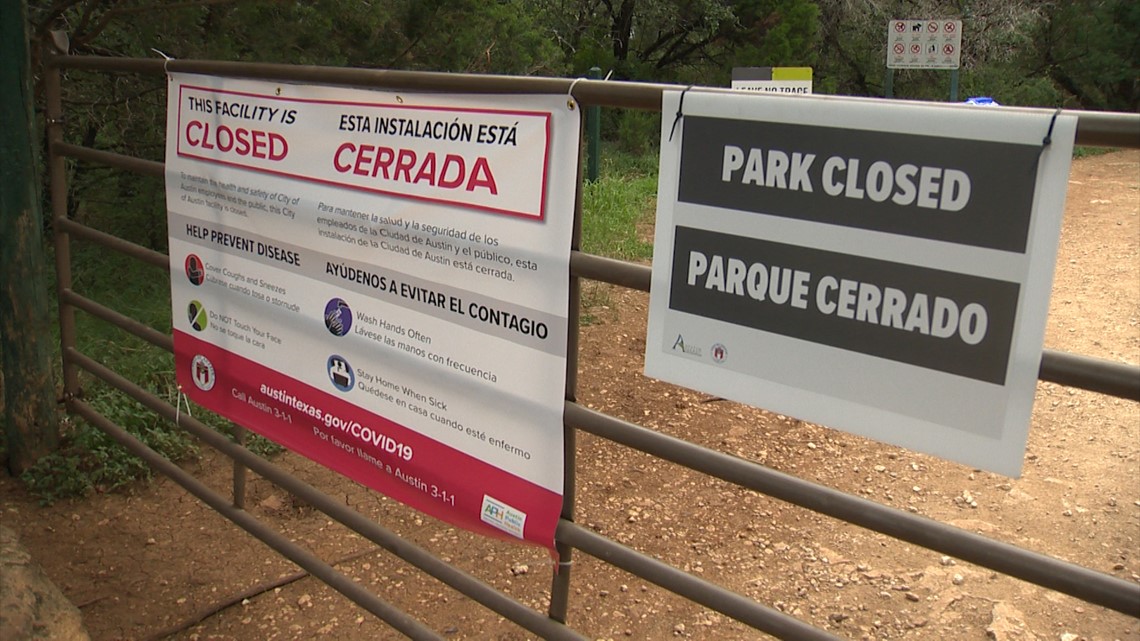 What park-goers and doctors think about the closures
KVUE saw several people out and about at the Barton Creek Greenbelt trail on Monday, July 6, despite the closed signs. While park-goers say they get why the trail is closed, some also believe being outside is safer than other options.
"I don't think it really makes sense, especially since we're not able to go do things like go to bars or go to restaurants as much, I feel like it would make sense to leave the outdoorsy things open so we can at least take advantage of that," Adrienne Palm said. "Like, stay home when you can, but you need to get out sometimes and it's easy to come out to these trails and stay far away from people you don't live with. It's easy to wear a mask while you're hiking, you can do whatever and it's not very high risk. So, I don't understand why this trail would be closed but not the other trails."
Austinite Lynnzee Moore, another trail user, said she feels comfortable at the greenbelt because she's familiar with it.
"I want to be in a protected area where I know the area. And all the areas I know are closed down, so I'm really sad because I don't want to go investigate a new area I don't know," Moore said.
Moore also pointed out that not all of the entry points to the trails at the greenbelt had closed signs or some sort of barricade.
A spokesperson for PARD told KVUE that the grounds division put up barricades at several entrances and also ordered some banners. The spokesperson said that signs are up at most of the Barton Creek Greenbelt entrances and the main entrance for Bull Creek, and they're working to get signs at the other entrances by the end of the week.
Some doctors say outdoor activities are safer – to a point.
"Being outdoors, being at parks is safe if you're wearing masks and you're keeping your distance from others. But when it becomes a gathering point with many, many people congregating together including proximity and not wearing masks, it just becomes another way for the virus to spread," said Dr. John Abikhaled, an Austin surgeon who is also the president of the Travis County Medical Society. "It's important for people to understand that there's way more virus out there than anytime prior to today. More people are walking around with the virus and so, the more interactions that we have with other people, the more that virus will spread again and again and again."
Cindy Zolnierek, a registered nurse and the CEO of the Texas Nurses Association, said we have to do what we can to slow the spread, but also added that outdoor activities are safe to an extent.
"Outside activity is a lower risk because you're not in an enclosed environment so there's more air, more dissipation of the virus. However people can still be very close proximity to each other and that's how the virus spreads," Zolnierek said. "It's hard to necessarily be washing your hands real frequently."
What about Travis County parks?
Travis County will be reopening some of its parks on Tuesday, July 7 at 8 a.m. No commercial/rental use of Travis County parks boat ramps on Lake Travis or Lake Austin will be allowed. The launching or retrieving of rental watercraft or watercraft-for-hire is still prohibited, as well as the loading or unloading of passengers.
On Tuesday, the following parks will open from 8 a.m. to 8 p.m. daily for walking, hiking, biking and other permitted activities:
Allen Park
Arkansas Bend Park
Barkley Meadows Park
Ben E. Fisher Park
Cypress Creek Park
East Metro Park
Fritz Hughes Park
Little Webberville Park
Milton Reimers Ranch Park
Northeast Metro Park
Pace Bend Park
Richard Moya Park
Selma Hughes Park
Southeast Metro Park
Tom Hughes Park
Webberville Park
Windmill Run Park
Amenities in these parks are closed or not operational:
Athletic fields and swimming pool
Pavilions/group shelters
Park playscapes
Picnic tables and barbecue grills
The following Travis County parks remain closed:
Bob Wentz Park (including sailboat ramp)
Del Valle Softball Fields
Dink Pearson Park
Hamilton Pool Preserve
Hippie Hollow Park
Loop 360 Park (including boat ramp)
Mansfield Dam Park (including boat ramp)
Mary Quinlan Park (including boat ramp)
Sandy Creek Park (including boat ramp)