AUSTIN, Texas — Editor's note: This blog is no longer active. For the latest COVID-19 updates, click here.
KVUE is keeping you updated with the latest coronavirus and COVID-19 news in the Austin area.
Scroll down for the top headlines and latest updates in KVUE's March 2 live blog.
Texas: More than 2.2 million cases have been reported in the state, and more than 42,700 people in Texas have died, according to the Texas Department of State Health Services.
Central Texas counties:

Travis County: At least 76,088 cases have been reported and at least 749 people have died. At least 73,678 people have recovered from the virus.
Hays County: At least 16,399 confirmed cases have been reported and at least 221 people have died. At least 15,619 people have recovered from the virus.
Williamson County: At least 35,731 cases have been reported in the county and at least 402 people have died.
For a look at COVID-19 data across all of the state's counties, click here.
GRAPHS: Coronavirus data for March 2, 2021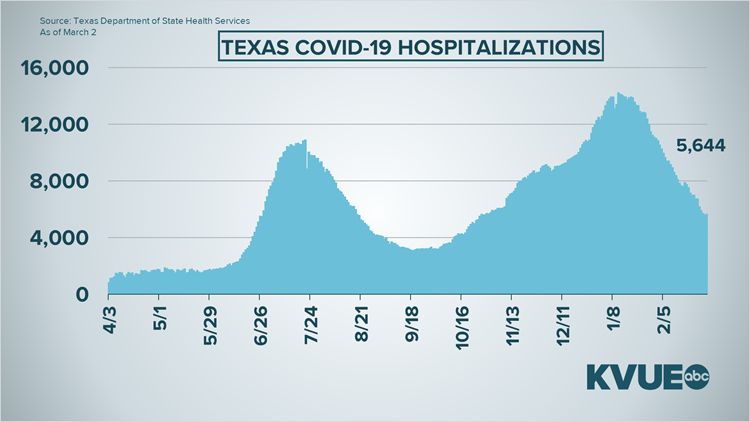 10:50 p.m. – Austin Mayor Steve Adler and Travis County Judge Andy Brown will hold a virtual press conference Wednesday morning at 8:30 a.m. to respond to Gov. Greg Abbott's executive order rescinding statewide COVID-19 restrictions.
The press conference will be focused on "why masking is important not only for health but for livelihood," according to a release from Adler's office. "Those that are in public facing professions but are not necessarily eligible for vaccines are more vulnerable to COVID-19 exposure and long-term financial risk," the release says.
The conference will also involve Dr. Jose "Mario" Ayala with St. David's, Austin Chamber of Commerce President and CEO Laura Huffman, Education Austin President Ken Zarifis, United Association of Plumbers and Pipefitters Local 286 President Chap Thornton and Austin entrepreneur Joi Chevalier.
10 p.m. – Williamson County will open a new vaccination hub on Wednesday, March 10 at Dell Diamond in Round Rock. People can get vaccinated if they make an appointment.
Also, starting this Friday, the county plans to send out a Save Our Seniors van to nursing homes and long-term care facilities to get many seniors vaccinated over the weekend.
2:55 p.m. – Gov. Greg Abbott is rescinding statewide face mask orders and reopening all businesses starting next Wednesday, March 10.
Abbott made the announcement Tuesday afternoon, saying that any type of business is allowed to reopen 100%. Businesses, however, may still limit capacity or implement additional safety protocols at their own discretion.
"Businesses don't need the state to tell them how to operate," Abbott said.
If COVID-19 hospitalizations are above 15% for seven straight days, a county judge may use mitigation strategies in their county, such as face masks.
8:23 a.m. – Austin City Council and Travis County Commissioners will hold a joint meeting at 9 a.m. to discuss COVID-19-related matters. The meeting agenda can be found here. KVUE will stream the meeting on Facebook, Twitter and YouTube.
5:37 a.m. – Austin Public Health (APH) said all 4,000 COVID-19 vaccine appointments that were released Monday were filled. There are still 200,000 people who are pre-registered through APH and eligible to receive the vaccine.
APH said more COVID-19 vaccine appointments will become available Tuesday. If you belong to the Phase 1A or 1B groups, you can pre-register on APH's website.