AUSTIN, Texas — Editor's note: This blog is no longer active. For the latest updates, check out our new blog here.
KVUE is keeping you updated with the latest coronavirus, also known as COVID-19, news in the Austin area.
Scroll down for the top headlines and latest updates in KVUE's Sept. 16 live blog.
Texas: More than 668,700 cases have been reported in the state, and more than 14,300 people in Texas have died, according to the Texas Department of State Health Services.
Central Texas counties:

Travis County: Over 27,900 cases have been reported and at least 412 people have died. At least 26,829 people have recovered from the virus.
Hays County: More than 5,600 confirmed cases have been reported and at least 52 people have died. At least 3,768 people have recovered from the virus.
Williamson County: More than 8,200 cases have been reported in the county and at least 134 people have died. More than 8,000 people have recovered from the virus.
GRAPHS: Coronavirus data Sept. 15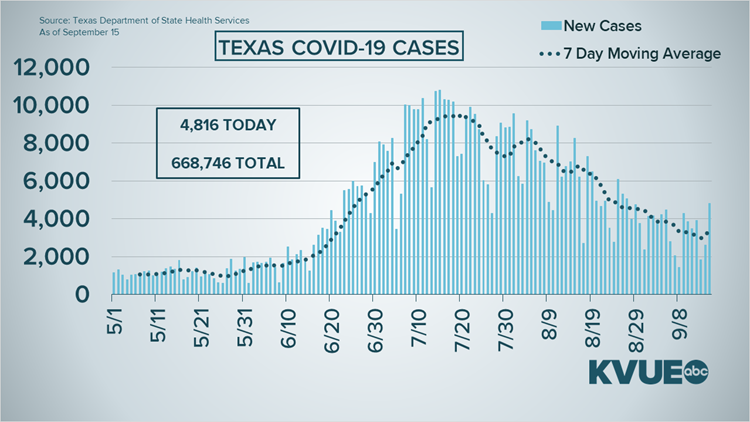 6:15 p.m. – Williamson County adds three deaths while Austin-Travis County adds 1.
Williamson is now reporting a total of 137 deaths, 8,296 cases and 8,027 recoveries.
Austin-Travis County is reporting a total of 413 deaths, 28,103 cases and 26,997 recoveries.
4:45 p.m. – Hays County is now reporting a total of 5,697 lab-confirmed cases, 52 fatalities and 3,826 recoveries. Active cases total in at 1,819.
3:45 p.m. – The Central Texas Food Bank says in August, it served 112,000 households across its 21-county service area. That translates to more than 350,000 individuals, nearly twice its pre-pandemic monthly average.
In May, the food bank set an all-time, single-month record for pounds distributed at 5.7 million pounds. In June, it broke that record with 6.6 million. Then, it broke it again in July with just under seven million pounds. In August, the food bank distributed just over 6.6 million pounds.
The test site will be found at 1416 Montopolis Drive. This site is the former Montopolis neighborhood center; the new Montopolis Recreation Center (located at 1200 Montopolis Drive) is not a test site.
Patients will not be required to arrive in a vehicle, and there are a limited number of slots available to those without appointments.
The hours of operation will be Tuesdays from 9 a.m. to 1 p.m., Thursdays from 3 p.m. to 7 p.m., and Saturdays from 4 p.m. to 7 p.m.
"The 78741 ZIP code is among the hardest hit by COVID-19 in Austin-Travis County, and Austin Public Health continues to work to reduce disparities in health outcomes for our community," said Stephanie Hayden, APH director. "This testing site is another opportunity to reach people where they are and to ensure we are making testing available for all community members. Equity and public health were foremost considerations when planning the location, organization, and hours for this test site."
Starting Saturday, Sept. 26, the Pflugerville test site, which is managed by the Texas Division of Emergency Management (TDEM), will be moving from the Pfield to 103 North Railroad Avenue. This will be the Pflugerville testing location for the remainder of the year.
Results should be available in about two days.