AUSTIN, Texas — Editor's note: This blog is no longer being updated.
KVUE is keeping you updated with the latest coronavirus, also known as COVID-19, news in the Austin area.
Scroll down for the top headlines and latest updates in KVUE's Sept. 18 live blog.
Texas: More than 678,800 cases have been reported in the state, and more than 14,500 people in Texas have died, according to the Texas Department of State Health Services.
Central Texas counties:

Travis County: Over 28,400 cases have been reported and at least 414 people have died. At least 27,254 people have recovered from the virus.
Hays County: More than 5,700 confirmed cases have been reported and at least 52 people have died. At least 3,940 people have recovered from the virus.
Williamson County: More than 8,300 cases have been reported in the county and at least 139 people have died. More than 8,000 people have recovered from the virus.
GRAPHS: Sept. 18 coronavirus data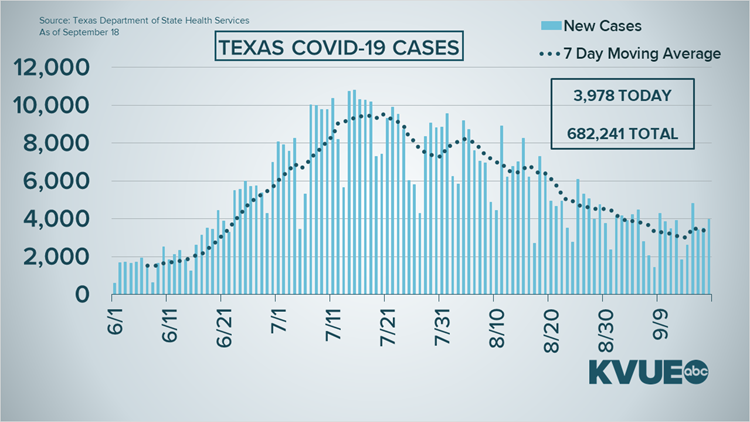 6:08 p.m. – Travis County reports 163 new cases and one new death, bringing the totals to 28,375 cases and 414 deaths.
5:50 p.m. – A KVUE analysis shows how new cases at the University of Texas and Texas State University compare to their regions as a whole.
5:30 p.m. – Along with Gov. Greg Abbott's new Executive Order GA-30 to expand reopening capacity for some events and occupancy limits, County Judge Bill Gravell has signed a new order effective Friday, Sept. 18, at 12 p.m. This order continues to permit Williamson County residents to have outdoor gatherings in excess of 10 people in the unincorporated areas of Williamson County provided the gatherings otherwise comply with Gov. Abbott's orders.
"Williamson County residents have shown that they can practice public health mitigation measures, reducing the spread of COVID-19, and be able to safely gather outdoors. Our daily new case levels are declining, indicating that safety measures such as wearing face coverings and washing our hands often are working. We must continue those precautions so that we can continue to reopen Texas," said Gravell.
The county is now reporting a total of 8,385 confirmed cases, 8,083 recoveries and 139 deaths.
4:47 p.m. – Hays County officials report 17 new lab-confirmed cases along with two hospital discharges and 62 additional people now considered recovered. As of Sept. 18, the Hays County Local Health Department confirms there are at least 1,744 active lab-confirmed cases of COVID-19.
Since Hays County first started providing numbers, a total of 5,736 lab-confirmed cases have been reported, including 52 deaths. The Hays County Local Health Department has received 26,143 negative test results.
At least 3,940 people have recovered from the virus in Hays County. According to the county, there have been 165 total hospitalizations, with 10 still hospitalized.
To view a breakdown of the age range of these cases, visit Hays County's interactive dashboard here.
4:20 p.m. – In continuing efforts to increase transparency and data for the public, Austin Public Health (APH) has released an additional dashboard that displays the weekly COVID-19 testing rates in Austin-Travis County, with an emphasis on the ZIP codes seeing the highest increases in positivity rate and new cases. The testing rates dashboard includes the overall percent positive, then breaks down the data highlighting the ZIP codes with the highest increase in weekly percent positive, highest percent of positive test results, and highest percent increase in new cases over the last seven days. This dashboard will be updated once per week on Tuesdays by 6 p.m.
9:45 a.m. – Austin Public Health gave a COVID-19 update. You can watch it in full in the video below.
8:15 a.m. – Austin Public Health is going to hold a COVID-19 Q&A at 9 a.m. This comes one day after Gov. Greg Abbott announced that most Texas restaurants, retail stores and gyms can reopen at 75% capacity.
7:35 a.m. – Starting Friday, more outdoor facilities are opening in Pflugerville. All playgrounds, park restrooms and water fountains are back open. However, pavilions and other rental facilities will remain closed.