AUSTIN, Texas — Editor's note: This blog is no longer active.
KVUE is keeping you updated with the latest coronavirus, also known as COVID-19, news in the Austin area.
Scroll down for the top headlines and latest updates in KVUE's June 5 live blog.
Texas: More than 69,000 cases have been reported in the state, and more than 1,700 people in Texas have died, according to the Texas Department of State Health Services. The department estimates more than 46,000 people have recovered from the virus.
Central Texas counties:

Travis County: More than 3,600 cases have been reported and at least 97 people have died. At least 2,996 people have recovered from the virus.
Williamson County: More than 660 cases have been reported and at least 27 people have died. About 438 people have recovered from the virus.
Hays County: There have been at least 398 cases reported in the county and at least five people have died. More than 233 people have recovered from the virus.
GRAPHS: Texas coronavirus data June 5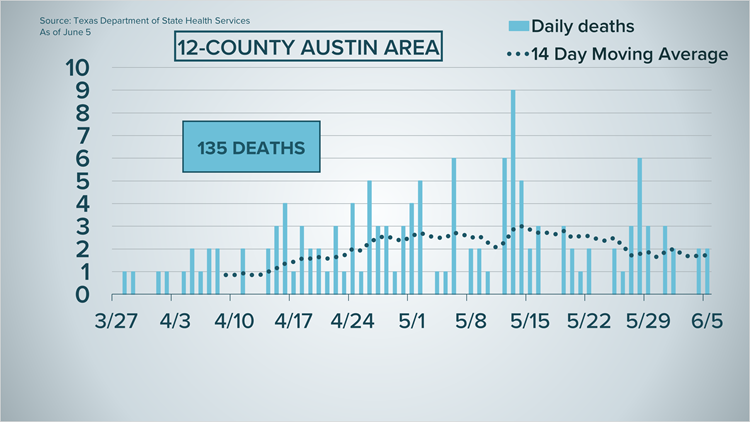 6:35 p.m. – Travis County on Friday reported two new deaths from COVID-19, bringing the death toll to 97. The county also reported 54 new confirmed cases, bringing the total to 3,616, with at least 2,996 recoveries.
4 p.m. – Hays County on Friday reported nine new confirmed cases of COVID-19, with 13 more recovered and no new hospitalizations. The county has had 398 total confirmed cases, with 160 considered active cases and at least 233 recovered. There have been 4,225 negative test results in the county.
2:15 p.m. – In response to multiple large gatherings that have been happening across the community, Austin Public Health (APH) is encouraging individuals who have not been able to practice social distancing to sign up for a free COVID-19 test through the Public Enrollment Testing Form at austintexas.gov/COVID19.
Starting May 5, the Public Testing Enrollment Form's requirements will be expanded to allow more individuals without symptoms to sign up for a testing date and time at APH's drive-thru site, the City said. Individuals will still need to create an account at austintexas.gov/COVID19 and fill out the form before they can schedule a test.
1:20 p.m. – Williamson County and Family Emergency Room are once again accepting applications for people to be tested for COVID-19.
The partnership between Williamson County and Family Emergency Rooms for COVID-19 testing has been overwhelmingly successful. For that reason, Williamson County temporarily removed the online testing portal from its website on May 20, 2020, due to a backlog of testing requests. Those tests have been scheduled, and Family Emergency Room is able to accommodate new appointments at this time.
Priority will be given to people who currently are exhibiting symptoms. Asymptomatic individuals, who are not displaying symptoms but have been exposed to COVID-19, also can request a test; however, they may be asked to wait until a testing time is available. All Williamson County residents wanting a COVID-19 test must first fill out the online assessment tool at https://forms.wilco.org/forms/COVID19Testing.
12:45 p.m. – Texas Department of State Health Services (DSHS) confirmed to KVUE May 5 that three of its employees had tested positive for COVID-19.
DSHS sent KVUE the following statement:
"There have been three cases of COVID-19 in the DSHS lab. We follow the CDC guidance for positive cases in the work place. We look at where the COVID-positive person's workspace is and where their job duties take them to identify potential close contacts and those employees are notified. None of the COVID-positive employees are considered to be close contacts of each other.
We also work with staff that fall under any of the risk categories to help them understand the actions they should be taking. In general, the lab follows social distancing recommendations as well as recommendations to wear face coverings if the employee's health permits."
12:35 p.m. – The online application for the Pandemic Electronic Benefit Transfer is now open for eligible Austin ISD families.
The Pandemic Electronic Benefit Transfer program could provide Austin ISD families a one-time benefit for eligible families to buy food. Families could receive up to $285 per child, which can be used in the same way as Supplemental Nutrition Assistance Program food benefits to pay for groceries.
Families must meet at least one of the following criteria to be eligible for the benefits.
This program is intended to provide food security for families, in addition to the free meals offered at district meal sites. P-EBT is a coordinated effort by the Texas Health and Human Services Commission, Texas Department of Agriculture, and Texas Education Agency.
The application will be open June 1-30, and applications will be verified by Texas Health and Human Services to ensure applicants are eligible. Once the application is approved, benefits will be issued. If a family gets SNAP benefits, P-EBT funds will be loaded onto their current Lone Star Card. If they do not currently get SNAP benefits, a P-EBT card loaded with benefits will be mailed to them.
Check back on this live blog for the latest updates Friday.