ORLANDO, Fla. — Crowds flocked to Disney World over the weekend to bid farewell to Br'er Rabbit and his crew for the last time.
But, of course, the 30-year-old log flume favorite didn't go out without a splash.
Hundreds of parkgoers waited...and waited for their chance to be one of Splash Mountain's final riders. The Orlando Sentinel reports that at some points Sunday afternoon, the wait time was more than 220 minutes.
Many even queued up last minute in hopes of being on the very last log to go down the mountain. That honor, according to multiple blogs and reports, was reserved for a group of Cast Members.
Still, according to the Orlando Sentinel, everyone in line before Magic Kingdom's closing at 11 p.m. was allowed to ride. Onlookers were excited, too, shouting "Splash! Splash! Splash!" with every group that came down, the newspaper reports.
What is replacing Splash Mountain?
Splash Mountain will get a "The Princess and the Frog"-inspired revamp and open as Tiana's Bayou Adventure in 2024.
And based on reports, Disney didn't hesitate to start work on the renovation. Crews on Monday were seen draining the water from the ride and putting up construction walls to begin cleaning and repainting the attraction.
According to Disney, Tiana's Bayou Adventure won't simply re-tell the story of "The Princess and the Frog" — it will explore a whole new adventure featuring the beloved characters from the animated movie.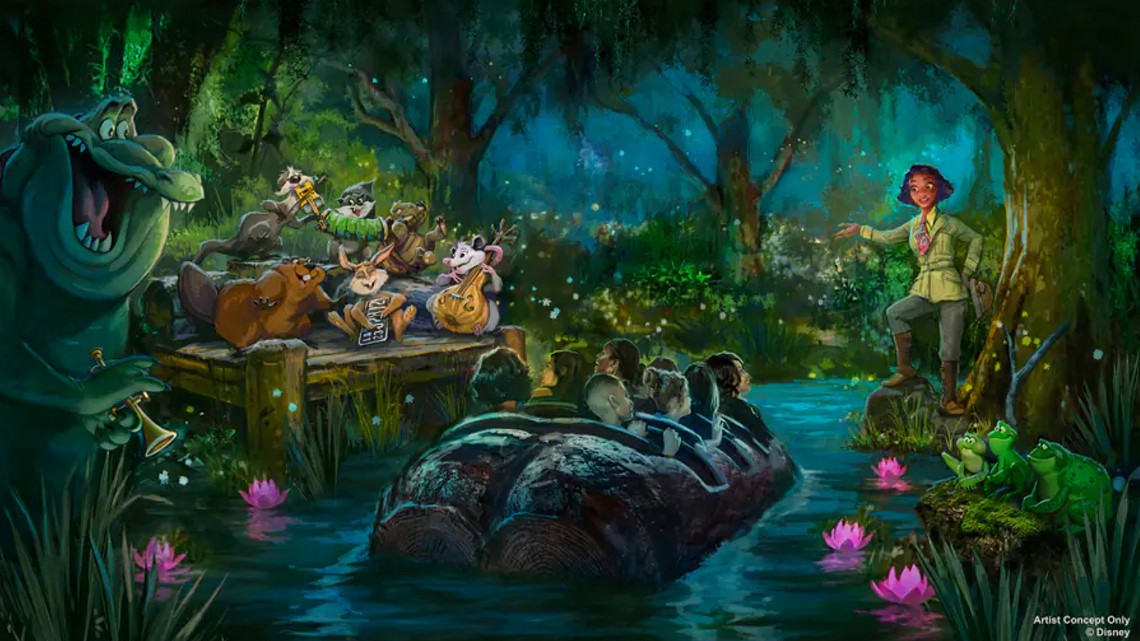 Disney's design team traveled to New Orleans while researching for the ride "in an effort to remain authentic to the story's setting," Carmen Smith, the senior vice president of creative development for product/content and inclusive strategies, wrote on the Disney Parks blog.
Smith gave the first look at some of the new characters we can look forward to seeing on the ride, including a jazz-loving alligator named Louis and, of course, Princess Tiana.
Fireflies will guide riders along the journey of Princess Tiana and Louis preparing to throw a Mardi Gras celebration for the people of New Orleans. Tiana's Bayou Adventure will also feature a style of music unique to the lively energy of New Orleans called zydeco, which is described as a "special blend of rhythm and blues."