AUSTIN, Texas — University of Texas' spring semester starts Tuesday and some students will be working this year on an "out of this world" project to help detect extraterrestrial life.
Eric Anslyn is a University of Texas professor in the chemistry department. As the Welch Regents Chair of Chemistry, he works with several students and on a variety of projects.
"There's a nice balance of being at a great university as well as being at a place that offers a great lifestyle," Anslyn said.
However, during his 30 years working at UT, he's never embarked on a project he is about to embark on.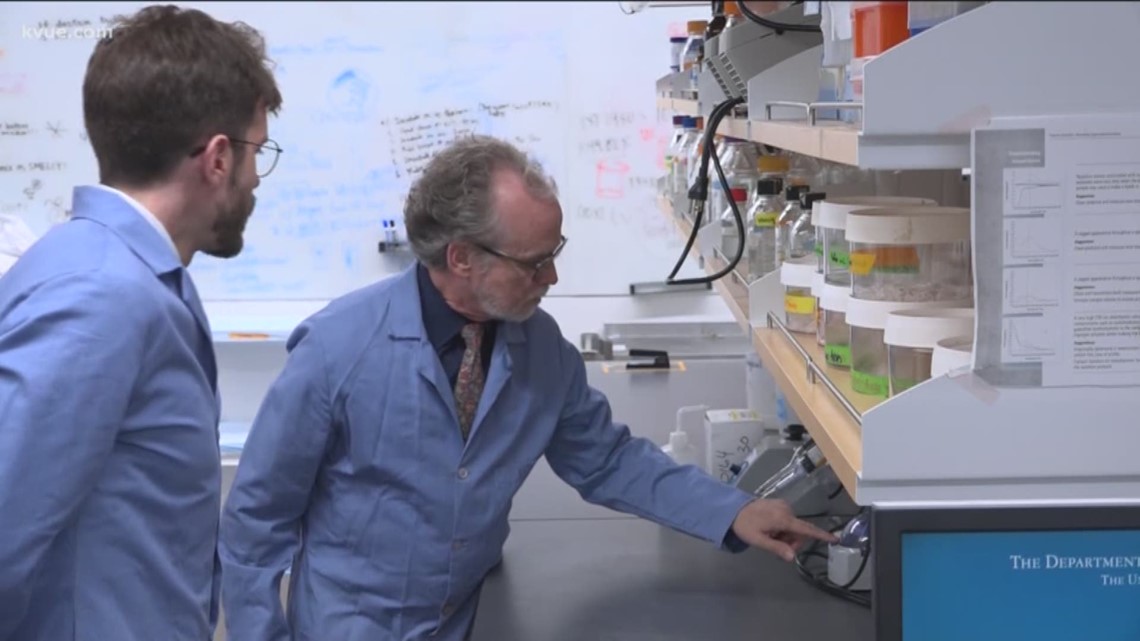 "The search for life or trying to make chemical definitions of life is not something that I've worked on at all, so this is brand new for our group."
Anslyn will get the chance to do this exact type of research because of a NASA think tank meeting in Washington D.C. three years ago. He talked to scientists from around the world who were trying to develop methods of detecting life in and outside of our solar system.
"We came together and wrote this large grant to NASA to develop numerous protocols for trying to detect life," Anslyn said.
Three years later, Anslyn's UT Austin team will receive more than $722,000 during the next five years for his project, as his students will look to develop methods to detect life on other worlds that look nothing like life on Earth.
Anslyn will work with Andrew Ellington, a professor of molecular biosciences, on the project. The work their team will be doing is in connection to a new $400,000 UT Austin research project supported by the National Science Foundation.
PHOTOS: UT students looking for extraterrestrial life
"The basic premise of this project is that life will express itself in a variety of complex chemicals," Anslyn said. "We had nucleic acids, proteins and complex carbohydrates. If you look at the chemical structures, they're pretty complicated, but we expect that life elsewhere in our solar system -- or again, outside our solar system -- may not be based on nucleic acids, proteins and complex carbohydrates."
Pedro Metola is a clinical assistant professor with this project who also got his PhD under Anslyn.
"He has that passion for chemistry and he doesn't turn it off," Metola said, talking about Anslyn. "He is always ready to talk to anybody about chemistry."
Metola explained that they will be working to figure out those other chemical structures by using complicated liquid extractions with solid objects to learn more about the makeup of an object. In a sense, figuring out if something was once alive that is now just an inanimate object.
"We would be effectively making concentrated tea out of the samples," Metola said. "We run twigs, rocks, mud and anything we can find that is complex that we could still put on one of the two columns -- was never alive or was once alive."
This project is looking at of how we define life and how, chemically, we will know if we are seeing it on another planet.
"I never thought I would be working with a principal or method that could one day go into space," Metola said.
Metola said he talked to many of the students who will be a part of the project this upcoming semester, many of whom didn't expect to get this type of unique experience.
"The idea of working on the discovery of new life forms is probably something that they were not expecting when they joined the lab," Metola said.
The need to extract this type of information from solid objects comes from the fact that most of the material astronauts and scientists will be dealing with on other planets are solid objects -- rocks, dirt and similar objects.
If this team is able to figure out new ways to establish and discover life from these solid objects turned to liquid, that can then be put into computer systems able to read and analyze the status of life consistently.
We are trying to use machines and use computers in order to answer a question that is really hard to address: 'What defines life?'" Metola said.
NASA will send Metola's team objects for them to work with, like fossils from different parts of the world. There's also a chance to discover new forms of life on Earth as well.
"They still tell a story of life being there or not," Metola said. "We have to figure out what those chemicals, what those components are and how they really determine whether something is alive or was never alive."
"There's a general desire by human kind to know if there is life elsewhere," Anslyn said.
The end goal is to find discoveries and establish programs during these five years that NASA can use to discover life forms on other planets.