AUSTIN, Texas — Every morning, Haley Pariseau gets dressed, puts on her shoes and walks out the door with a book bag in hand, wondering what the day will bring.
As a freshman in Hays Consolidated Independent School District, she said this year has been the hardest for her. She started getting bullied in the fourth grade, but freshman year was becoming too much to handle.
"I thought I was going to take my life," Pariseau said, as tears welled up in her eyes.
Haley has spastic hemiplegia, a form of cerebral palsy that causes mobility problems on one side of her body. She believes it makes some students see her differently and bully her because of it.
KVUE
"I've faced not being touched by anyone because they would get my disease," Pariseau said. "I've faced 'go kill yourself.' I've faced physical assault."
She is not alone.
Despite Texas' anti-bullying laws and policies set in place by school districts, the reality is that students still struggle with bullying.
The Texas Education Code (TEC) defines bullying as a single significant act or a pattern of acts by one or more students directed at another student that exploits an imbalance of power through engaging in written, verbal or electronic means of expression, or physical conduct that causes a change in another student's emotional, mental or behavioral state, or causes puts their safety at risk.
According to the 2017 School Crime Supplement from the National Center for Education Statistics and Bureau of Justice, nationwide, 20% of students between 12 to 18 years old experienced bullying. That decreased since 2005 when it was at 27%.
KVUE requested data from multiple school districts in Central Texas for the past three school years, from fall 2016 to spring 2019.
These districts included Austin ISD, Pflugerville ISD, Round Rock ISD, Leander ISD and Hays CISD.
Stats: Bullying data in Central Texas school districts
Stats: Bullying data in Central Texas school districts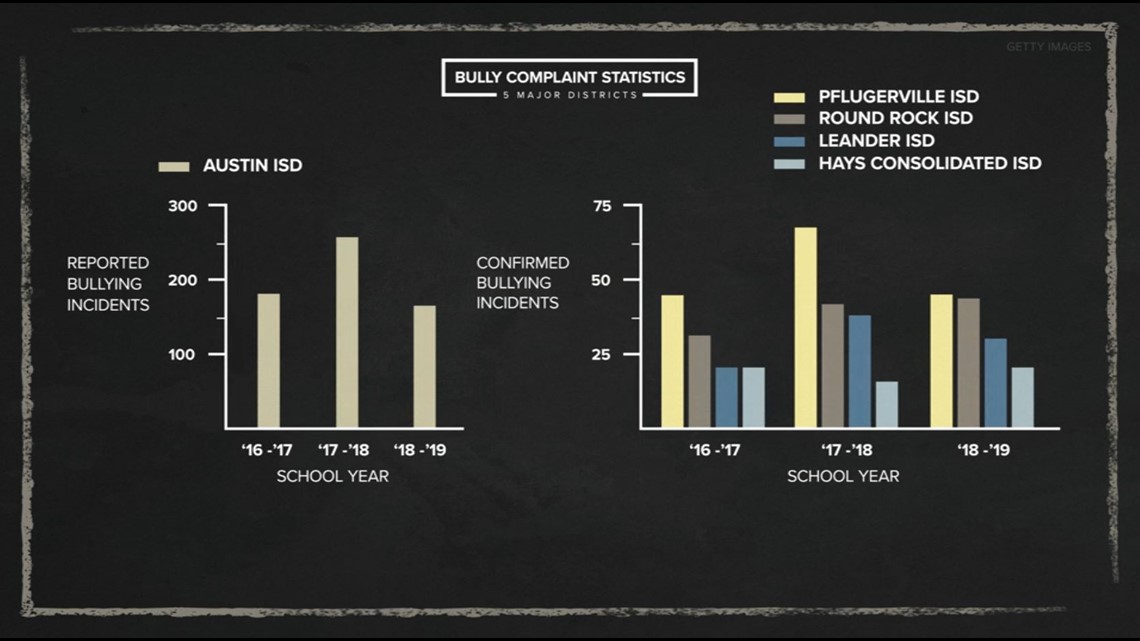 As the graph shows, each district demonstrated fluctuations in the number of confirmed or reported bullying cases. However, no district made consistent improvements throughout the years.
Please note that each district, with the exception of Austin ISD, provided data on confirmed bullying incidents for each school year. Austin ISD provided the total number of reports filed, which may have contributed to why their results were much higher.
Additional factors influencing the differences between districts may include the number of students in the district and a student's willingness to report bullying.
Sabrina Murray, Haley's mother, did not want to stay silent. She felt administrators at Hays CISD fell short when handling her daughter's case.
"From an administration standpoint, they tend to be more reactive than pro-active," said Sabrina Murray.
Beyond her daughter's district, she said schools need to open up communication with parents and be more proactive in preventing bullying.
Hays CISD provided KVUE with a statement, writing in part:
"Bullying is not tolerated at any school in Hays CISD – a "No Place for Hate" district. All district administrators, teachers, and staff are trained to promptly report all allegations of bullying so those allegations may be thoroughly investigated and action can be taken to protect bullying victims.
The district welcomes everyone – students, parents, and community members – who join us in denouncing bullying, raising awareness of the issues surrounding bullying, and engaging to keep Hays CISD students safe."
Murray still believes work can be done.
"I definitely think that our students nowadays need more social education," she said.
Social-emotional learning
In the last decade, district leaders across the nation, including in Central Texas, have turned their sights towards tactics addressing how students manage their emotions, stress and how they interact with others.
Social-emotional learning is the process through which children and adults understand and manage emotions, set and achieve positive goals, feel and show empathy for others, establish and maintain positive relationships and make responsible decisions, according to the Collaborative for Academic, Social and Emotional Learning (CASEL).
The program focuses on five competency areas: self-awareness, self-management, social awareness, relationship skills and responsible decision making.
Austin ISD was among the first districts in the country to incorporate SEL practices into their district almost a decade ago. Since then, districts across the state and country have adopted different forms of the program.
"The earlier you teach those skill sets, the longer they have to practice them throughout the course of growing up," said Caroline Chase, assistant director of SEL at Austin ISD.
Among the school districts KVUE researched, each one implemented various forms of the program in their schools.
Most recently, Leander ISD fully implemented SEL during the 2017-2018 school year.
Chase said the program teaches students how to recognize bullying, where bullying tendencies may stem from and how to address those emotions in a positive manner.
SEL goes beyond anti-bullying, Chase said. It also improves academic performance and cultural awareness.
"It really helps them to understand that we all have those moments where we need to take a mindful moment and really get re-centered so we can continue on with our work," Chase explained.
In order for the program to make an impact, everyone must be on board, including teachers who received SEL training and are encouraged to practice it for themselves, Chase said.
While bullying statistics show improvements still need to be made, Chase said SEL is not a short-term fix.
"It is not something you can do in a year or two. It takes a lot of time to really go deep with the work and create environments that are conducive to SEL for everyone" Chase said.
School districts do not only rely on SEL to stop bullying. Districts also have additional support services and protocols in place.
Anti-bullying policies and support
The Texas Education Code places the responsibility of creating anti-bullying policies on each district.
Jefferey Yarbrough, the director of safety and security at Round Rock ISD, said he analyzes other districts' policies, in addition to state protocols being recommended by the state to continually improve their own anti-bullying policy.
"If they are coming into an environment they are not feeling safe, we all lose," said Yarbrough.
He also looks at what ideas did and did not work within their own district.
Yarbrough emphasized that districts must create multiple avenues for students to report, whether that be through an anonymous app or being able to report to any trusted staff member.
Christina Green is a parent of a student at Round Rock ISD. Her son, Jonah, also has cerebral palsy and was bullied.
The medical instruments he wears makes him stand out.
KVUE
"They saw something that he thought was a baby and really, really honed down on that. Plus, kids are curious, kids make faces, kids say things," Christina Green said, without wanting to publicly reveal more details on what happened.
RELATED: Round Rock boy bullied for wearing medical devices, mom says
While she believes RRISD handled the situation effectively, she wishes the school communicated to her the situation sooner.
"As soon as I picked him up, it was 'this happened at school,'" Christina Green said. "I was waiting to hear from a teacher to find out what happened.
Please note, in response to Jonah Green's incident, his elementary school also created a school-wide kindness campaign to highlight that all kids have differences.
Parents in other Central Texas districts also encouraged schools to be more involved, even if they do not perceive a case as bullying.
"Even if a school can't say what definitively happened one way or the other, making the parent aware that it's a possibility lets that parent open that line of communication with their child," said Murray, the Hays CISD parent.
Yarbrough agreed, saying all districts should respond even if there is no disciplinary action.
"We want to make sure that nobody is missed when they feel a certain way," Yarbrough said. "Whether it is bullying or not, we want to make sure we are investigating that, looking into it to determine what exactly is going on so we can make sure we are providing the best solution."
For more information on specific anti-bullying policies, go here. To learn about SEL in your child's district, visit this website.
RELATED VIDEO: Bullying in Central Texas school: What are leaders doing to combat it, and is it enough?
OTHER KVUE BULLYING COVERAGE: