AUSTIN, Texas — In the capital city, drive just minutes and surely you will find the barbecue you were looking to devour. Restaurants across Austin test their hand at cooking the best barbecue, but it takes time to master the art.
In the early morning hours behind Juan Navarro High School in North Austin, the smoke and smell of mesquite fills the air as students learn what it takes to make the perfect barbecue.
Once a month before school, the club meets for hours. In this waiting game, the team lounges around the barbecue pit, practicing new skills.
Edgar Diaz, a senior, walked by those barbecue pits three years ago and got hooked.
"I was like, 'Wow, these are good. I need to learn how to make these,'" Diaz said.
The club started four years ago and is one of only two in Austin. This year, it consists of approximately nine members.
PHOTOS: Navarro High School Barbecue Club
PHOTOS: Navarro High School Barbecue Club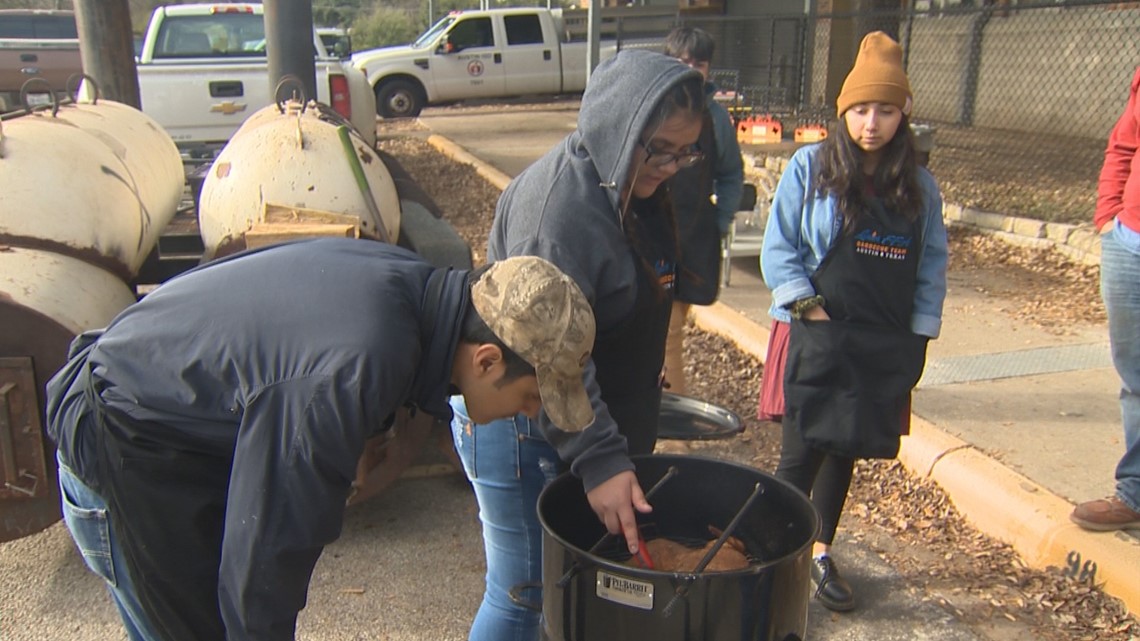 Navarro High School's agriculture science teacher, Tracey Cortez, leads the team, teaching them the fundamentals of smoking barbecue, from firing up the smoker and seasoning the meats to monitoring them to the end.
"I think kids really like the community that has developed through the cooking process," Cortez said. "We get here early, we stay pretty late. It's something they really love learning."
The team practices cooking brisket, ribs and chicken, and they finish off the day with beans and banana pudding.
Students join the club knowing little to nothing about the process. By the time they leave, they have skills that will last them the rest of their lives.
That was the case for both Diaz and junior, Alexa Perez.
"Watching everyone do everything, you really learn a lot. The more you do it the more things you learn," she said.
Just a year into the program, Perez took her talents to her house and smoked her first brisket solo.
"It was really good," she said.
While students enjoy their early mornings barbecuing and listening to music, they also have to focus because the competition is just around the corner.
Each year, High School Barbecue Inc., the nonprofit that manages the Texas high school barbecue clubs, organizes competitions across the state.
Ninety-six teams have the opportunity to participate in nine regional competitions for trophies, scholarships, esteem and recognition. Ten teams compete in the state championship in May.
RELATED:
Founder of Stubb's Bar-B-Q inducted into Barbecue Hall of Fame
SXSW goers - Where to get great BBQ in Austin
"Everyone has their own job," Perez said. "But you really have to work together because everything goes at certain times and if you are not working together, it sort of falls apart."
As they enjoy the long and slow hours watching the smoke fade into the air and the meat darken, students are also gaining much more than a taste for good barbecue.
"It teaches teamwork, it teaches time management, it teaches pit mastery, cooking on the barbecue pit and controlling the fire," said Chuck Schoenfeld, the president and founder of High School Barbecue Inc.
Navarro High School's team has placed in different categories at least a dozen times in their four-year existence.
Schoenfeld wanted to make this organization about more than just a pastime. Students have multiple opportunities to win thousands of dollars in scholarships through the competitions.
While these students love everything about the club, they said they will treasure their memories with friends and the knowledge of barbecue they can carry on with them their whole lives.
"The whole experience is a fun one and I'm going to miss it for sure," said Diaz.
Interested donors or schools and teachers who want to start a barbecue club are encouraged to reach out to High School Barbecue Inc.
MORE KVUE BACK TO CLASS STORIES: