AUSTIN, Texas — Hundreds of University of Texas students said they're worried about their safety in Austin's West Campus neighborhood. KVUE checked out the numbers to see how much crime actually happens in that area.
"There's a lot of times at night that I feel unsafe ... You never know what people's intentions are, especially when it's dark, you can't see people, you can't see cars well, anything like that. So at night, especially, I feel unsafe," UT student Taylor Wissman said. "I definitely think more lights and emergency poles should be put in just because this is such a densely populated area. The university should like, be making sure their students are safe."
Austin police recently provided the Austin City Council with data that shows violent crime and property crime counts for the West Campus area, including between Martin Luther King Jr. Boulevard and 29th Street and between Lamar Boulevard and Guadalupe Street.
From the beginning of 2019 to November, there were 28 violent crimes. That number is about the same as last year when the area had 29 violent crimes.
In 2019, there were 460 property crimes. In 2018, there were 412.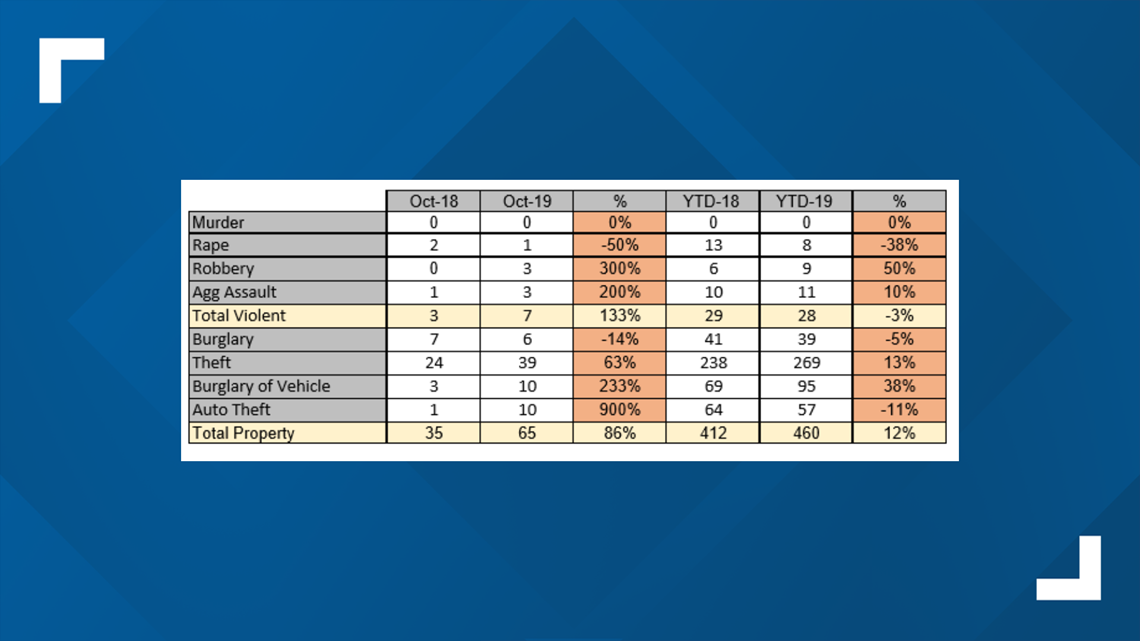 District 9 Councilmember Kathie Tovo's office said it has spoken to Austin Energy regarding updates on a West Campus lighting study. Here is they learned from staff:
Austin Energy Illumination Group continues to make repairs to street light and decorative light outages, and issues, as they are reported through Austin 311. In addition to responding to reported concerns, our next "pro-active" initiative will be conducted during the winter holidays while campus is out of session, as we did during the summer break. Most of this work will be conducted during off peak (night time) hours for safety due to the high volume of construction and pedestrian activity in this area. Also, Austin Energy's Vegetation Management group completed about 75 percent of the obscured overhead streetlight pruning prior to the oak wilt environmental constraint period.
So we have been pretty active in the area, especially prior to school coming back in session, and we have plans to do the same during the upcoming winter break. Please continue to encourage residents to report issues to 311 when they see them. Let me know if you have any questions, and I will let you know if I receive any additional information.
The nonprofit group Safehorns said it's working with APD to point out problem areas and said it will probably take years before the safety upgrades are all fixed.