AUSTIN, Texas — On Saturday afternoon, a construction company's Ring cameras caught thieves driving a truck onto a construction site in South Austin, then using the construction equipment to load material onto the truck before driving off.
Now, Motivado Group, the construction company building a 45-unit condominium project at the site, is offering a $2,500 reward to anyone that has information leading to an arrest.
"They had cut the locks on the gates and backed their truck into this area," Evelyn Poplin told KVUE on Tuesday.
Poplin is the director of marketing and public relations for Motivado Group and said that they believe the truck was a pre-owned H-E-B truck.
"[They] used their universal set of keys to operate our heavy lifting equipment," Poplin said. "It only took them 18 minutes. So, they've obviously done this many times. They're familiar with construction sites. They're comfortable on a construction site."
Video of the incident provided by Motivado Group is below. The thieves took around $10,000 worth of wood and other materials, according to Poplin.
Police were called and arrived just a few minutes after the thieves left, Poplin said.
APD told KVUE Tuesday that they are investigating the incident.
"It's not too big of a blow for us. Our schedule is not affected too badly by it. We're still on schedule as far as our construction goes," Poplin said.
She also said the company discussed the situation with their supplier.
"He was the first person we contacted, just to make sure that he didn't have his own people on our site moving equipment around," Poplin said.
When they found out it wasn't the supplier, the supplier told Motivado Group that they knew of another site that was also burglarized of material in December.
"And that they had taken $75,000 worth of materials from that site. When we dug into that a little bit deeper, he supplied us with the pictures from the security footage from that construction site in North Austin in December," Poplin said. "And it was the same truck and the same three individuals, including the accomplice, wearing all red."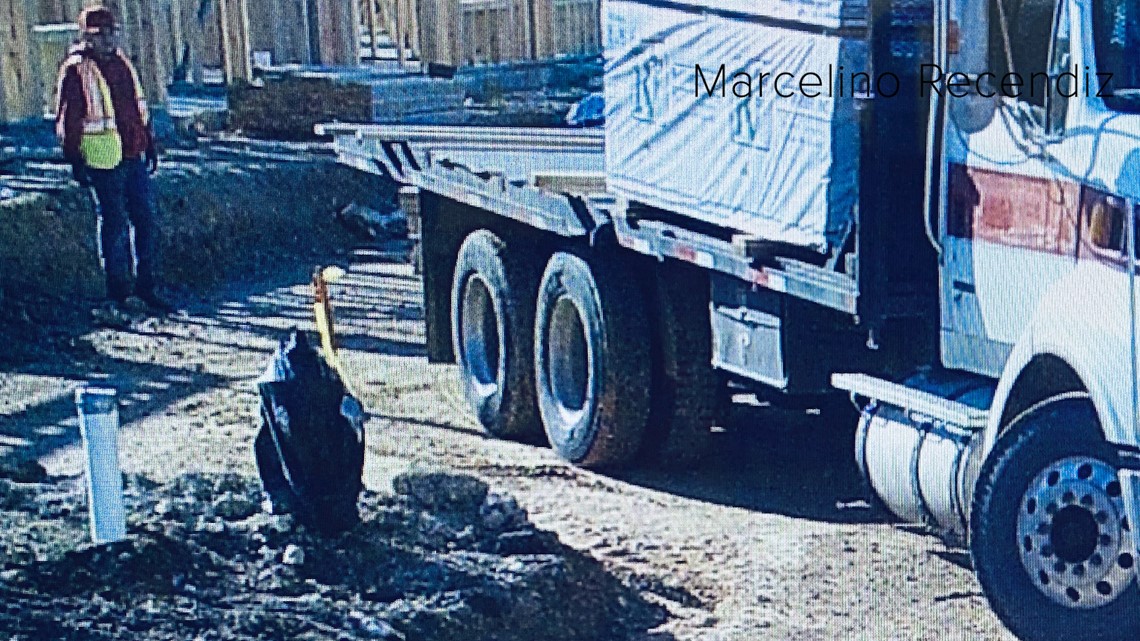 "They obviously knew what they were doing. They were familiar with the, you know, job sites and construction," Poplin said. "And we just hope that they can be brought to justice and people can move forward."
Poplin also told KVUE that the company received a message from another company who said the same group stole $30,000 worth of materials more than a month ago.
If you have information on any of these cases, call Austin police.