AUSTIN, Texas — A North Austin woman told KVUE her community mailbox was broken into Saturday.
Valeri Rodi moved to the Wells Branch community and her greeting was not ideal.
"This happens every week, but this is the first time this mailbox has been hit," said Rodi.
Rodi's mailbox and everyone else's in the cluster box unit was left open with nothing inside. She said she was expecting a gift and her taxes.
"I tried to call and since it was Sunday – they weren't open," said Rodi."I went to their website and got a very generic 'we will look into this.'"
As you drive through Wells Branch, just one block away is another cluster mailbox unit with the front bent back and also empty.
"From talking to other neighbors, it seems like this has been going on for years, but it's getting worst though. They keep telling them they are going to upgrade their mailboxes, but they haven't ever," explained Rodi.
In February, even more mailboxes nearby were broken into, as well. The only thing left was a sign telling neighbors to pick up their mail from the post office instead.
Mailboxes broken into in the Wells Branch Community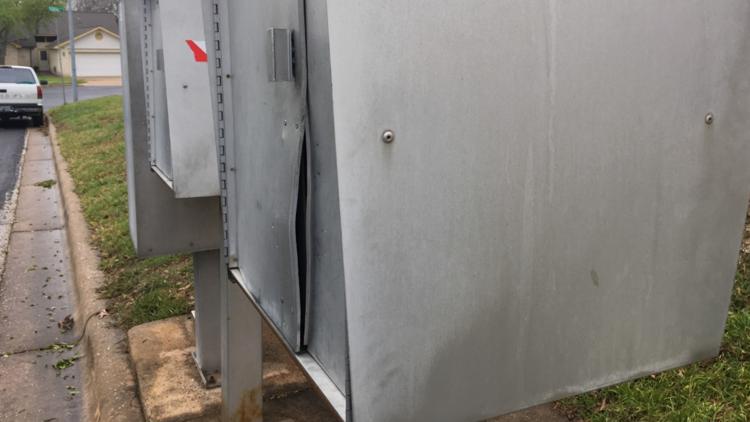 "People have to take time out of their day," said Rodi. "What if you don't have a car or you can't drive and things, like, but you have to go get your mail every day. That is frustrating."
Travis County sheriff's deputies said they are aware of the issue.
TCSO held a community meeting to provide these tips:
Pick up your mail every day.

When you send any mail with important information, put it in the mailbox the day it will be picked up.

Pay your bills online

Download the USPS Informed Delivery App to keep up with what is in your mail.
Rodi gave a different suggestion.
"I think it will be more convenient for us if we could have mailboxes at each individual's house and take those away," said Rodi.
The USPS representative said the odds of adding individual mailboxes are slim to none, but they are working on fixing the cluster mailboxes.

USPS sent this statement:
"The Postal Service strives to always provide the best possible service to our valued customers. We apologize for any inconvenience that may have been experienced by customers in the Wells Branch subdivision. In every case, the Postal Service seeks to make repairs or replacement of a Cluster Box Unit (CBU) as quickly as possible. If the CBU is determined to need replacement, the timeframe for completion can depend on the current supply of new boxes. Local postal officials are aware of the situation at this particular location and are working to repair or replace the CBU as quickly as possible. We appreciate our customers' patience as we work to successfully resolve this matter. Customers are reminded that, if they need assistance with mailing or shipping concerns, there are a variety of options for reaching us, including contacting their local Post Office, calling 1-800-ASK-USPS (1-800-275-8777) or visiting our website at www.usps.com/help."
"Honestly it makes me feel unsafe. What is going to stop them," questioned Rodi. "Are they going to start breaking into cars? What's next?"
The USPS postal inspector said you can submit a tip here. Anyone with a tip leading to an arrest and conviction will receive an award of $10,000.