AUSTIN, Texas — A man accused of pulling a gun on his ex-girlfriend and making threats at a northwest Austin bar on Nov. 26 has been found dead, according to the Austin Police Department.
Court documents state that police received a family disturbance call from Anderson Mill Pub off Anderson Mill Road and Spicewood Parkway around 11:37 a.m. on Nov. 26.
Gavin Rush, 41, allegedly approached the bar with a gun while his ex-girlfriend was working as the bartender. The woman told police Rush had recently found out she was in a relationship with a new person and had been threatening to harm himself and the person she was starting a relationship with. She told police she had stopped responding to Rush's text messages.
The affidavit said Rush placed a small leather satchel on top of the bar before asking his ex-girlfriend if she would talk to him. When she said "no," he pulled out a pistol and pointed it at the woman's chest, activating a laser sight on her, according to the affidavit.
Customers inside then tackled Rush and held him until officers arrived on the scene.
"Every time I watch that video, I just want to throw up, you know," said one of the customers who tackled Rush.
Both rescuers wanted to stay anonymous while explaining what happened.
"I don't remember doing this, but I pushed his hand up and the gun went off," said one customer. "Then we started flying backwards. I turned and grabbed him around the neck and another shot went off."
One of the customers said Rush attempted to shoot himself in the head as they were going to the ground, but the man stuck his finger in between the trigger and the guard to keep it from going off.
He said three shots were fired in total, one shattering the mirror right behind the ex-girlfriend, another barely missing his head.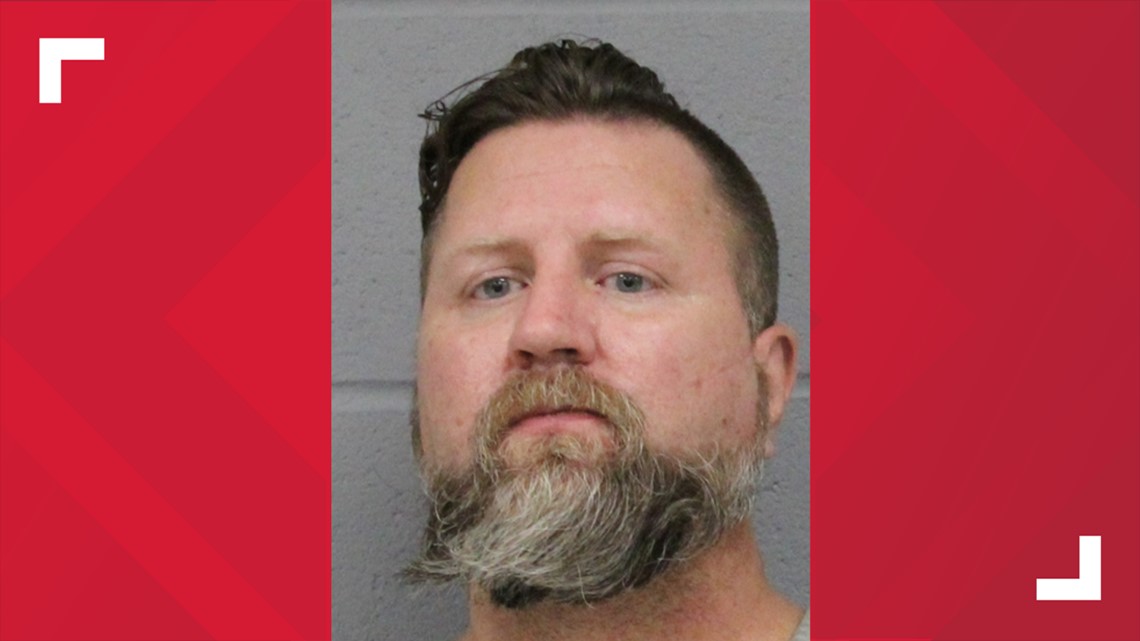 "I'm completely deaf in my left ear right now," said the customer.
The rescuers have other bumps and bruises, but no one was shot.
Rush was charged with a second-degree felony, aggravated assault with a deadly weapon family violence. While a emergency protection order was granted, Rush was let out on a $40,000 bond before the weekend was over.
"For $4,000, you can get out, go home, watch Netflix after trying to murder your ex-girlfriend – are you kidding me?" said one of the customers.
Both men said they were scared for the victim. While the two still feel uneasy, they feel blessed as well.
"I wasn't thinking about anything other than, like, 'I want to go home and hug my baby.' This is crazy," said the customer.
"We're all just lucky," said both customers. "That could have gone down so differently than it did. Thank God."
Rush previously worked with the law firm Peiffer Wolf Carr Kane Conway & Wise, LLP. The firm confirmed on Nov. 29 that he no longer works there.
KVUE also confirmed Tuesday that Rush was previously charged with assault/family violence by impeding breath/circulation in 2017 regarding a different woman in Williamson County. That case was eventually dismissed upon completion of anger management counseling.
On Nov. 30 at approximately 4:24 p.m., APD confirmed that officers responded to a check welfare call on Lyndhurst Street, where they found a man dead. The man was later identified as Rush. APD said the death is not considered suspicious and the investigation is still ongoing.