AUSTIN, Texas — Some Austinites have been in the dark for almost a week. Austin Energy officials announced on Monday that full restoration could take until Sunday, Feb. 12.
Now, community members are stepping up to make sure no one gets left behind during the recovery from last week's ice storm in Central Texas.
It's why hundreds of cars lined up in northeast Austin on Monday evening, waiting to get fresh food as thousands were still without power.
"It makes me feel real sad because I know some people probably have to go and live with family members, friends, in motels, and I even had to stay in a motel a couple of days myself," said Christene Lewis, who was picking up groceries for her family at the food drive.
"We knew there was a need prior to the ice storm, but particularly with spoiled food, maybe increased costs incurred due to damages. We wanted to make sure families had what they needed," said Sari Vatske, president and CEO of the Central Texas Food Bank.
Lewis said much of her food had to go in the trash.
"I spent over $100 just to get some groceries because of the storm, because I knew we weren't going to be able to get out of the house to go get anything," Lewis said.
Lisa Duecker said she's been without power for almost a week. Her family had to bundle up in blankets during the cold. She threw out all of the meat that her 97-year-old father brought back from hunting before the storm.
As far as the food drive, Vatske said it's important they have foods that don't require power but still provide nutrients. These include items like shelf-stable milk, cereal, prepared salads, prepared fruit and more.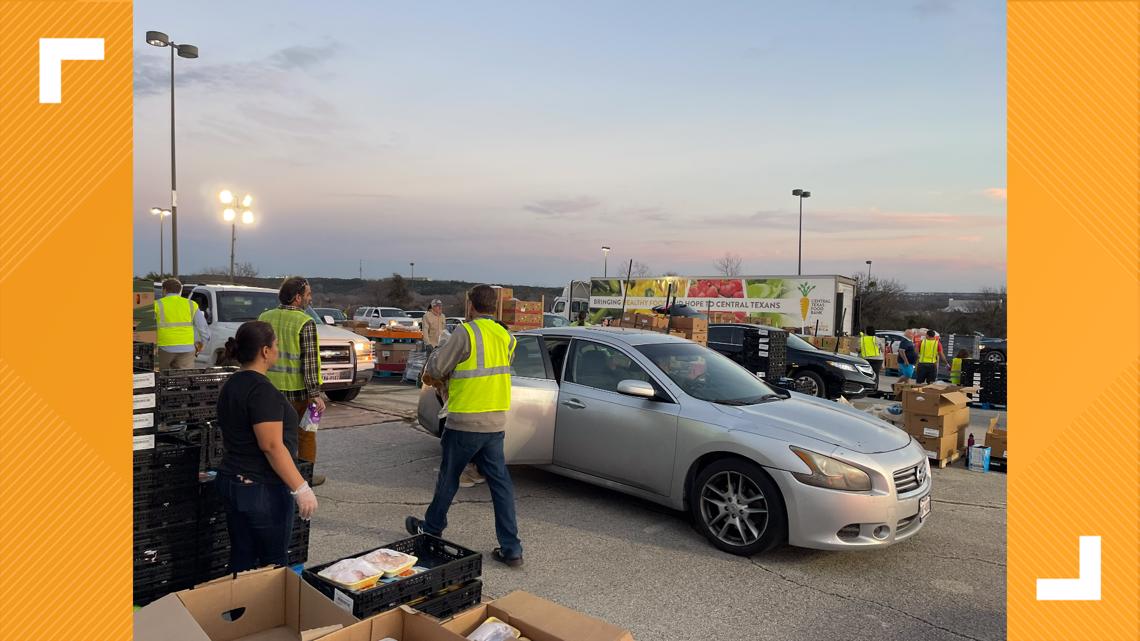 She said supply chain issues and inflation have hit the food bank's pantry as well, lower its stock, so staff are doing all they can.
"We've worked with grocers, manufacturers, distributors and the generosity of the community with food drives to make sure that families have what they need," Vatske said.
Many are just grateful for the help.
"We love you, and God is just good. I say keep on doing what you're doing to help those that are needing help," Lewis said.
As far as upcoming food drives, Vatske said the food bank will be keeping a close eye on the need from the community.
"Disaster recovery is a marathon. It's not a sprint," Vatske said. "And so we are going to be out here doing additional distributions as long as it's necessary."