ELGIN, Texas — The City of Elgin is honoring Black history early by unveiling a new "Black Icons Mural" at Central Avenue.
The mural is located on the historically segregated south side of the tracks at the corner of Main Street and Central Avenue. It was completed by artist Jeremy Biggers with Stem and Thorn in December of 2022 for the Elgin Sesquicentennial.
"Anybody that wants to walk by, I just want them to be able to. You know, a lot of times when you go to galleries or museums, it's a little stuffy for some people. So with public art, you can go up to it, you can touch it, you can feel it. You can kind of pick it apart and see how it was made," Biggers said. "So, it's a little more accessible for 'regular people.'"
Biggers said the mural took him four to five days to paint, working eight hours each day. As a gift to the community from the Elgin Main Street Board, the mural recognizes and honors Black community leaders, both deceased and living.
Civil rights leader Harvey Westbrook, educator Annie Lee Haywood, business owners and community leaders S.H. McShan and Dororthy McCarther, and musician Monty Joe Thomas are the featured portraits in the 50-foot-long by 25-foot-high mural, filling the entire wall of the building facing South Main Street.
At the mural dedication ceremony on Saturday, short stories of the community leaders' lives were told and musical performances and a community prayer circle were held.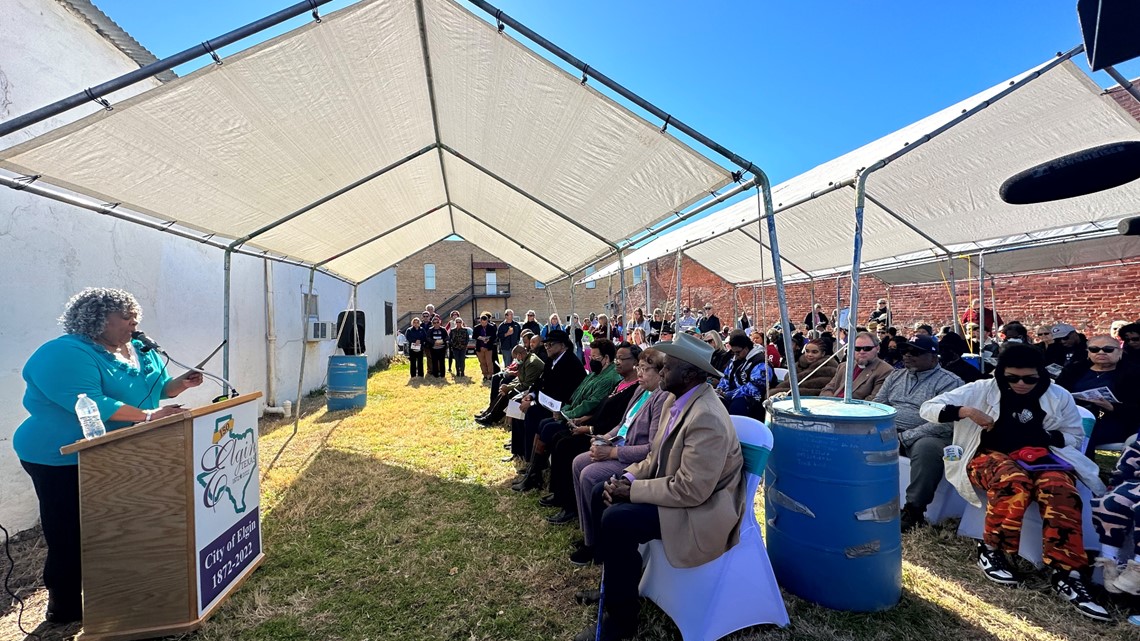 Led by Theresa McShan, Elgin's first Black mayor and past president of the Elgin Main Street Board, the mural shares a legacy of Black leadership in Elgin recognizing the past and looking forward to the future.
The Elgin Main Street Program is part of the City of Elgin Community Services Division with a volunteer board dedicated to revitalizing the historic downtown business district using the Four Point Main Street Approach and focusing on economic development in the context of historic preservation.
This is the second mural funded by the program and the sixth new mural in the district since 2015.
The mural was funded by the program's signature event, the Annual Hogeye Festival, and a gift from Jimmy and Cindi Ferguson, owners of Elgin's McDonald's.
The mural will be included in the Elgin Self-Guided Black History tour and the Elgin Art Walking Tour, both available online here.