GEORGETOWN, Texas — A gas leak on Feb. 20 is still leading to evacuations in Georgetown weeks later.
In the area along Williams Drive and River Bend, Atmos Energy and other workers are trying to get the gas that is trapped in the soil out.
They're using vacuum units and digging holes to make sure that any of the residual gas that's still in the ground is released safely.
Atmos Energy is also performing additional leak surveys and using mobile leak detection units mounted on cars, as well as foot patrols. They are also repairing underground leaks and replacing sections of pipeline as needed.
While they're doing that, service has been shut off to the area. As of March 18, 67 businesses and 73 homes remain evacuated. Click here to see an evacuation map.
"We continually monitor conditions in the area and, out of an abundance of caution, evacuations will remain in place until we are confident it is safe to re-occupy the structures," an Atmos spokesperson told KVUE. "We will provide an update and a timeframe for lifting evacuations when possible."
In a release on March 12, Atmos Energy stated they are working 24/7 until the work is complete, but the weather conditions over the past two weeks have made it difficult for any type of construction work.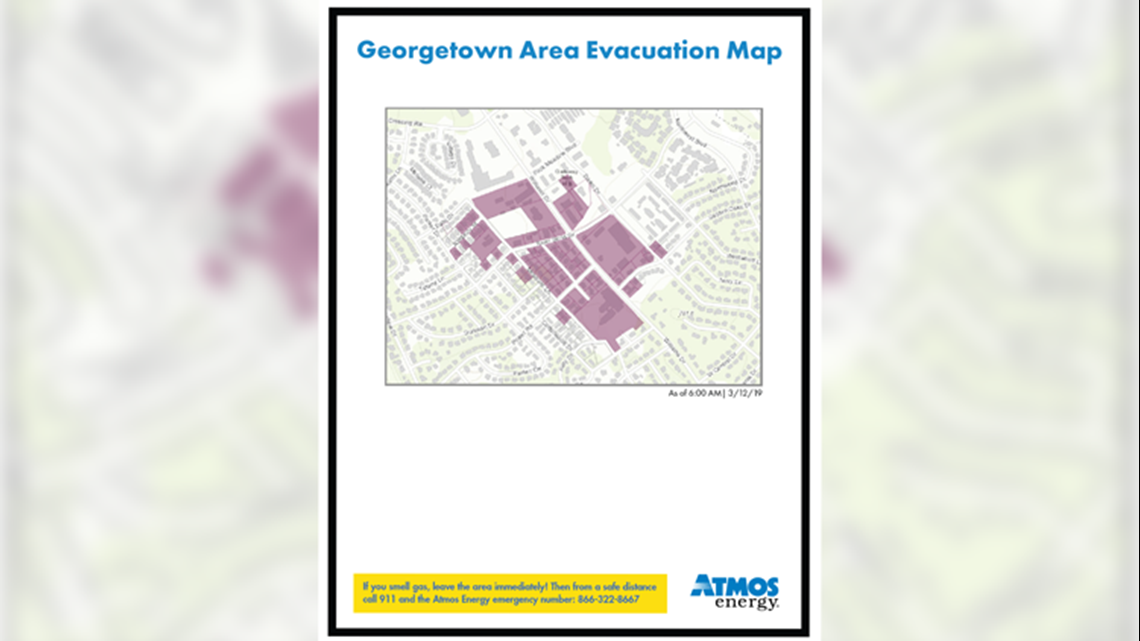 When the gas leak first occurred on Feb. 20, the Georgetown Fire Department and Atmos Energy issued a precautionary evacuation of several residences and businesses in the River Bend area.
Atmos Energy said the evacuation will remain in effect until they are confident it is safe to re-occupy the structures. In the meantime, hotel accommodations and meals are being provided to affected residents.
"It's hard, but we're doing the best that we can with what we've got," said Courtney Marak, who has been out of her home for three weeks now. "It's day by day, we get updates every two days to let us know where they're at but I think they're working as hard as they can to try and get it fixed."
Atmos Energy and the City of Georgetown want residents to know if you smell gas, get out of the area immediately and then call 9-1-1 once you're at a safe distance.
Gas companies are required by law to file leak reports twice a year with the Pipeline and Hazardous Materials Safety Administration (PHMSA). Atmos Energy Corporation submitted its 2019 Mid-Tex PS-95 Semi-Annual Leak Report – which includes the required data for leaks on Atmos Energy's Mid-Tex system for the previous six months – on Jan. 14, 2019.
You can view that report below: