AUSTIN, Texas — It used to be a sleepy, small-town community referred to as "Just West of Weird." But over the past several years, Dripping Springs has seen an incredible amount of growth in both residential and retail development.
When referring to Dripping Springs, it's important to remember the city also has decision-making power over the extraterritorial jurisdiction, or ETJ.
Most cities have an ETJ just outside of their city limits, but Dripping Springs' ETJ spreads far and wide.
Just this week, Dripping Springs annexed 33 additional acres of land off Nutty Brown Road and Highway 290 from Austin's ETJ.
This map shows the Dripping Springs city limits in grey and the ETJ in green.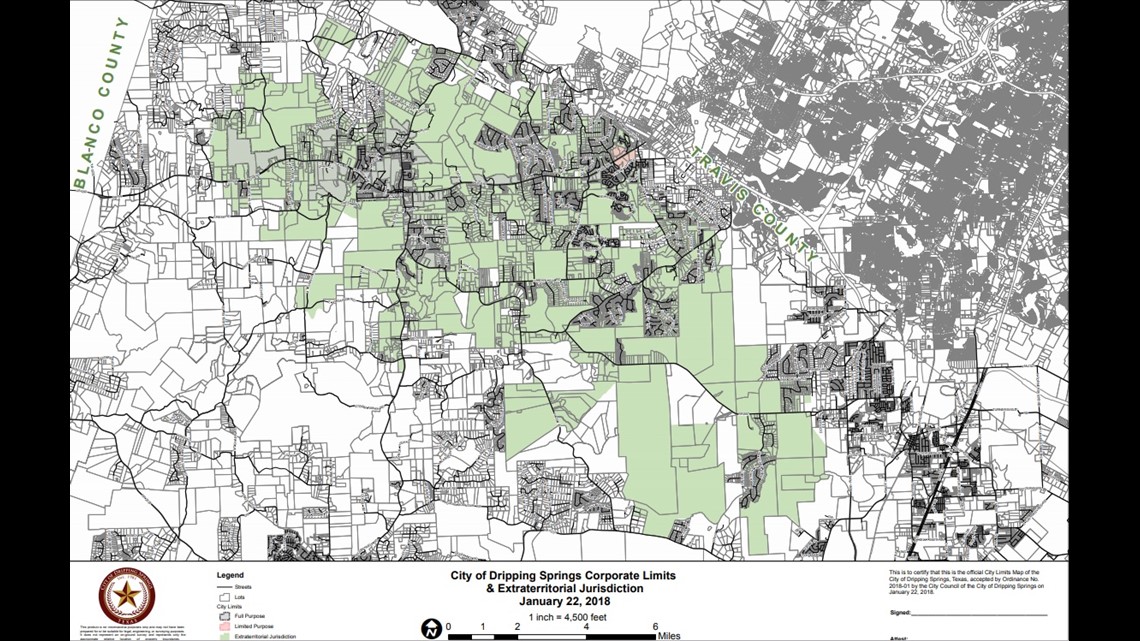 Between city-proper and the Dripping Springs ETJ, there are 8,000 permitted residential lots. That means 8,000 potential new homes -- and thousands of people moving to the area.
Some of the developments underway include Headwaters off Highway 290, with 1,000 permitted residential lots, and the Estates at Sawyer Ranch with 73 homes permitted.
The colored shapes on this map show the different planned developments.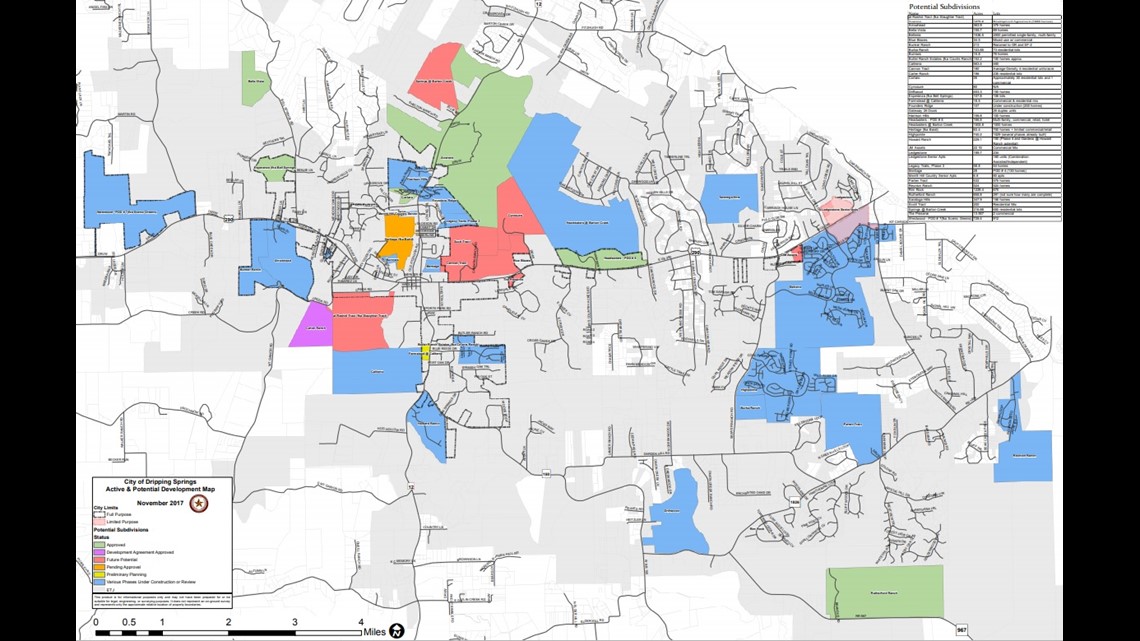 "It proposes a good challenge to the city because it's a lot of development, and we are a small community with a small staff. But because of the size of our ETJ, it gives us a little bit more control of what goes on around us," Jason Lutz, the city's Planning Director, said.
That's why the city has maintained their "Night Skies" ordinance to ensure home developers and retailers control the amount of light pollution from new construction.
Most importantly, however, is the management of natural resources. Namely: water.
Right now, Dripping Springs gets its water from the West Travis County Public Utility Agency. That means it's coming from Lake Travis.
However, the city is now in the final stages of getting permitted from the Texas Commission on Environmental Quality (TCEQ) to reuse 100 percent of their wastewater.
The wastewater will be treated at their wastewater plant and then sold back to developers to use.
The city's goal: 100 percent reuse of wastewater.
To manage that task and the wastewater, Dripping Springs is creating their first Utility Commission. They're currently accepting applications. No exact date has been announced yet for when that commission will start.