AUSTIN, Texas — Austin FC has helped transform the Capital City into a pro-sports town. As the soccer culture grows, one spot in particular is helping bring fans and foodies together.
The Pitch is a destination center and hospitality venue in northeast Austin that opened to the public in February. It serves as a space where community members and visitors can watch Austin FC home and away matches, enjoy a Sunday Funday or even unwind after a long work day.
The vision behind the venue, located in the Parmer Pond District and adjacent to the St. David's Performance Center, is to be a first-of-its-kind sports, dining and entertainment destination.
David Greeley, the principal at Team Orbis, said this type of venue doesn't exist in Major League Soccer. The Pitch offers a unique opportunity to create social experiences aligned with Austin FC and Academy matches.
With four restaurants, two bars and a coffee shop, venue coordinators say there's something for everyone. Some foods and amenities to check out include a burger bar featuring locally sourced beef, a Vietnamese rotisserie chicken concept, a beach bar alongside onsite sand volleyball courts, healthy wraps and bowls and a bakery and coffee concept, all complemented by a selection of local beer and craft cocktails.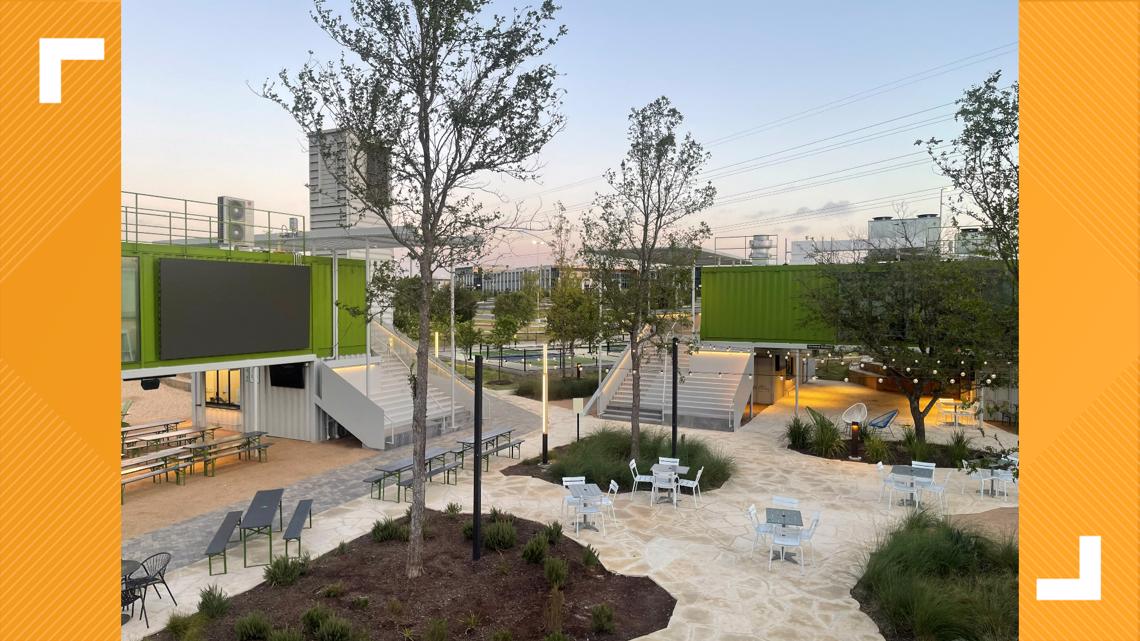 The Pitch has dozens of TVs playing sports events all the time. Going into the summer, the venue also hosts trivia nights, live music, events that help out local animal shelters and discounted nights specifically for neighbors.
Inside the venue, attendees can expect to see multi-level, customized shipping containers designed by Mark Odom Studio set against a pier, a 1,200-seat stadium and an artificial surface soccer pitch called Parmer Field. Several gathering spaces include seating and intimate performance areas.
The next watch party will be on June 25 when Austin FC plays Dallas at Q2 Stadium at 8 p.m.