AUSTIN, Texas — "'Made in Texas' is a powerful global brand."
Companies come to Texas for manufacturing. Of course, big companies such as Tesla, Samsung and Dell catch many of the headlines, but thousands of manufacturers exist across the state. According to 2017 data from the National Association of Manufacturers, Texas was home to more than 17,000 manufacturing companies.
The Texas Comptroller's Office added that manufacturing made up 13% of the state's economic output.

That manufacturing output is about $241 billion in Texas, which equates to about 10% of the U.S. Gross Domestic Product output.
The dollars created by manufacturing in the State of Texas is greater than the entire economy of Portugal, about $239 billion:

"It's absolutely time for it to no longer be a secret," Brad Heath, CEO of Virtex Electronics Manufacturing Services, said. "The only way we can grow to the level that Texas wants to grow manufacturing is we have to get awareness out there of what the careers are and what the options are in manufacturing."
Heath's company calls the Texas capital home but the company also has manufacturing outfits in other states across the country.
"When people ask, 'What do you do?' 'Well, we manufacture electronics, you know, for the aerospace and defense and the industrial space,'" Heath said. "They said, 'You guys build stuff in the U.S.? You build it here in Texas?' 'Yeah, we do.' They're surprised."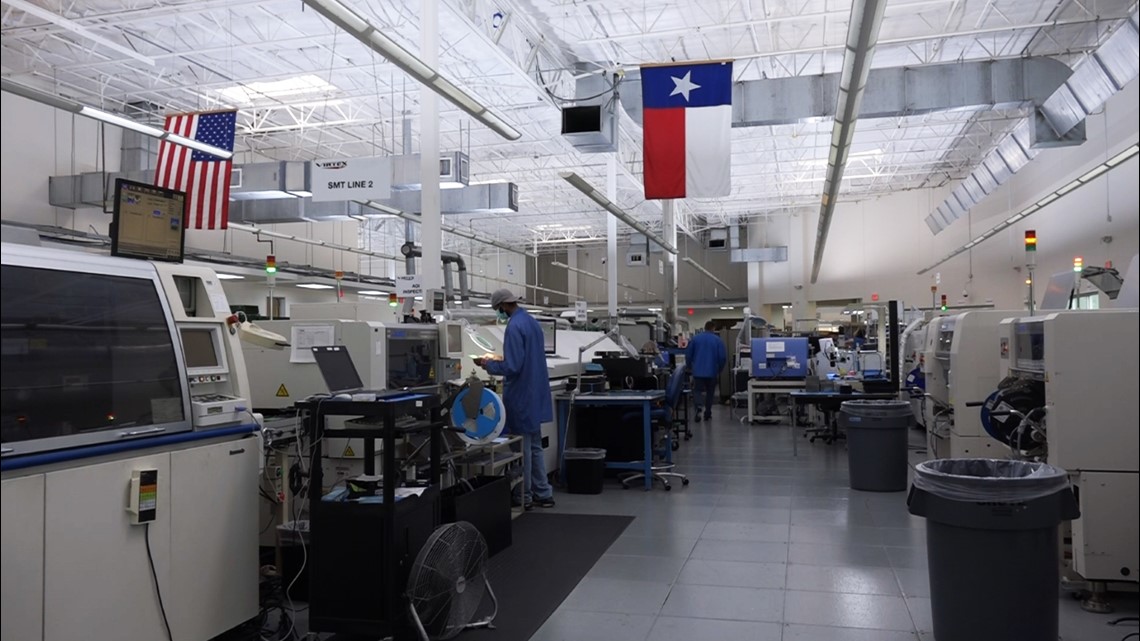 Heath said that other than oil and gas and other older technological manufacturing, Texas is relatively new to the manufacturing industry.
"Because of the friendly climate for business, you know, Texas is a favored location for manufacturers to either start up or move to," Heath said.
According to the Texas Comptroller's Office, the economic output growth for the manufacturing industry outpaced the state's entire economic output from 2001 to 2019. That growth happened primarily in the computer and transportation sectors.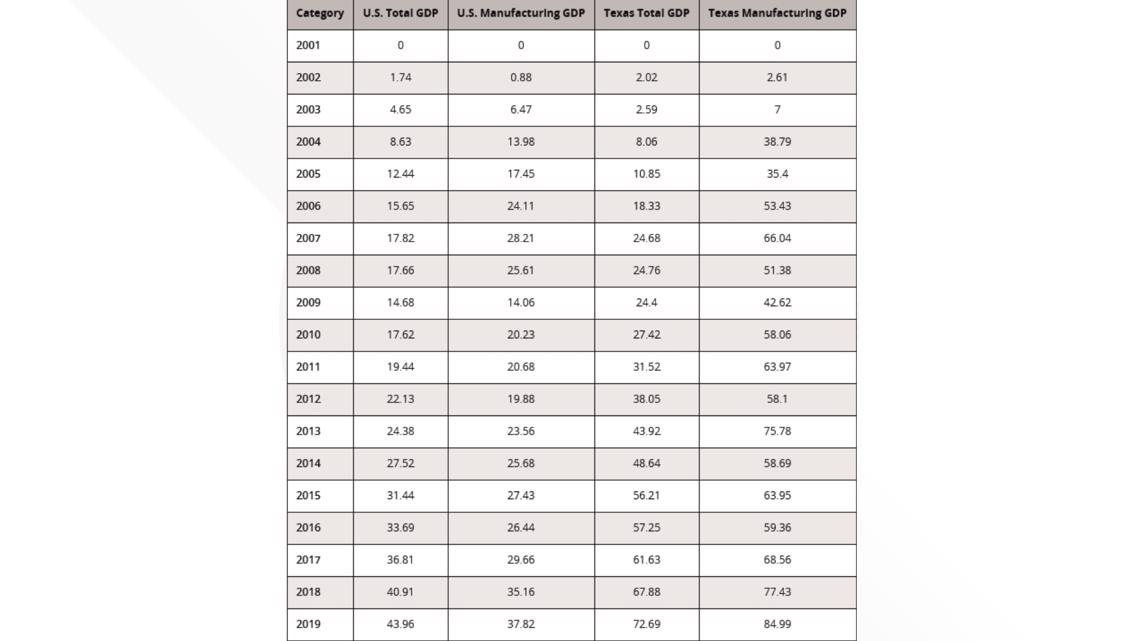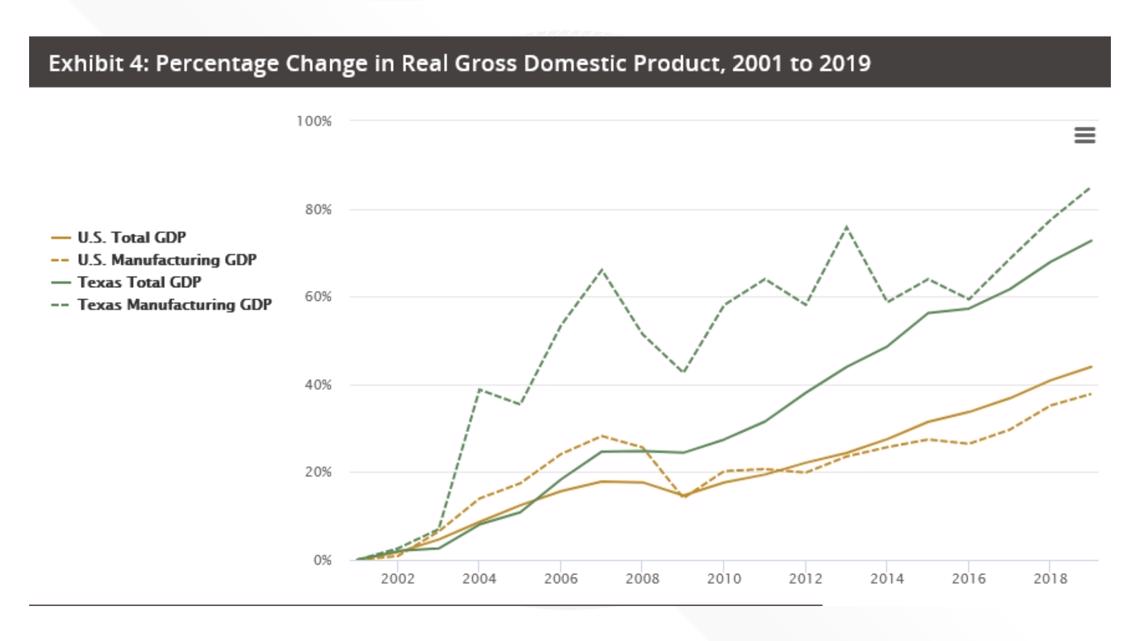 Texas' manufacturing industry has a long-standing industry to contend with in the state, according to Tony Bennett, who heads up the Texas Association of Manufacturers.
"It's going to take going after with a vengeance and accepting advanced manufacturing to one day, you know, decades from now, obviously, to replace our number one industry that we've had for the last, you know, 100 years, which is oil and gas," Bennett said. "Oil and gas is in itself and many of those sectors an advanced manufacturing industry as well, don't get me wrong, but to bring in the new advanced manufacturing and if you ignore that, you ignore that at the state's own peril."
Bennett's organization oversees manufacturing at the legislative level, pushing Texas's efforts to continue being a business-friendly state. Bennett argued there are about 24 sectors underneath the umbrella industry of manufacturing, ranging from aerospace to pulp and paper.
"Austin and Texas are increasingly really diversified from a business standpoint," said Jeff Turk, CEO of Formaspace. "If you're a Tesla, you can probably find an engineer here, but you can probably also find a manufacturing guy or robotics guy or some sort of advanced additive manufacturing person. It's all coming to Texas, so it's still kind of a land of opportunity in that respect."
What does manufacturing look like in Texas?
Too much growth too fast?
But Turk, along with other companies and industry leaders, says the additional eyes on Texas worries them a bit.
"In the short run, those are more people that are going to be competing to grab the same few houses that we have available, and the same little water supply, and the same roads that we tend to clog up twice a day and so on and so forth," Turk said.
"I would say near term, you know, we're going to be in a crunch just like we have been in the last few years, frankly. You know, there's already been a talent shortage," Andy Salo, CEO of East West Manufacturing, said. "That will probably get worse before it gets better."
Heath, the CEO of Virtex Electronics Manufacturing Services, said there's a finite workforce available.
"You're going to have to get them from somewhere or what you're going to do is you're going to end up bleeding those out of the smaller companies," he said. "You're going to end up boosting what [your product] costs. Are you going to drive some people out of the market because their customers simply can't afford to go pay that and they can't afford to pay the wages? So it's a choice -- either raise the price of the product or move to a lower-cost region."
With a current shortage of workers that may get worse before it gets better. Industry leaders say Texas needs to invest in systemic solutions to improve housing affordability, infrastructure and workforce training.
"Young people are starting to realize I need to learn this skill, this skill, this skill, and I can go make $60,000 to $90,000 a year and I have no college debt," Bennett said.
"Economic development is done in Texas in a very different way and in a way unlike any other state in the country," Cruz said. "It's that partnership that we have with our local communities because Texas is such a big and such a diverse state. We really have to rely on our partners to let us know about what real estate they have available, what buildings and sites are available."
High schools, trade schools and community colleges have started to emphasize even more the importance of manufacturing, introducing new programs and partnerships as companies continue to seek out new employees in Texas. It's one big way the state can respond to the increased exposure to manufacturing.
"We have to reach out to young people and let them know that some of the products that are changing the world are made right here, that the products that they're using every day in their classroom or for entertainment, you know, are being developed and improved in Central Texas and that they can be involved with it," Ed Latson, executive director for Austin Regional Manufacturers Association, said.