The center in southwest Austin will serve as a shelter and provide emergency services to children who are victims of sex trafficking.
"These are, in most cases, some of the most violently abused children in our community. And some of the most desperate children to get help immediately. They need immediate help," said Lisa Knapp, the founder of The Austin 20, the nonprofit funding Nicole's Place.
The permitting process started last June when engineers filed the permit application with Travis County. In July, the fees were fully paid, but it wasn't until Sept. 9 – 54 days after the July date – that Nicole's Place heard back from the county with comments on the application.
"We were unable to serve children quickly because we were consistently waiting on other things just to get the process going so that we had a safe and approved home for them," Knapp said.
"This was a perfect storm of things that occurred," said Hector Nieto, a spokesperson for Travis County. "We had a project that was being changed multiple times and then we had a department that was understaffed and overworked."
Nicole's Place was finally issued a permit for the septic system on Feb. 14 – nearly eight months after initiating the process.
Last week, Ward's Septic Services of Wimberley installed the system in a matter of days, bringing Nicole's Place one step closer to opening by the end of the month, as required by state licenses.
"The fact that we need that unit and we staff that unit, I think shows the prevalence of which this is taking place here locally and again, similarly occurring at the statewide and national level," Manley said in December.
But still, Nicole's Place hasn't opened. Donated shampoo, bedding and kitchen utensils are just a few of the items that still sit unused at the center.
PHOTOS: Nicole's Place in southwest Austin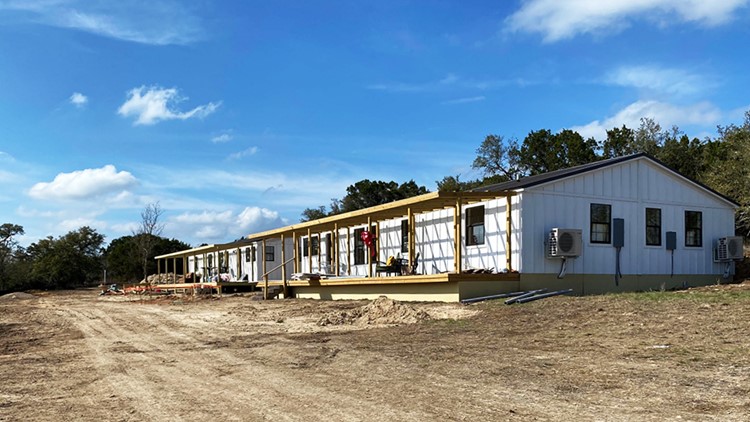 "[The County] understood the importance of opening this. They absolutely understood how important it was for our community to address this epidemic that's happening in Austin and all over Texas and the country," Knapp said.
But the permitting process was still frustrating – and it's not uncommon in Austin's booming economy.
"We're going to see additional stresses on our staff because we're going to have additional permits," Nieto said. "And this is just the natural effect of a growing area."
Nieto said staffing for the department is an issue that will have to be taken into consideration during future budget discussions by the Travis County Commissioners Court.
For Knapp and The Austin 20, the hope is that this kind of issue never comes up again so they can focus on serving the children who need it most.
"In my city, children who have been raped repeatedly, sold commercially for sex will be taken care of," Knapp said. "That's what will happen in my city. So in the city that I imagine, these children will be taken care of and they're going to be taken care of quickly."