AUSTIN, Texas — The ever-changing scene on Sixth Street in East Austin has a new addition.
"It's made to feel a bit more homey and comfortable, as opposed to the hotel side of things," General Manager Chris Frazier said. "It's not your typical arrival experience."
He's not kidding. When you check in, you're greeted with a free drink. In fact, there's no real check-in desk – you just check in at the restaurant and bar on the ground floor, Vixen's Wedding. Local husband and wife chef team Todd Duplechan and Jessica Maher – who also own Lenoir on South First Street – are in charge of the restaurant.
The hotel has 83 rooms in five different room styles.
Right now, ARRIVE East Austin's rates for rooms go along with their "Yep, We're Finally Open" rate of $150 through Labor Day. The standard rates start at $199.
If you take a look inside, you'll see the rooms are full of color and have a touch of simplicity while also having their own artsy style.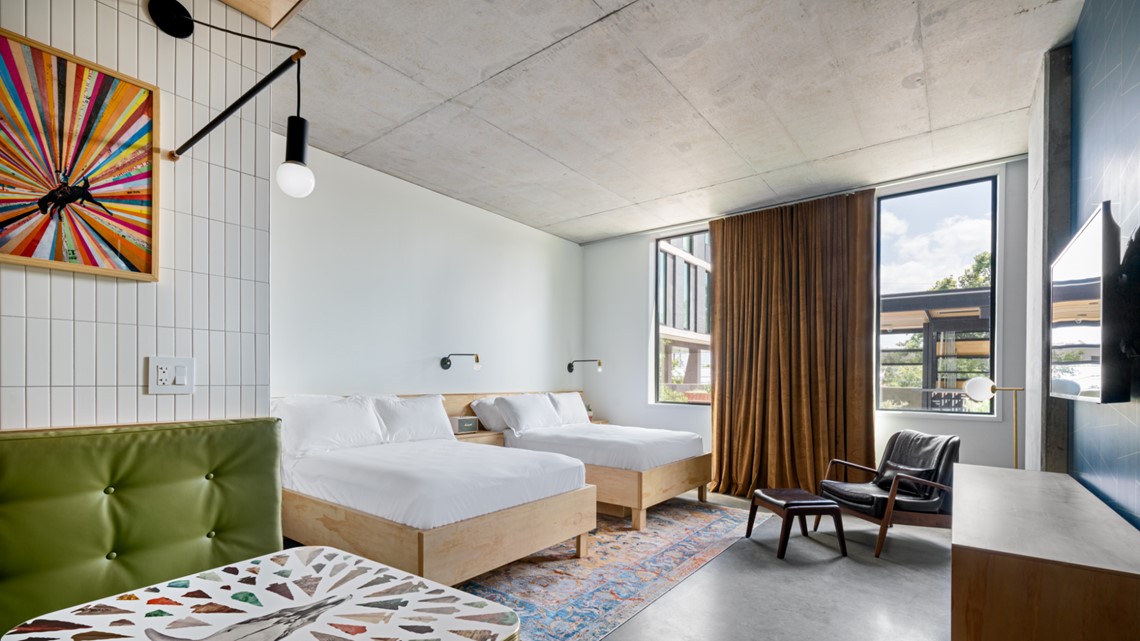 Plus, the building isn't just for guests. You can hop over to their public bars and restaurants whether you're staying at the hotel or not.
Lefty's Brick Bar is outdoor-connected to the hotel. Up the stairs nearby is a second-floor outdoor patio that isn't open yet, but will soon be called Gin Bar and be home to 50 types of gin from across the country. There's also a coffee shop, Cartel Coffee Lab.
"It's all about getting people to know the community that they're in – you know, walking down Sixth Street, you're bound to run into something that's just been here for years," Frazier said.
Nearby is the Santa Cruz Theater. It's been around for decades, and there are not many people that know this part of East Austin better than the theater's employees.
"I been here my whole life," Daniel Cruz said.
His coworker, Amanda Zappler, has also lived in Austin for 30 years.
"That building and others like it that have gone up recently are a sign of the change – a sign of the times," Zappler said.
They both said they understand why the rapid growth here is happening and hope the hotel is able to benefit the community in some way. But they're also hoping pieces of "old Austin" stick around.
"It's definitely a transition phase for the city," Zappler said.
"Right now, there's a big lack in diversity between the 'new Austin' and the 'old Austin,' for sure," Cruz said.
Frazier wants to welcome the neighborhood inside.
"We want to get people out in the community and experiencing, you know, what all East Austin has to offer," said Frazier.