AUSTIN, Texas — Living in a boomtown creates a housing challenge. Part of that includes the destruction of older homes and the construction of newer, more modern ones.
The number of demolition permits issued by the City of Austin has grown nearly 13% per year since 2016 – mostly for homes. The neighborhoods where it is happening the most are feeling it and there is very little the City can do to stop it.
There's a growing price for these million-dollar views.
"We bought it because of the view," said Becky Motal, who has lived in Barton Hills for 35 years.

"You're close to the greenbelt, close to the creek, close to central city, close to a lot of stuff ... Zilker Park. It's great," she said.
But the peace and serenity of what draws so many families like the Motal's here is being replaced by the sounds of construction.
On nearly every street, old homes are being demolished and new, modern structures are being built in their place.
"You might call this a remodeling cove," said Motal. "Or a demolishing cove. I don't think it's ended yet."
Four of the nine homes on her street have been plowed down in the last two years.

"We were lucky to have a view, but little did we ever know that it would become this valuable," Motal said.
Zach Halligman lives in one of those newer homes in 78704. He moved from California to take advantage of lower taxes and property costs.

"The two years I've been down here I've seen rates go up and taxes go up a lot, and some of those rates are getting close to what they're paying in California," he said.
It's not just the cost he's noticed. But there's a bigger price that even he is beginning to see take shape.
"There was a house on the corner and there was a dog, so anytime you'd walk by the dog would always be greeting you, running up and down the yard," he said. "One day the house was actually getting torn down, bulldozed down, and the owner and the dog, unfortunately, were standing there watching. Probably one of the saddest things I've seen in this neighborhood."
In the last five years, 3,485 homes have been demolished in Austin. Nearly a third of them are in the 78704 ZIP code.
This map shows all the demolition permits that have been issued for properties across our city since 2016.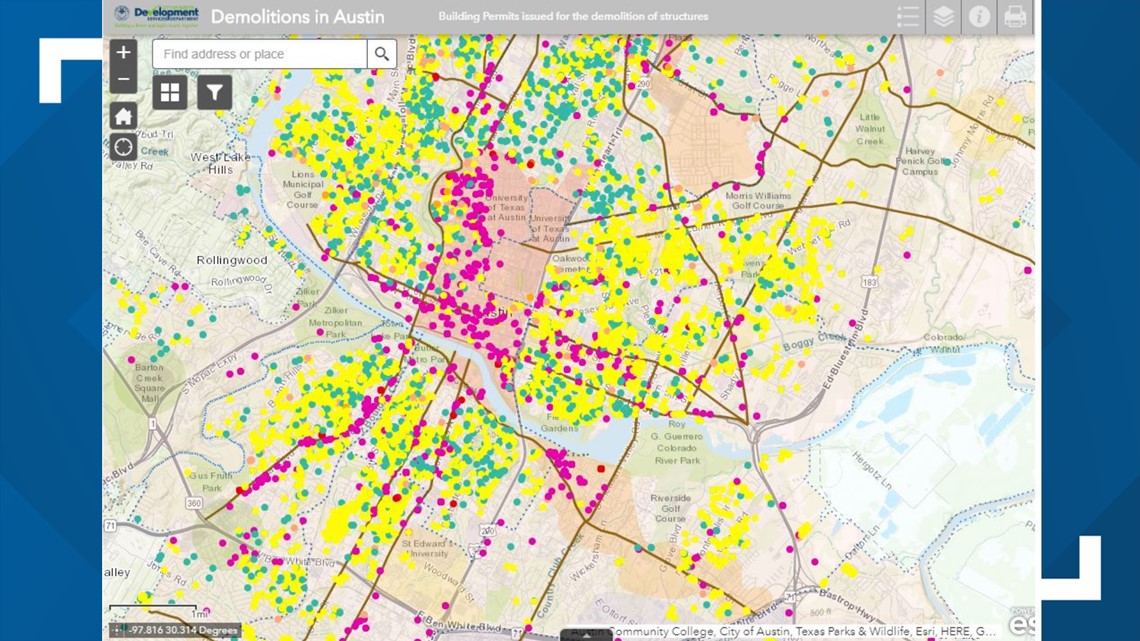 A 2017 audit criticized the process after seeing a spike of demolition permits – saying the City needs better safety measures, mandatory tree reviews and demolition inspections after new construction has begun.
The City typically only reviews demolition permits for structures that are 40 years old or older to help preserve buildings of historical significance, which leaves change around us.
"When we moved in, the houses were going for – and we thought we were paying a lot – for about $175,000. Now you can't touch these lots for less than $1 million," said Motal.
The price of progress is a lot greater than some families considered when they moved here decades ago. And, yet, even Motal sees the value in the new replacing the old.
"I can understand it and, in some respects, encourage it. Some of these homes were not well taken care of," said Motal.
But as more and more lots go from single-family homes to sometimes holding multiple structures, there are worries that what we lose can never be replaced.
That's something even the younger generation appreciates about Austin.
"I hope the future of the neighborhood is what it was originally. You can't really turn back time, but I just hope we continue to have family in these neighborhoods," said Haligman.
According to Austin's demographer, the city is increasingly losing families to the suburbs. We're also seeing big changes in East Austin. We'll have more on that Thursday here on KVUE.