Rail lines are a large majority of the project's estimated costs, according to initial engineering studies conducted by CapMetro as part of Project Connect, the City's initiative to improve public transit.
"Compared to cities similar to us, that's a very small number," said Delia Garza, vice-chair of the CapMetro board and Austin Mayor Pro Tem. "The cost of not doing anything is even more than that."
City leaders point to this plan as a way of resolving some of the traffic congestion in the region, by getting more residents on transit.
According to CapMetro, approximately 40% of the funding will be through state grants from the Federal Transit Administration. The remainder of the funds will be derived from local dollars – either through bonds or taxes.
"We have to invest, and we have to change the way we're doing things. I think a lot of people forget that we are the 11th largest city in the country," Garza said.
The Orange Line would run along North Lamar Boulevard and Guadalupe Street, through downtown and along South Congress Avenue.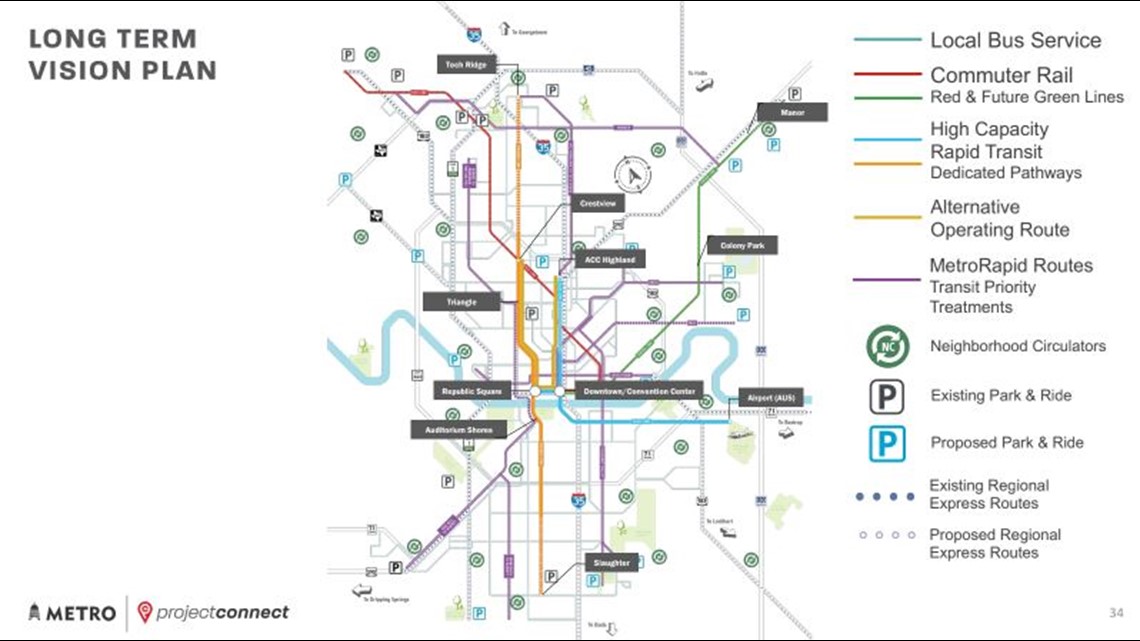 The more expensive option involves Light Rail Transit (LRT), ranging between $7.8 billion to $9.8 billion, but it would transport a higher capacity of commuters and would be more environmentally and economically efficient in the future. The less expensive option is Bus Rapid Transit (BRT), ranging between $4.7 billion to $7.2 billion.
"It's Austin that's choking on our traffic, and it's Austin that needs new mobility options. So our investment has to be transformational, we need to think of this opportunity as a generational one," Austin Transportation Department Director Rob Spillar told the council and CapMetro board on Wednesday.
The agency estimates local funds would have to foot between $2.8 billion to $5.9 billion of the bill, depending on what option is selected.
The key differentiation of the project versus transportation as it is now would be creating two dedicated lanes for public transportation, whether it is buses or rail lines. There would still be two lanes per the direction of travel for regular traffic.
In addition to street level travel, parts of the lines could include tunnels and elevated platforms, the agency said.
CapMetro predicts the Orange Line will accommodate between 45,000 to 74,000 commuters daily, with travel times estimated between 42 to 53 minutes end-to-end.
The Blue Line's estimated commuter traffic would be 30,000 to 52,000 people daily, with a travel time of 35 minutes to 42 minutes end-to-end.
"As a community, congestion is one of our top talked about issues, whether it's for existing companies, small businesses, or companies looking to relocate to Austin," said Matthew Geske, vice president of regional infrastructure and mobility for the Austin Chamber.
The chamber has not decided whether to support LRT or BRT, but Geske said transportation is a top quality of life concern for businesses looking at Austin.
"You're making investments for the future, not looking at where we are right now but where we're going to be in 20, 30 years," Geske said.
The proposal also discusses adding an additional MetroRail on existing tracks and more MetroRapid bus routes.
After presenting city council with the plans, CapMetro expects them to make a decision on what parts of Project Connect they will push forward by March 2020. The proposed plan is then expected to be placed on the November 2020 ballot.