AUSTIN, Texas — It's no surprise that the Austin real estate market is hot.
"What drives that are the industries that are moving here and the folks that are moving here, creating that job creation, creating that demand," said Joseph DeBlasio with Real Property Management LoneStar. "Everybody needs a place to live, whether it's a purchase of a home or a leased property."
DeBlasio said Austin's been a popular market for 20-plus years.
"It's always been very robust, but nothing at all like the past year or two," said DeBlasio. "We've been doing this real property management for about 10 years now, and we haven't seen anything like this."
DeBlasio said, in the past month or two, he's seen rental rates increase by hundreds of dollars.
"The inventory levels right now are virtually nonexistent for single-family residence," said DeBlasio. "In terms of the rental properties we're seeing, we can't keep active properties out there for more than a few days."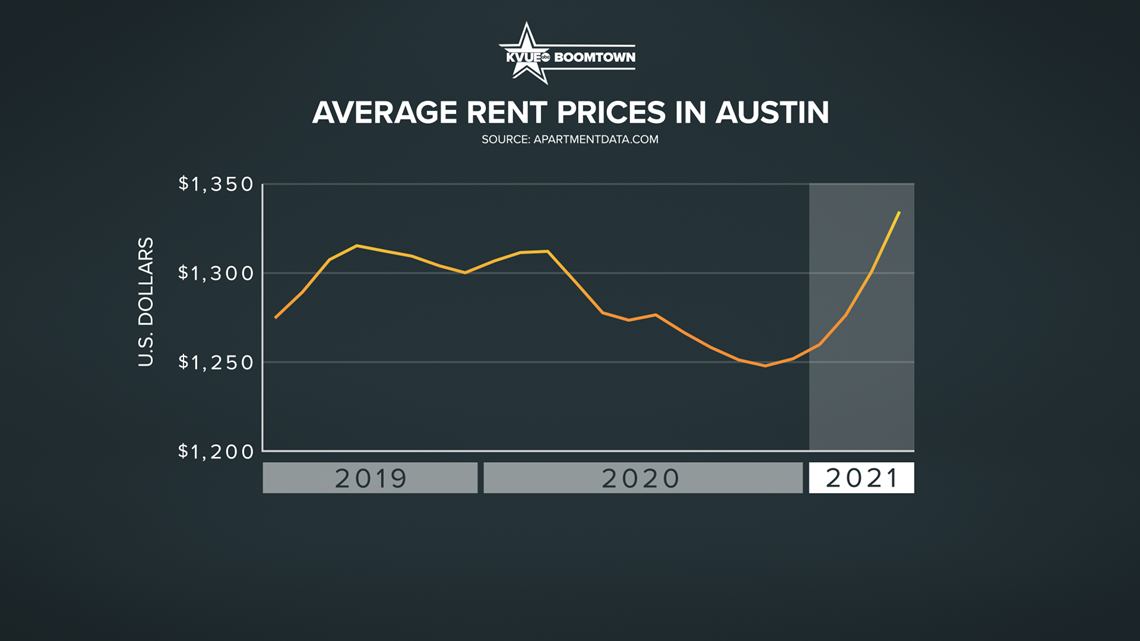 ApartmentData.com reports average rent prices in Austin dipped after the pandemic hit, before spiking in 2021.
"We've been seeing higher-than-asking-price offers unsolicited," said DeBlasio. "So the folks that really want the property there with their application, they're increasing by $100, by $150 above the advertised rental rate."
DeBlasio said it's been a decade since the demand was this high.
"The last time we saw a demand surge like this was about 10 years ago here in Austin, where the percentage of renters increased substantially because of all the foreclosures during the '08, '09, 2010 bust real estate bubble," DeBlasio said. "And so we had a new demographic of renters. We had folks that lost their home during that crisis. We had folks, older folks, that maybe had a home and they decided they don't want the responsibility any longer. So we saw a demand surge demographic-wise during that situation. This is a little bit different. The causes are a little bit different."
He said there's a few things at play: a lot of people and companies moving here, plus a lack of supply or buildable lots.
"Until we're able to solve the supply side, it's going to continue. And the way to do that is to build more homes. [The] problem with that is buildable lots," said DeBlasio. "That's always been an issue here and in the surrounding areas."
DeBlasio said a lack of spaces to build is forcing some to shop for places to live outside the city.