That means some Central Texans' dreams of homeownership may remain dreams for the foreseeable future.
You may remember Garrett Robinson. He was the Habitat for Humanity worker KVUE featured last June who was building affordable homes for others, but was unable to afford one of his own. He and his wife had to leave the state to find affordable housing.
His story is becoming more and more common. Inflation-adjusted home prices are now the highest they have ever been.
So they raised interest rates. Again and again. Ten times.
"They were behind the curb at the beginning, and now they're trying to catch up," explained Julia Coronado, a University of Texas at Austin expert on Fed policy.
She said demand has fallen.
"At a minimum, the buying activity from investors has slowed to a crawl or disappeared altogether," she said. "Which is huge because nearly a third of all homes purchased last year in the Austin metro were by investors."
Meanwhile, supply has continued to go up.
"When there's a boom, builders build," Coronado said.
Which means prices fall. It's been "a little bit more a boom-bust dynamic in the Austin market," according to Coronado.

The April 2023 report from the Austin Board of Realtors (ABoR) shows the median sale price is down 15%.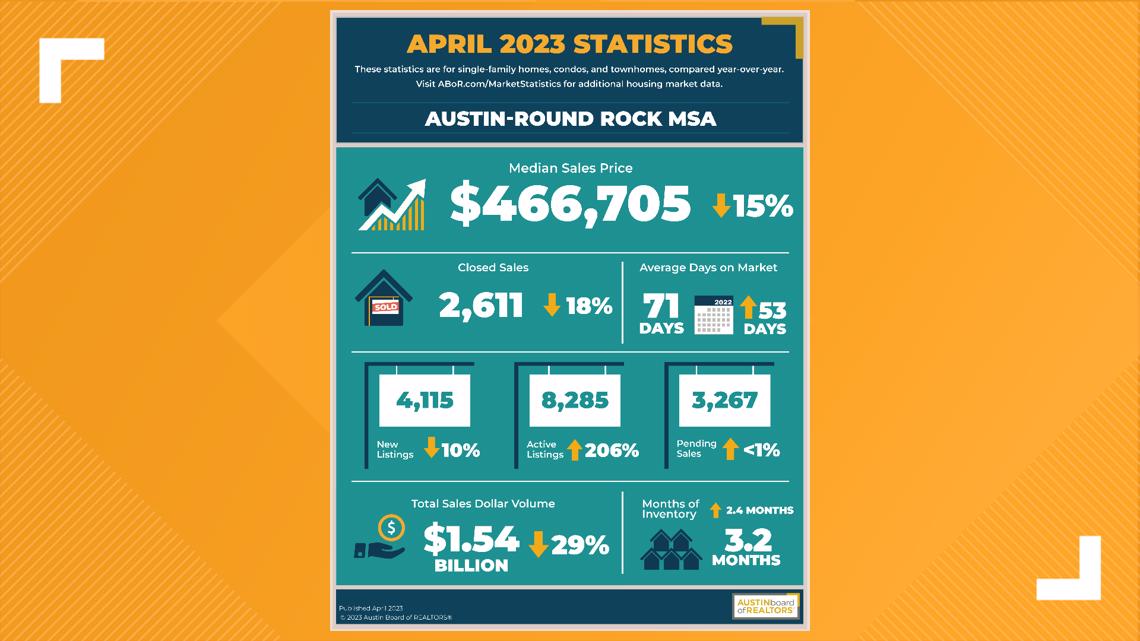 Let's put that into dollars. Taking a look at Zillow, KVUE found a new home in the area listed less than a year ago for $750,000. Today, it's nearly $200,000 cheaper – and this may be just the beginning.
"Austin is arguably in the largest housing bubble in America, based on the fundamental data," Reventure Consulting CEO Nicholas Gerli said when KVUE spoke with him last year.
Gerli said the market could drop 40% in the next three years. But not all experts agree.
"I don't know if we'll see declines like that," ABoR President Ashley Jackson said. "I've live here about 40 years, and I have seen maybe on one hand, good opportunities like this in the Austin marketplace."
Jackson said now is a great time to make an offer on a home.
"At this point, buyers can come in and ask for concessions, maybe even get help with their losing costs," she said. "And that just hasn't been true in the Austin market for many years."
So maybe you buy, maybe you wait – or maybe just "hold on," as Coronado said.
"This is cyclical adjustment, not a bust," she said. "Again, the fundamentals of Austin are very strong. Austin is a growing city."
She said there will likely be more corrections in the market, but that's good for the city.
"If we end up giving back half of that in a correction phase, that's actually probably good news for the average Austin resident who may want to buy, who isn't an investor," Coronado said.
Boomtown is KVUE's series covering the explosive growth in Central Texas. For more Boomtown stories, head to KVUE.com/Boomtown.