AUS said passenger volume growth for December 2021 was up 209.3% compared to the previous December, with 1,595,821 passengers flying during the month – the busiest December on record at AUS.
Overall for 2021, 13,570,711 passengers flew through Austin, up 109.5% from 2020. AUS said 2021 was its fourth busiest year ever.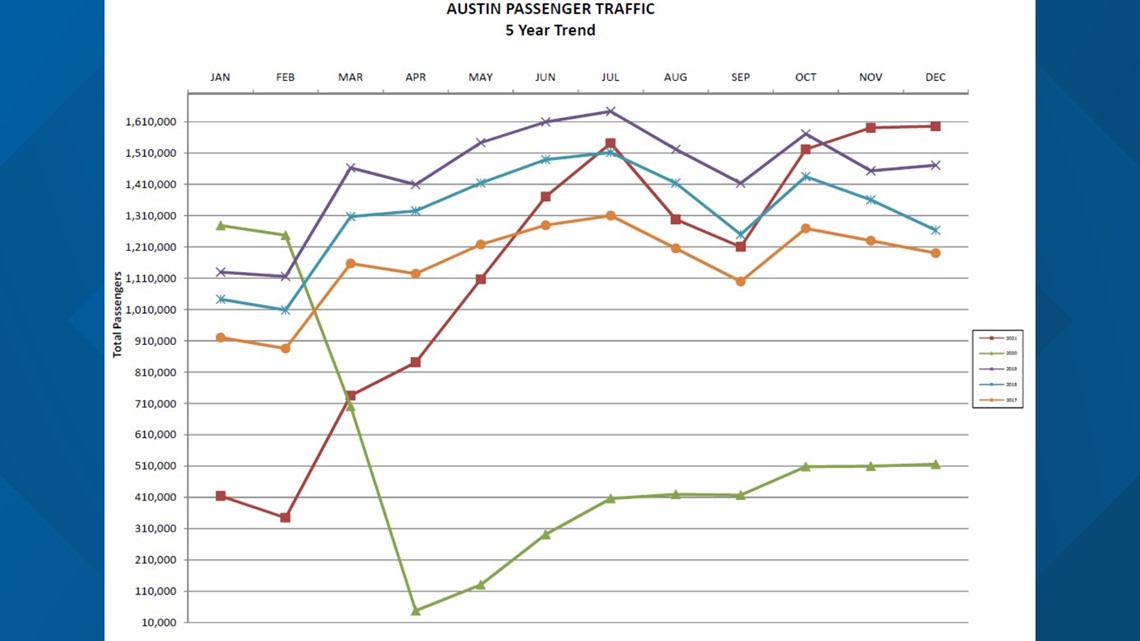 And it wasn't just the number of passengers that made it a big year for AUS. The airport welcomed Hawaiian Airlines and JSX, plus 26 new nonstop international and domestic destinations. Several international carriers – Aeromexico, Air Canada and British Airways – also returned to AUS in 2021, while Allegiant Air opened a new home base in Austin. That operation created at least 89 high-wage jobs, according to AUS.
Meanwhile, many of the airport's concessions reopened in 2021, and AUS also opened a new concession, Zocalo Café, for the first time.
In 2021, AUS became one of only four North American airports to achieve carbon neutrality and the first medium-sized airport in North America to do so.
Here are a few other fun facts from the airport's year-end recap:
Last year, AUS passengers purchased 13,399 t-shirts from Tyler's, 5,617 Keep Austin Weird shirts and 3,569 El Arroyo souvenirs
Passengers also bought 977 Austin FC shirts and 627 hats
Travelers consumed 75,390 pounds – 37.7 tons – of brisket from the airport's Salt Lick BBQ location
1,458,000 tacos were enjoyed by passengers at Taco Deli, Jo's Coffee, Earl Campbell's Taco Truck and more
The AUS Arts and Music Program supported 61 different artists through the permanent and changing art exhibits program and hosted 248 live music performances
Britny Eubank on social media: Twitter