AUSTIN, Texas — Amazon announced Thursday that they will be bringing 800 new jobs to Austin.
Back in February, Amazon said they would spread the 25,000 jobs that were expected to go to their new headquarters in New York – which they ultimately pulled out of building – throughout tech hubs and corporate offices around the U.S.
Austin was on the list of cities who were set to receive jobs, and now we know how many there will be.
RELATED: Amazon expected to bring more jobs to Austin
This isn't the beginning of Amazon and Austin's recent history though. Back when Amazon was originally scouting places to build their "HQ2," Austin was on the short list. But despite being "a sanctuary city for vampires who love tacos," the Capital City was passed over in November 2018.
RELATED: 'A sanctuary city for vampires who love tacos' | Alexa is sorry Amazon isn't building HQ2 in Austin
RELATED: 'Breakfast tacos all around,' Twitter says after Austin 'dodges' Amazon HQ2
Amazon said they were splitting their HQ2 between two locations, Virginia and New York. Then, in February, they changed their minds and chose not to build in New York.
Amazon announced they will expand into a new 145,000-square-foot office in The Domain, which will open in 2020.
PHOTOS: A look at where Amazon's offices will be at Austin's Domain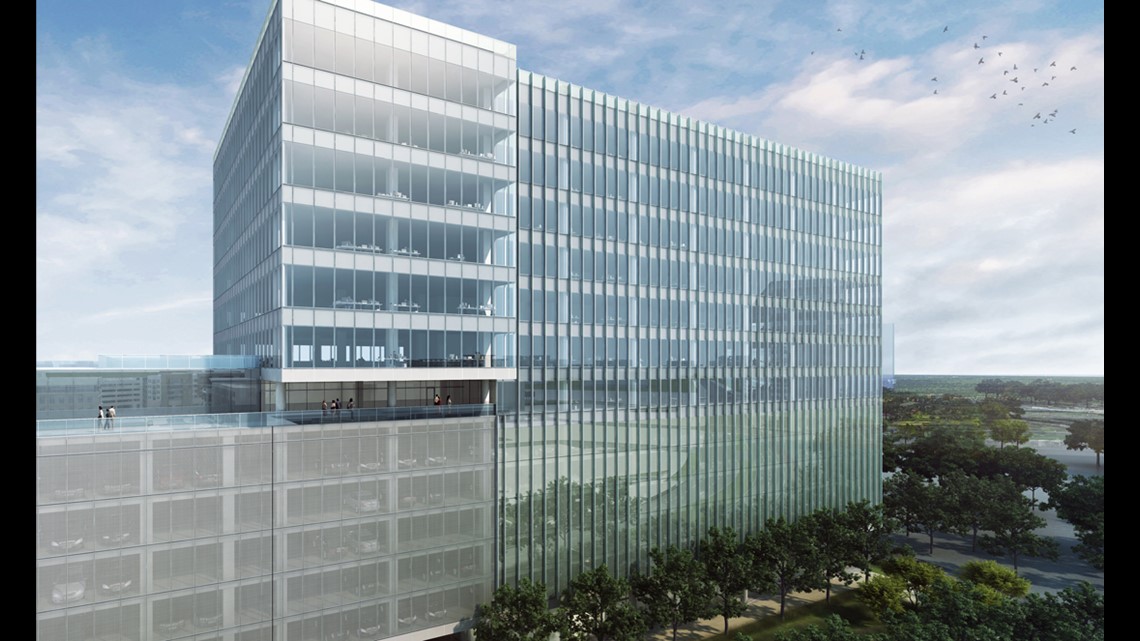 The tech giant said it has invested over $7 billion in the state since 2011 and has brought 1,000 jobs to Austin already.

"We picked the Domain originally because it is actually a central location within Austin," Amazon Austin site leader Terry Leeper said. "A lot of our workers work in the surrounding areas in addition to just Austin itself."
Amazon said the new jobs will be related to technology in fields including software and hardware engineering, research science and cloud computing.
"We're very excited," Leeper said. "We care about the customer at an unreal level we call customer obsession. We're not afraid to be misunderstood for quite a long period of time. We live by our leadership principles."
The Greater Austin Chamber of Commerce said Amazon already employs around 7,000 people in Central Texas, and it is thrilled to welcome more.
"Each one of these 800 jobs is another way for someone to pay their bills," Danielle Treviño, Senior Director of Public Relations and Marketing at the Greater Austin Chamber of Commerce, said. "And provide for themselves and their families."
The chamber added this will create indirect jobs too.
"These indirect jobs can be anything from other employers that work directly with Amazon or service providers and small businesses," Treviño said.
The city said Amazon did not get any tax incentives.
The jobs will not come all at once but over a number of years. Amazon did not say how many more.
RELATED: Amazon, in stunning reversal, dumps NYC as new HQ site
RELATED: Prominent New Yorkers ask Jeff Bezos: Don't give up on Amazon in NYC

"They're high-tech jobs," Leeper said. "We pay very competitively. We also have a great set of benefits."
Those benefits include a 401(k) plan with a fifty percent match and flexible parental leave for all employees.
However, more jobs means more traffic.
The City's transportation department said it is monitoring the area and encourages any incoming company to have a traffic management plan. Amazon did not have details on whether it has a traffic management plan.
Some of the major tech companies in North Austin include:
Apple, with 6,200 employees
IBM Corp, with 6,000 employees
National Instruments, with 2,542 employees
Indeed, with 2,000 employees
Amazon, with 1,000 (not including the 800 slated)
Hewlett-Packard, with 1,000 employees
Q2, with 844 employees
HomeAway, with 750 employees
Blizzard Entertainment, with 700 employees
Electronic Arts, with 655 employees