PFLUGERVILLE, Texas — What was once known as Project Charm at Pflugerville City Council meetings over the last few months is now starting to come to life. You may see it when driving down Pecan Street in Pflugerville.
Amazon on Wednesday officially announced plans to open up a new fulfillment center in Pflugerville, with an expected 2021 launch date. Along with it, 1,000 full-time jobs are expected to be created.
"We're appreciative of the people of Texas for so warmly embracing Amazon into the community," said Alicia Boler Davis, Amazon's vice president of global customer fulfillment. "There are now over 20,000 Texan Amazonians working for us in the state – and we're excited to be creating an additional 1,000 full-time jobs in Pflugerville with Amazon's industry-leading benefits and minimum starting wage from $15 an hour."
Employees at the 820,000-square-foot facility will work alongside robotics to pick, pack and ship small items to customers across the area.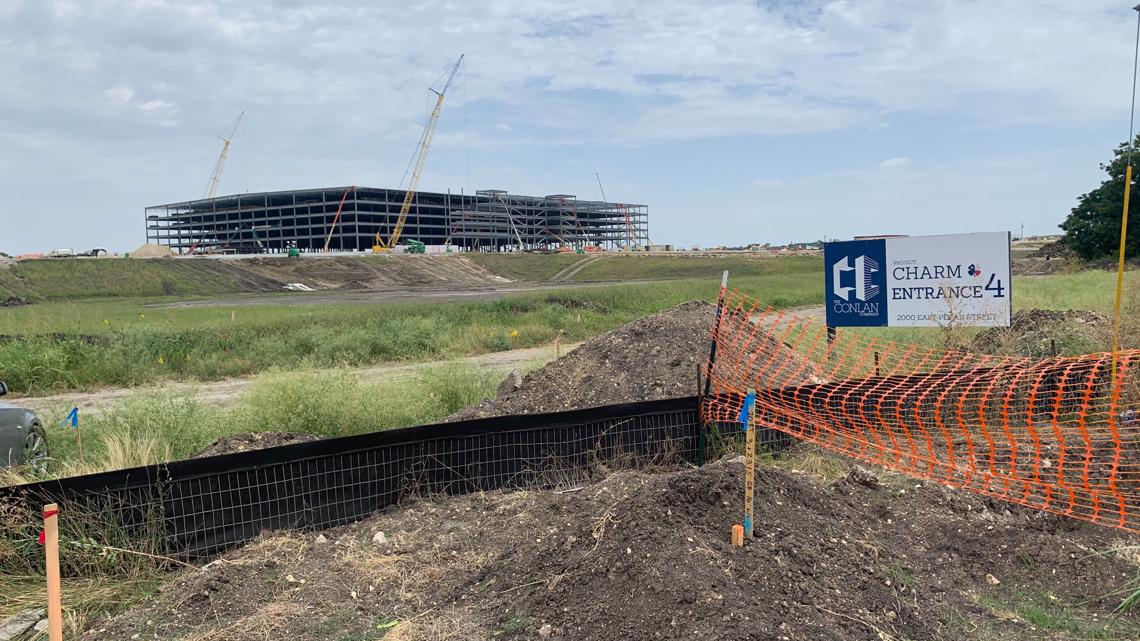 "Serving our great city is an honor, and I am excited to see Pflugerville's continued growth during my service in office," Mayor Victor Gonzales said. "Pflugerville is a bustling area, and the addition of this fulfillment center with over 1,000 jobs shows that Pflugerville is the new frontier in Central Texas. Pflugerville's connectivity via the SH 130 corridor is a prime location for business expansion. And we welcome Amazon, a business that shares our belief that Pflugerville is a wonderful place to live and work."
On top of a minimum wage of $15 an hour, Amazon offers full-time employees benefits such as full medical, vision and dental insurance as well as a 401(k) with 50% match starting on day one of employment. Amazon also offers up to 20 weeks of maternal and paternal paid leave, as well as other benefits such as Leave Share and Ramp Back, which give new parents flexibility with their growing families.
The company has also pledged to invest more than $700 million to provide training for 100,000 U.S. employees for in-demand jobs. These programs will help Amazon employees train to move into highly-skilled roles across the company's corporate offices, tech hubs, fulfillment centers, retail stores and transportation network, or pursue career paths outside of Amazon.
"We are establishing a strong partnership with Amazon and welcome the first operation of its kind to Pflugerville," said Amy Madison, the executive director of Pflugerville Community Development Corporation (PCDC). "This economic development project brings a significant capital investment, new technology and needed employment to our diverse and skilled workforce, which is a comprehensive win for all."
Madison added that adding jobs during the pandemic is important.
"Well, specifically during a pandemic, it's incredibly important that we have jobs for those folks that are unemployed or underemployed," Madison said. "Those people are going to be looking for work and this provides an option at a good entry-level wage at $15 per hour with medical benefits and additional benefits beyond that."
In the past decade, Amazon has invested more than $10.5 billion into its local fulfillment center infrastructure and through compensation to thousands of employees across Texas. The company's investments within the state contributed an additional $9 billion to the economy. It estimates these investments have also created more than 32,000 additional, indirect jobs on top of the company's direct hires.
The Pflugerville City Council on July 14 approved a performance agreement between the PCDC Board of Directors and Amazon.
"We are proud that Amazon has chosen Pflugerville for a distribution center, increasing employment opportunities while contributing $250 million to the tax base and set the stage for continued growth along the Pecan Street and SH 130 corridor," Mayor Gonzales said. "The Pflugerville Community Development Corporation has provided support to both Amazon and the City of Pflugerville with the necessary intersection improvements at FM 685 and Pecan Street to keep everyone moving. This managed growth is an investment into our city, and we welcome Amazon to our community."
The PCDC will be funding up to $3.8 million to the City for transportation improvements at FM 685 and Pecan Street and, in return, Amazon committed to investing $250 million in capital investment in the new facility with 1,000 full-time primary jobs during the 10-year term of the agreement, according to Madison.
"Prior to this project, the 94 acres where Amazon is locating were not in the city limits and provided no tax base," Madison said. "We are entering into a binding agreement to provide additional infrastructure improvements benefitting all businesses and residents in exchange for Amazon's commitment to creating jobs and providing a substantial annual tax base for the City."
The PCDC is funding the transportation improvements with a half-cent sales tax set aside for economic development to allow the previously unfunded City road improvement to occur without directly impacting local property taxes or the one-cent sales tax collected by the City.
According to Madison, the project has already generated sales tax and paid permit fees that have offset significant declines from other City revenue sources due to the pandemic and contributed to the City's current 15.7% year-over-year growth in overall sales tax from fiscal year 2019.
The FM 685 and Pecan Street improvements will provide operational advantages, including the construction of a crossover, displaced left-turn lane which is the first of its kind in Pflugerville to enhance traffic mobility along the Pecan Street Corridor.
The construction is expected to be completed by July 2021 and will be paid to the City out of PCDC encumbered funds in fiscal years 2021 and 2022. Amazon is required to begin operations on or before December 31, 2022.