AUSTIN, Texas — An Austin-based tequila company is suing model and reality TV star Kendall Jenner's 818 Tequila company.
TMZ reports that Tequila 512 is suing 818 Tequila for copying its branding by using an area code for its name. The area code for Austin is 512, while 818 is the area code for California's San Fernando Valley.
According to TMZ, Tequila 512 also claims in the lawsuit that the color scheme of the two brands' bottles is so similar that it's meant to confuse customers. The Austin brand also notes that it has been around longer: Tequila 512 launched in 2015, while 818 Tequila launched in 2021.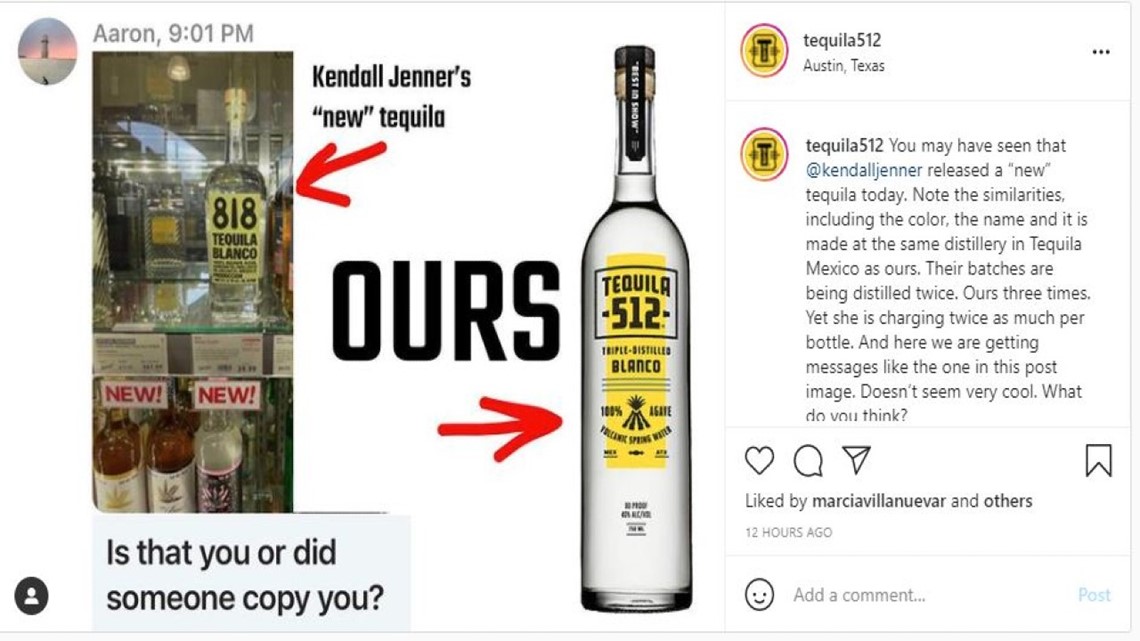 "You may have seen that @kendalljenner released a "new" tequila today. Note the similarities, including the color, the name and it is made at the same distillery in Tequila Mexico as ours," Tequila 512 captioned the post. "Their batches are being distilled twice. Ours three times. Yet she is charging twice as much per bottle. And here we are getting messages like the one in this post image. Doesn't seem very cool. What do you think?"
However, the branding similarities aren't the only thing the lawsuit makes note of, according to TMZ. The lawsuit also reportedly claims that in May 2021, the brands were mixed up on the mobile app game "Kim Kardashian: Hollywood," which is fronted by Jenner's sister. The lawsuit reportedly states that the game was promoting 818 Tequila but an image of Tequila 512 was shown.
TMZ quotes the lawsuit as saying, "Either Defendant intentionally used Plaintiff's bottle, hoping to further blur the lines between the two products, or Defendant was itself confused about the difference between the two brands."
TMZ reports that Jenner was not named as a defendant and only the company is being sued. Tequila 512 is asking a judge to halt the production and sale of 818 Tequila as it is presently constituted, and it is also asking for the profits made from the tequila.
A representative for 818 Tequila told TMZ, "We are reviewing the complaint and believe the allegations are without merit."