What better way to end the summer than with s'mores and a campfire? On National S'mores Day, August 10th, take the time to prepare for your weekend getaway. (Hint: for some of these recipes, you may need aluminum foil and skewers)
This sticky bread is a sweet way to end a day of exploration and hiking. It only calls for one refrigerated ingredient and the rest can be premade at home. It tastes even better over an open flame!
Ingredients (Pre-measure these):
Half a cup of cinnamon sugar (Two tbs of cinnamon to every half cup of sugar)
Half a cup of brown sugar
One stick of salted butter
Open your biscuits and cut them into quarters
Pour the cinnamon sugar into a plastic bag, add in a few biscuits and shake to coat. Repeat with all the biscuits.
Place coated biscuits into pan or Danish oven
Melt butter and stir in brown sugar. Pour mixture over biscuits.
Before putting on your lid, place another layer of foil across the top of your dutch oven to catch any stray ashes.
Bake over moderately heated coals for five to ten minutes or until center is cooked through.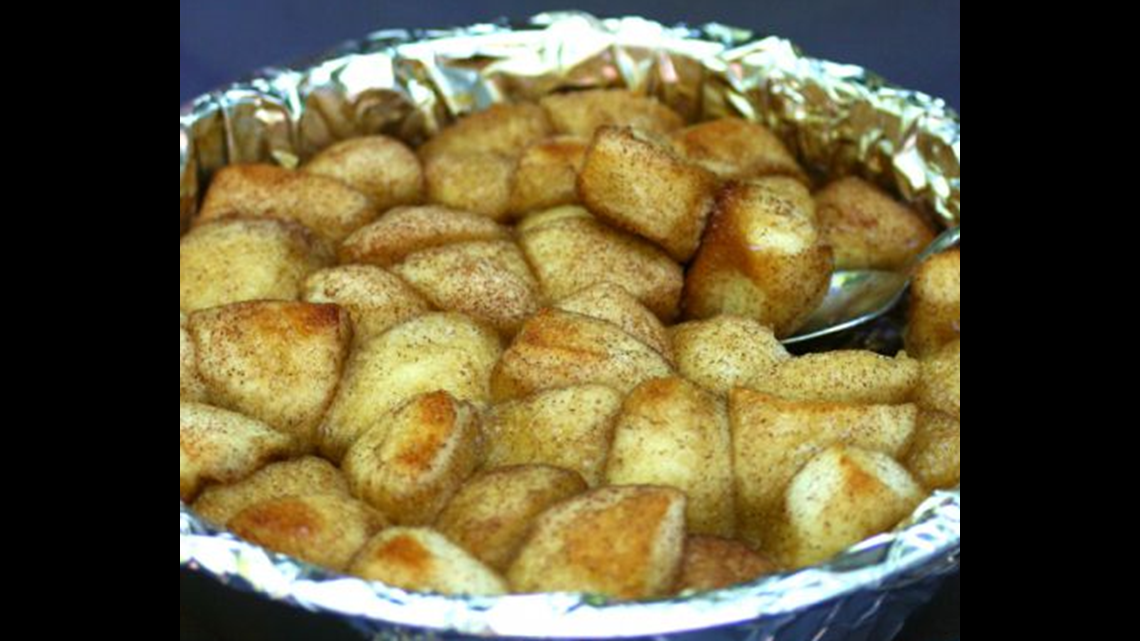 Customize your usual s'mores by using a waffle cone instead of a cup.
One bag of Mini Marshmallows
Optional: Other small candies, fruits, crisps, and anything else that'll fit in a small cone
Fill each cone with marshmallows, chocolate chips, and other toppings of your choice.
Wrap each cone in aluminum foil
Heat over fire (away from direct flames) for seven to ten minutes. Voila!

Using the frito chips that are usually left at the bottom of the snack packs, put together a nacho meal you can eat on the go.
Ingredients (can be pre-measured):
One pound of ground beef or turkey
Half a cup of diced onions
One (1oz) taco seasoning packet
Snack sized bags of Fritos or Doritos
Choice of nachos condiments (Sour cream, salsa, shredded cheese, guacamole, etc)
Crush bag of Doritios or Fritos
Brown beef or turkey in a pan over campfire and drain fat.
Add the onion to the meat and sautee a couple of minutes until soft.
Add the taco seasoning along with half a cup of water and simmer.
Mix in with beans
Spoon meat and bean mix into the chips bag, and add condiments!
Camping Hot Dogs
This two-ingredient meal is turns making hotdogs into a culinary affair for everyone. This easy recipe is the perfect balance of sweet and saucy.
Pillsbury crescent rolls
Place a skewer about 3/4 the way into each hotdog.

Open your crescent rolls and wrap one long pre-cut triangle around each hot dog.

Loosely wrap your crescent wrapped hot dogs in aluminum foil.

Roast over the fire, frequently turning you stick

Cook for 15-20 minutes and you're done!
Cinnamon Roll Ups
Instead of s'mores, try this tasty dessert. Not only is it delicious, but you'll also feel like a total pro making your own sugar glaze over an open campfire.
One package crescent rolls
One fourth a cup of sugar
One tbsp cinnamon
Combine cinnamon and sugar
Separate crescent rolls and wrap them around the skewer
Roll skewers in cinnamon sugar mixture
Cook seasoned roll ups over campfire for five minutes, rotating frequently
Optional - Mix 1/4 cup powdered sugar and 2-3 tbsp water together to make a glaze and drizzle over roll-up.