AUSTIN, Texas — A shared love of cheese and food blossomed into so much more for Rosemary and Austin Ewald.
"We met in Lubbock when we were both going to Texas Tech," said Rosemary Ewald.
These Red Raiders had a restaurant class together and, well, it just kind of grew from there. Their love led to marriage and now "this" is their baby.
"I started Spread & Co. back in 2016 as a cheeseboard delivery company and, at the time, Austin was working as a chef at a couple of local restaurants here in town," added co-owner Rosemary Ewald.
Their combined experience makes Spread & Co. off of West 38th Street a sure hit.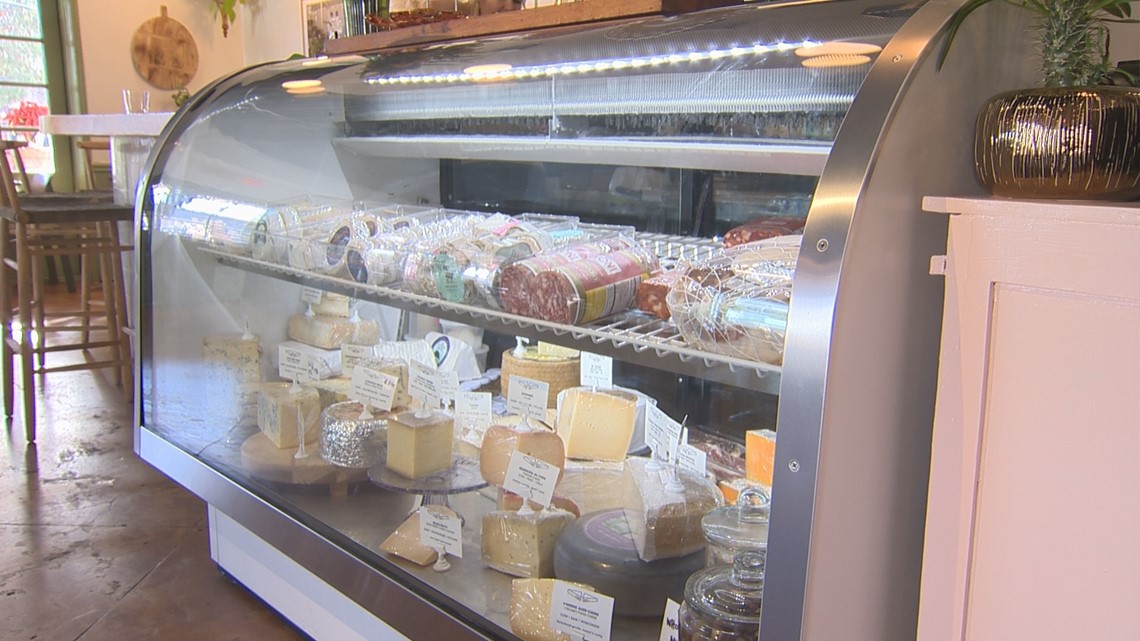 "This is going to be the lawful beet made out of ground chickpeas, onions," said Austin Ewald. "It's beet falafels on top of a sourdough flatbread made in house with hummus, whipped goat cheese, radishes and some greens."
If grazing is more your speed, get on board with their gorgeous charcuterie platters or get a cone.
"It's been a crazy trendy thing," said Rosemary. "We use a lot of great artisan cheeses and charcuterie but then it's nice because we pair it with our homemade pickles and jams, so its a nice balance there."
PHOTOS: Spread & Co. in Austin
This beauty is layered to perfection with ingredients like marcona almonds, pickled green beans, olives and brie. It's great for grab-and-go snacking.
From the traditional breakfast like sourdough pancakes and eggs to the unique, they've got it all. But a fan favorite is a spam-inspired menu item called the Spamwich.
"We make it out of pork belly, a bunch of different charcuterie that we have from within the case and then ham. That is a good example of how we are cross utilizing," added Rosemary Ewald. "A lot of the charcuterie that we are using for our catered boards gets put into the spam."
Their version of spam is served with sweet jam and aged cheddar on toasted buttered brioche that's made in house.
From the design and decor to the menu, this cute new spot in North Austin is Rosemary and Austin's second home, and they'd love to have you visit.
Spread & Co. is open Tuesday through Sunday for breakfast and lunch. Soon they'll be open for dinner, and they just started serving beer and wine.
MORE KVUE FOODIE FRIDAY STORIES: