AUSTIN — The time has come for the 2018 Austin City Limits Music Festival, a three-day music extravaganza happening during the first two weekends of October at Zilker Park.
If you bought tickets and are attempting to map out the big weekend ahead of time, feel free to let KVUE you help you out with that.
PHOTOS: ACL Festival Fashion 2018: A sprinkle of Cochella mixed with Texas twang
ACL Festival Fashion 2018: A sprinkle of Coachella mixed with Texas twang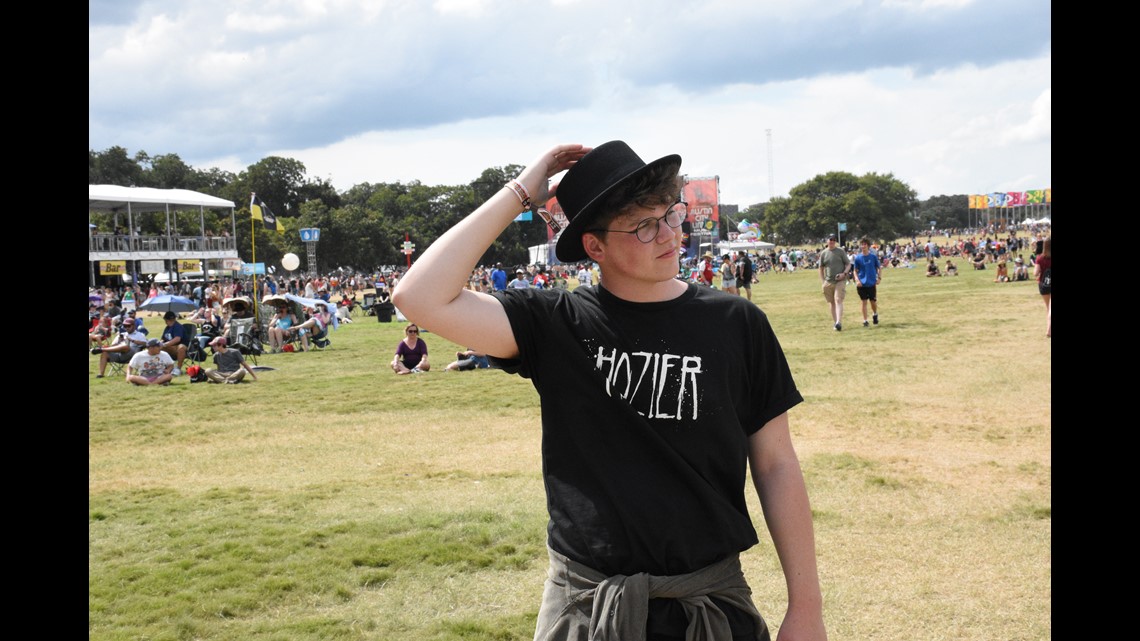 Ticket Pick-up
Festival-goers can pick up their tickets at the following locations and at the following times:
Thursday, Oct. 4: Native Hostel (807 E 4th Street)
Noon - 7 p.m.
Friday, Oct. 5 - Sunday, Oct. 7: Zilker Park
Box Office West: 10 a.m. - 9 p.m.
Box Office East: 10 a.m. - 8 p.m.
Thursday, Oct. 11: Native Hostel (807 E 4th Street)
Noon - 7 p.m.
Friday, Oct. 12 - Sunday, Oct. 14: Zilker Park
Box Office West: 10 a.m. - 9 p.m.
Box Office East: 10 a.m. - 8 p.m.
Transportation
Veteran festival-goers most likely already know this, but if it's your first time to ACL Fest, understand that there's NO parking at Zilker Park. Instead, festival organizers offer a free complimentary shuttle that picks people up at Republic Square Park downtown: at the corner of Fourth Street and Guadalupe Street. The bus drops people off at the Barton Springs West Entrance. The shuttles begin picking people up at 10:30 a.m. and make their last return from the park at 11 p.m.
Go here for a map of the shuttle pick-up and drop-off site.
Uber is another way to get to the festival. The ride-hailing app is the official partner for the music festival, and that means dedicated pick-up and drop-off spots for riders. All you have to do is type in Austin City Limits Music Festival or Zilker Park into your app. According to Uber, this will update your drop-off spot to the nearest location around the festival.
Go here for more information on Uber at ACL.
Another option for people who like four wheels is Car2go. The business, which they say is like a rental car but better, allows you to grab an available car on the street, drive it to your destination, and park it any approved legal spot for free.
This year, Car2Go has a designated free car drop-off location at the Carpenter Hotel for both weekends of the ACL Festival. The parking entrance is on Jessie Street near Barton Springs Road. To use Car2Go, you will need to sign up at their website with your driver's license. However, processing can take one to two business days.
If you're approved, you'll be treated to a complimentary iced coffee at the Carpenter Hotel's coffee shop.
The exact address for the Car2Go parking lot at the Carpenter Hotel is 400 Josephine Street, Austin, Texas 78704.
Click here to register for Car2Go.
All new this year, scooters and dockless bikes are now an option to help you get to the festival grounds in a hurry. Bike parking is available on Stratfor Drive near the Mopac pedestrian bridge. There's also parking for dockless bikes and scooters on Toomey Road at Sterzing Street and on Axie Morton Road.
Go here for more information on bikes and scooters for the festival.
If you're looking to save more money on transportation, walking and public transportation are options as well.
CapMetro, Austin's public transportation service, has buses that operate every 15 minutes, seven days a week. ACL Fest said your best bet is to hop on the MetroRapid Route 803 bus. A local day pass costs $2.50 or $7.50 in total if you buy one pass every day of the festival.
Click here to download the CapMetro app.
If you're wearing your walking shoes to the festival, the Ann and Roy Butler Hike-and-Bike trail will lead you straight to Zilker Park.
Check out the interactive trail map here.
What to bring to the ACL Festival
Heed this warning: this year the festival is NOT allowing large backpacks inside of the festival. Organizers say bags are restricted to purses, totes, and drawstring bags only. Those bags cannot exceed a measurement of 14" x 11" x 5" (35cm x 28cm x 12cm), or 30 linear inches (75cm) in total, and must have no more than one singular pocket or opening.
Once at the entrance line, people with the bags will have to go through bag inspection. Those without bags can enter through the "no bag express lane," which organizers say is the quickest way to get in.
Water bottles and hydration packs are allowed in the festival but they must be emptied before entering the festival grounds.
Here's what else is allowed:
Binoculars
Blankets, sheets, towels
Strollers
Cameras (basic point and shoot consumer-grade cameras) without detachable lenses and other accessories (monopods, selfie sticks, tripods, GoPro mounts, and other attachments are not allowed)
GoPro cameras without accessories
Portable/collapsible chair (Individual seat only; no double wide or connecting chairs)
Sunscreen lotion (no aerosol containers)
Bug repellant (no aerosol containers)
External battery chargers
Totems, rage sticks and flags under 12 ft. tall are allowed for way-finding among friends. Items that are deemed by Festival organizers to be unsafe, inappropriate, offensive or are being used for purposes other than intended are prohibited and may be confiscated on site
Prescription medicine requirements
Read this carefully. Here's what's NOT allowed:
E-cigs or vaping devices (ACL is a smoke-free festival. Festival-goers are encouraged to smoke outside the festival gates in the street. People are allowed to re-enter and exit the grounds three times during the day.)
Liquids
Aerosol containers (including sunscreen and personal beauty products)
Any and all professional audio recording equipment
Any and all professional video equipment – no video recording will be allowed
Professional cameras (any camera with the option to detach a lens)
Any and all camera accessories, such as selfie sticks, tripods, monopods, go pro mounts and attachments, detachable lenses, or other commercial equipment
Drones or any other remote flying device
Frisbees
Camping or tent setups. Includes camping umbrellas, tents and cordoning off your chairs with tape/rope
Coolers of any kind (exceptions may be made for medical use)
Framed backpacks
Hammocks
Glass containers of any kind
Firearms, explosives, and weapons of any kind (including pocket knives, pepper spray, fireworks, etc)
Illegal and illicit substances of any kind
Drugs or drug paraphernalia
Outside food or beverage (including alcohol)
Umbrellas
Professional-grade radios or walkie-talkies
Pets (except service animals)
Skateboards, scooters, bicycles, wagons, carts (including red wagons) or any personal motorized vehicles
Tents, canopies, or shade structures of any kind
Unauthorized/unlicensed vendors are not allowed. No unauthorized solicitation and materials including handbills, flyers, stickers, beach balls, giveaways, samples, etc.
Large chains or spiked jewelry
Bicycles inside the festival grounds (free parking is available near the festival entrance)
No inflatable furniture (rafts, chairs, etc.)
PHOTOS: ACL 2018 Weekend 1 kicks off in Austin
PHOTOS: ACL 2018 Weekend 1 kicks off in Austin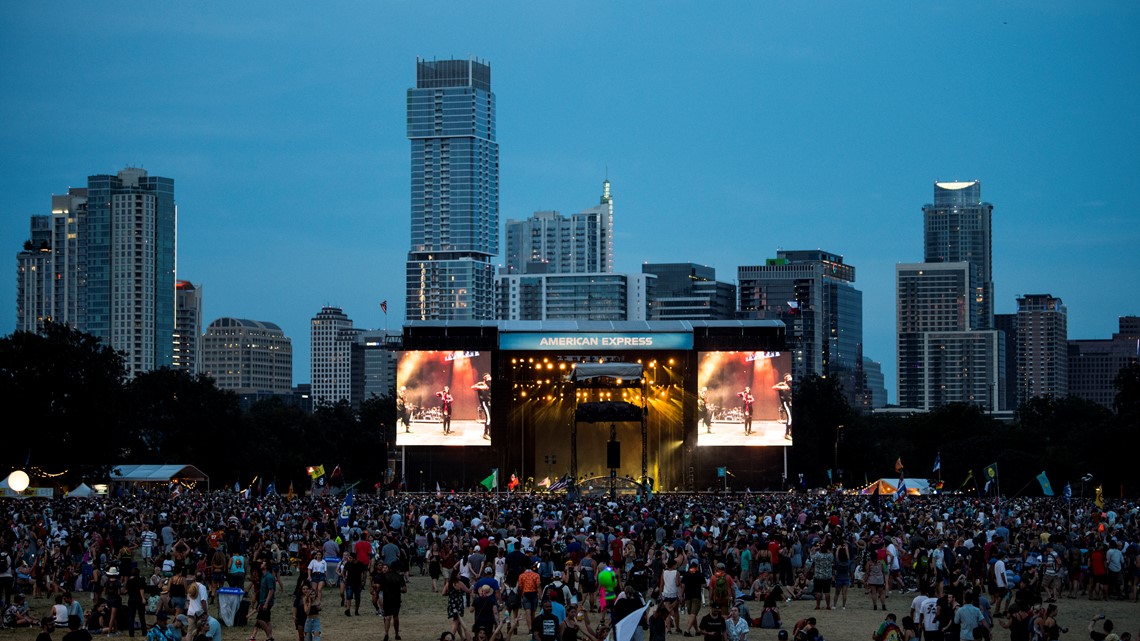 New this year
Brooke Leal, spokesperson for ACL Fest, shared fans can expect some new additions to the festival this year.
"One is our new ACL Cares Academy stage. It will be open at the ACL Cares area of the festival. There, fans can engage with organizations that are here in Austin through panels, meet-and-greets throughout the weekend so we encourage folks to check that out," said Leal. "Fans will notice there's this big ACL viewing platform with gorgeous views overlooking the main stage. So we encourage folks to check it out if you've upgraded to VIP this year."
Weather
KVUE's meteorologists are expecting cooler conditions for Weekend 2 of ACL with lower chances for rain as well.
While there are no rain chances on Friday, rain won't be completely out of the mix for Saturday and Sunday.
Thankfully, it is expected not to be too much rain, if any does occur at the festival.
While you can't bring an umbrella into the festival, you can bring a hat, poncho or jacket. Just make sure that all of your items fit into your tote, drawstring bag or purse.
Ponchos will be available for sale at the ACL bodega. It's a one-stop shop where you can buy snacks, fresh fruit, and other necessities like sunscreen.
Click here for a look at KVUE's updating forecast.
Hungry and thirsty? Here's what you can eat and drink
ACL Festival is known for featuring delicious bites from local Central Texas restaurants and this year is no different.
Here are some of the restaurants that will have booths set up in 2018:
PHOTOS: There you are, friend! The best flags from ACL Festival weekend 1
There you are, friend! The best flags from ACL Festival weekend 1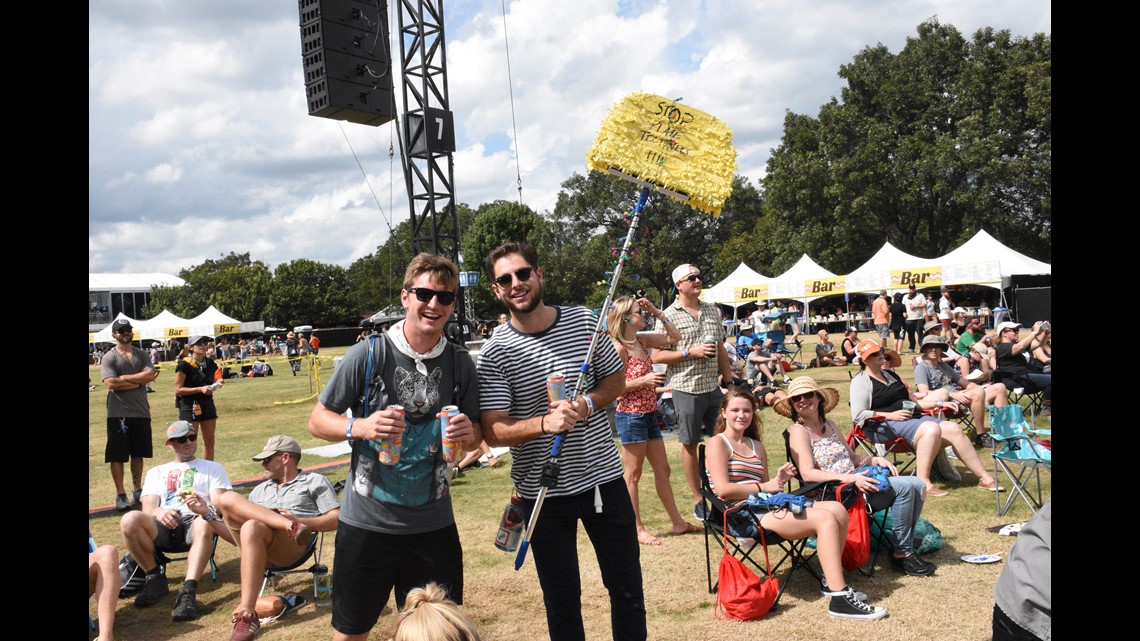 If you're 21 or older, you can wash down all of the delicious Austin-area food with beer at the Barton Springs Beer Hall. Organizers say they'll have craft brews available. And if wine is more your style, the ACL wine lounge will be offering frosé, spritzes and other drinks.
Alcohol isn't the only option at the festival, people can fill up their empty CamelBaks and water bottles for free at the hydration stations throughout the park. The bottles have to be plastic or aluminum and the maximum size for a CamelBak is 36 oz.
Festival-goers who aren't a fan of carrying around a lot of cash can use the festival's cashless option. It's a way to upload money onto your festival wristband to pay for food, art, lockers, beverages and other merchandise.
Go here for more information on how to set up your cashless wristband.
Do yourself a favor and download the ACL Festival app to keep up with all of the shows you want to see and festival announcements. You can do so here.
Avoiding Theft
After Weekend 1 came to an end, the Austin Police Department reported that they handled more than 20 reports of thefts at the festival. They said in almost all of the cases, the item was a stolen cell phone.
They offered the following tips to help you prevent theft:
Pay attention to your surroundings, especially in crowds
Keep your phone and ID/credit cards/cash in separate places on your person
Phones sticking out of back pockets or backpacks are not secure
Keep property in a defensible location (front pocket, stylish fanny pack) or leave it at home (yeah, right!)
Record serial number information for your device and keep it separate
Notify on-site security/APD immediately for assistance
Utilize APD's online reporting site, or 311 (non-emergency to report a theft
If you see something, say something
Lock your car and take your keys
Park in well-lit areas or attended parking lots
Don't leave any valuables in plain view in your vehicle, If you must keep them in your vehicle, put them in the trunk, glovebox or out of sight.
Read more coverage of the ACL Festival from KVUE below:
Fall-like weather pops up in Austin-area just in time for weekend 2 of ACL Festival
ACL Festival-goer found dead in Lake Austin after going missing, officials say
ACL Festival 2018: 10 things you missed at weekend 1
Prince's former band The Revolution keeps his spirit alive with funky ACL Festival set
'Put your hearts in the air': Janelle Monáe's ACL performance is ode to all lovers
Early risers get quick workout session from The Relatives, groove with Lemaitre at ACL Fest
ACL Fest Day 2 rocks on despite a short storm delay
Khalid sings new song 'Better,' shows love to hometown El Paso at ACL Festival
Bishop Briggs draws large crowd with an emotional performance at 2018 ACL Music Festival
Ray Benson set to kick of ACL Festival with Asleep at the Wheel once again
Here's how you can avoid ACL Festival traffic in 2018
Wet weather possible for Austin City Limits Weekend 1
ACL Festival contractor fired after being arrested for failing to register as sex offender
Childish Gambino cancels ACL 2018 performances, Phoenix, Lil Wayne added to lineup
Dockless bikes and scooters to have designated drop off at Austin City Limits Music Festival
Sorry, ACL music festival 3-day weekend passes sold out for both weekends
GALLERY | From Foo Fighters to Mudfest, here's KVUE's top 10 ACL photos
Paul McCartney, Metallica, Travis Scott, Khalid: 2018 ACL Fest lineup is out